GLOWING NOW – OCTOBER 30TH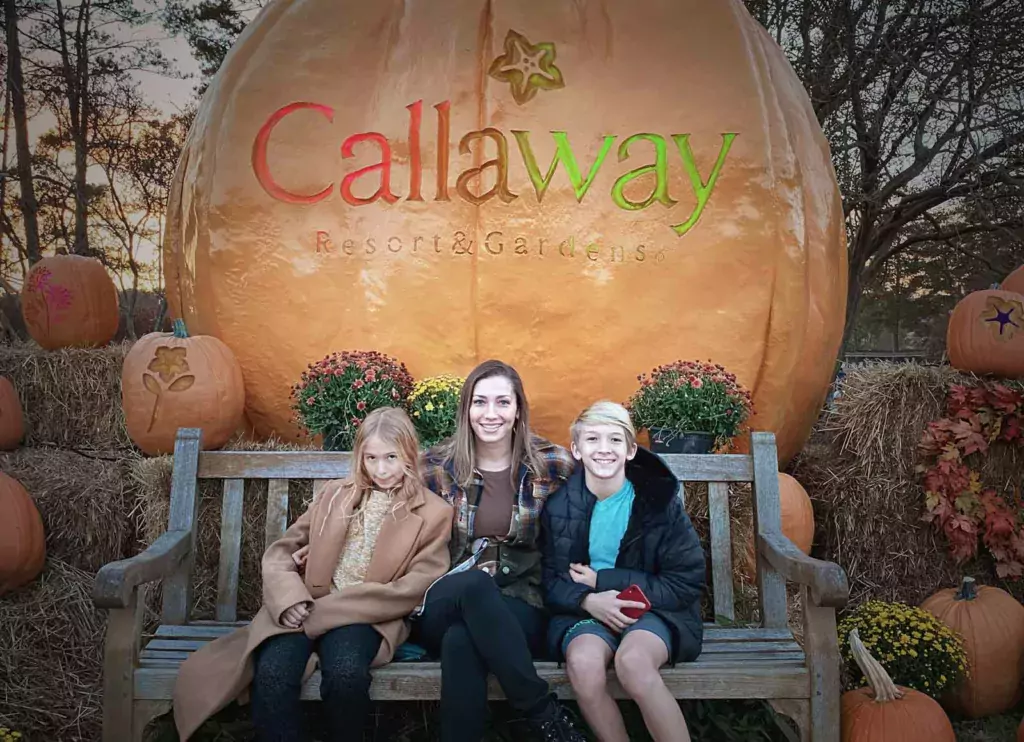 Callaway Gardens Pumpkin Event 🎃
For me, the fall season means crisp weather, new flannels, pumpkin spice, and outdoor family fun. So, I booked tickets to see the Callaway Gardens pumpkin tree and corn maze because it's the best pumpkin patch near Atlanta. In this blog post, I recount our family's recent visit to enjoy the festivities of Pumpkins at Callaway.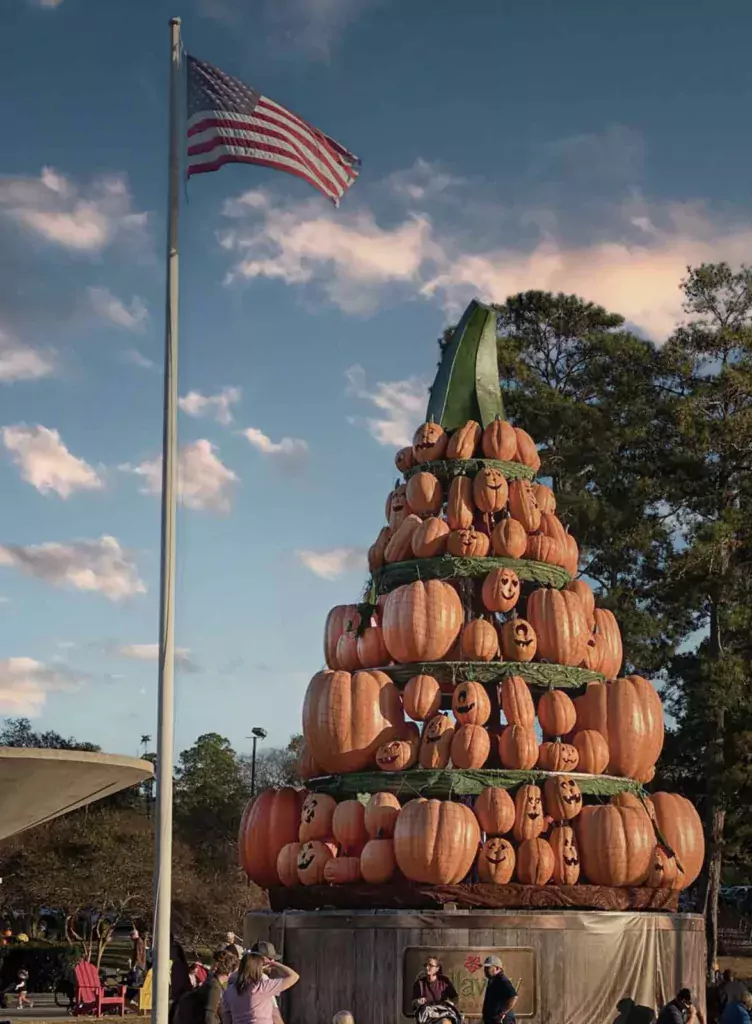 The Singing Jack-O-Lantern Tree
Gaze your eyes upon the giant tower of pumpkins that draws you into Pumpkins at Callaway. During the day, it's a wondrous place to explore with your family. At night, the tree comes alive… with the sound of music. Watch the performance by this cast of glowing jack-o-lanterns that tell jokes and serenade you all night long. Next up, strut your way through the luminous tube that dances to the beat of its own drum, just like my daughter does.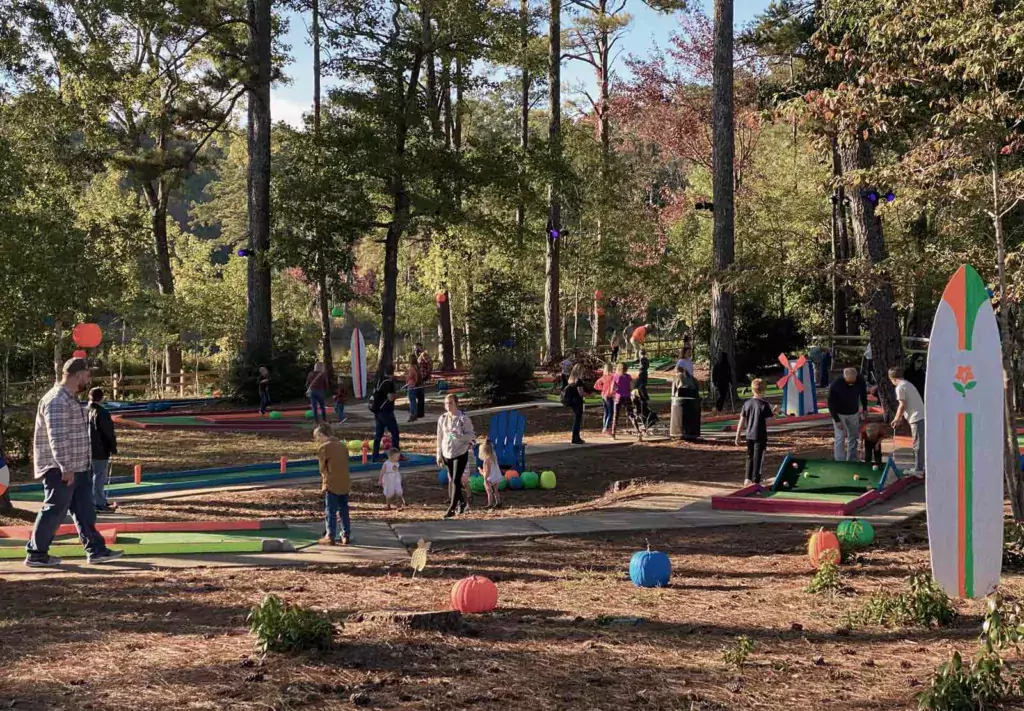 Pause here to play a round of blacklight mini golf with spooky music and UV lights illuminating the course; you will putt your way through 18 holes of glowing Halloween goodness.
Enchanted Pumpkin Forest Aglow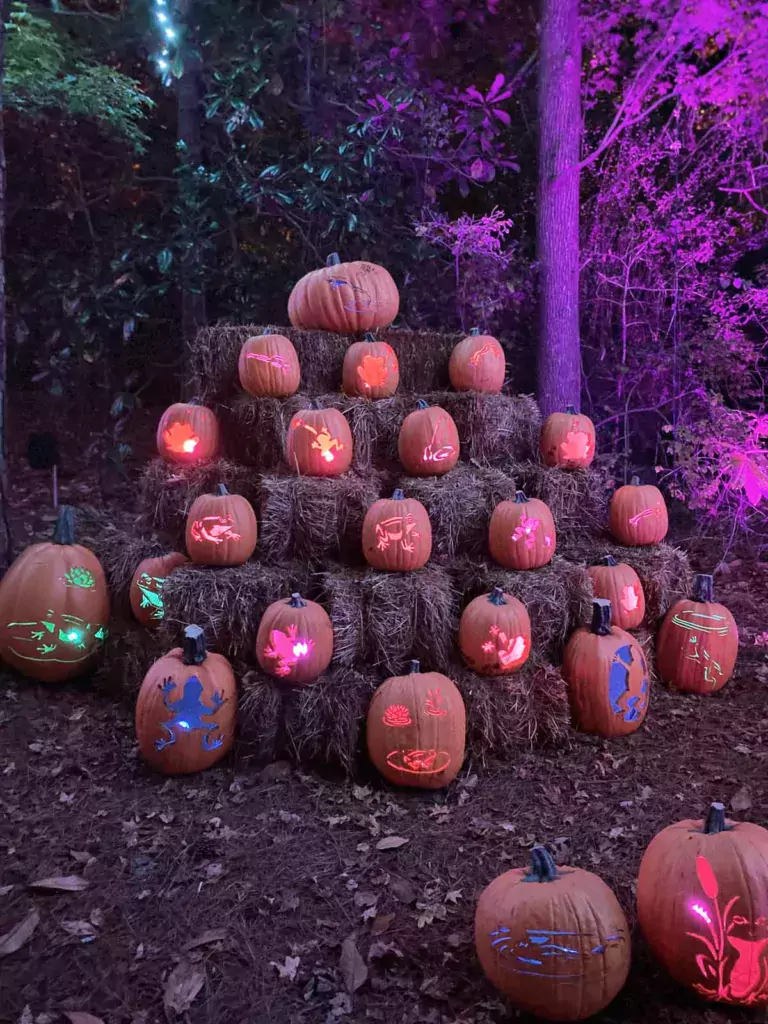 Enjoy an 8-minute stroll through the wooded path illuminated by dangling lights, carved pumpkins, and giant bugs during the day and at night.
As you look toward the well-anticipated pumpkin forest, let your eye catch the long stretch of hay bales and fall wreaths that line the path to the photo-op entrance. That's when you'll spot a unicycle-riding musician, uhh blowing into his piano? As you disappear into the treeline, you will look up to realize that THIS is the kind of lighting you always needed in your backyard.
Anyway, pumpkin after pumpkin, they keep appearing solo, coupled, stacked, dressed as farmers, painted neon, and floating in the trees above. Sights like an oversized owl, butterfly, frog, bumble bee, praying mantis, and spider introduce themselves to your family in a moment they won't forget. Lining the exit is a preview of what else is to come; stacked pumpkin sunflowers.
The ambiance really sucks you into the Halloween spirit, and you end up going into the forest more than once. Spoiler Alert – it's a wayyy better experience at night time. The kids can dance and let off some steam, complete with a cookie dough food truck to keep everyone satisfied at the Callaway Gardens Pumpkin Event.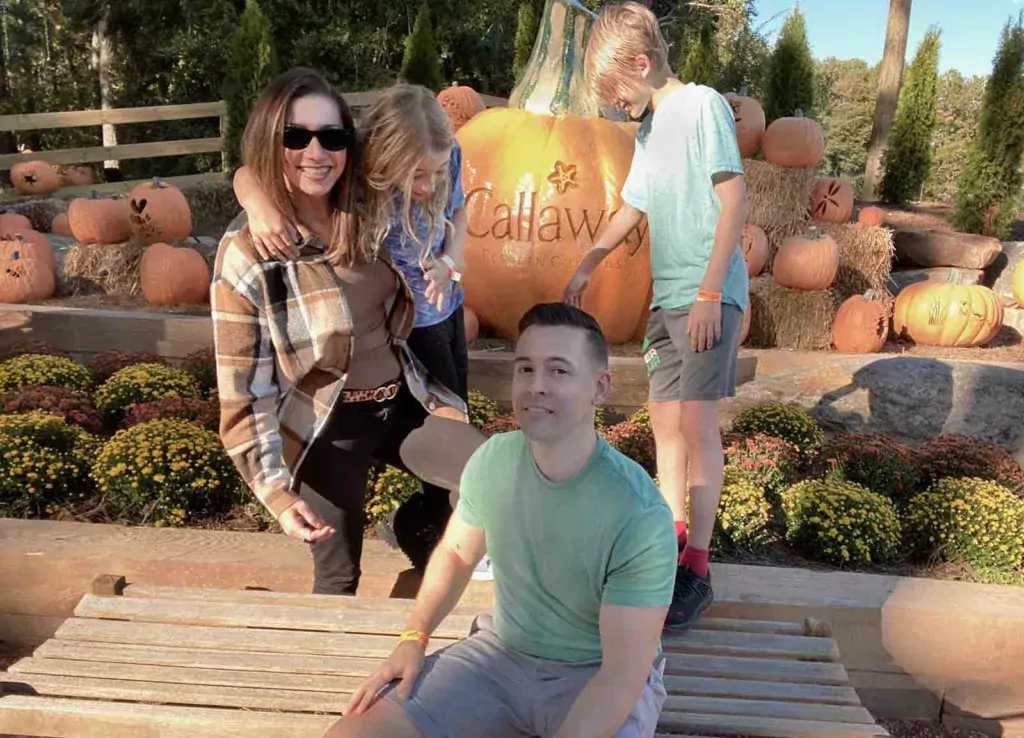 Catch A Sunset Trolley Ride To The New Illuminated Corn Maze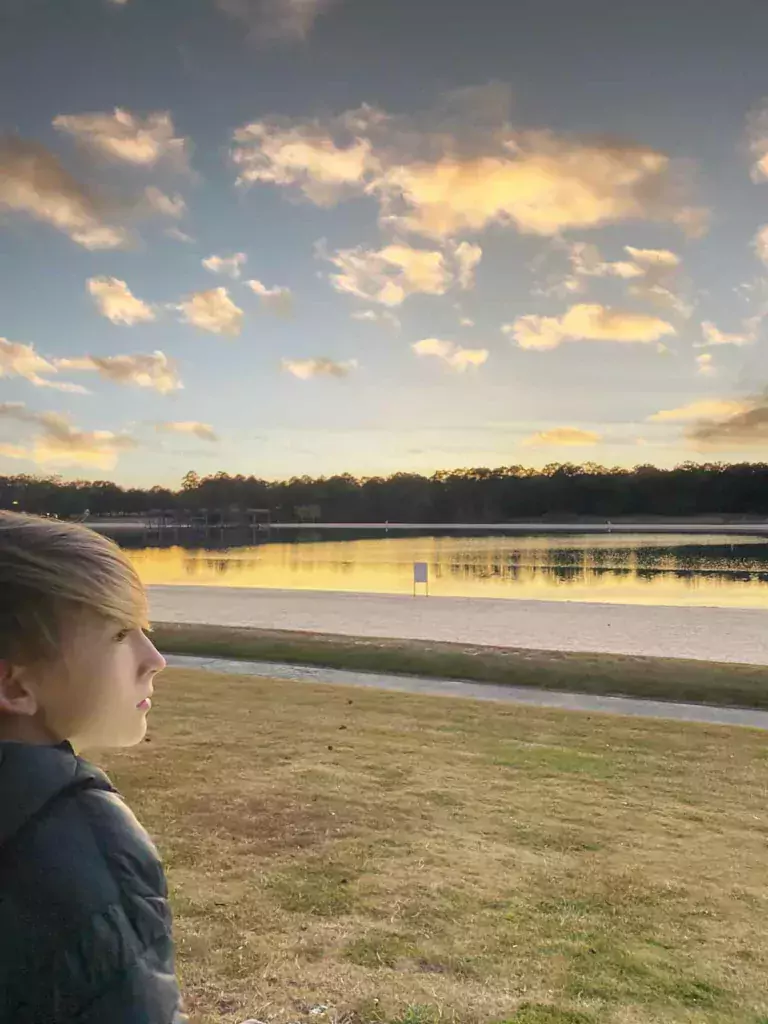 Nighttime is the perfect way to see the labyrinth in all its a-maze-ing glory. There are ample photo spots for fall family pictures. You want to soak up the festive atmosphere at the Callaway Gardens pumpkin patch before it gets too dark, so get in line for the trolly by at least 6:30 pm.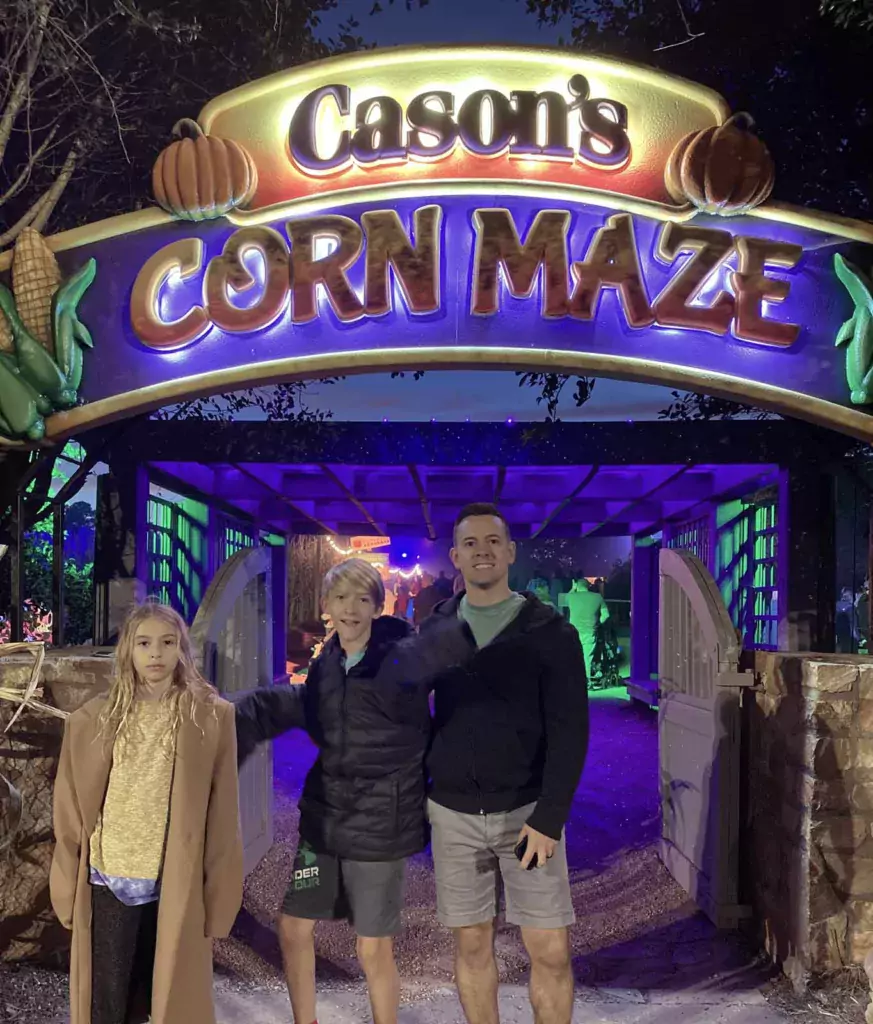 The sun is setting, and the air is chilly, but that's not stopping anyone from having a good time. So grab your jacket, pile the family into a trolley, and head to the 7.5-acre corn maze labyrinth. Once you enter this area, head to the sunflower field to take in the incredible sight of endless rows of beautiful sunflowers in full bloom. This added attraction is why I think this is the best pumpkin patch near Atlanta.
The stunning sight of tall blooming sunflowers requires an audible gasp.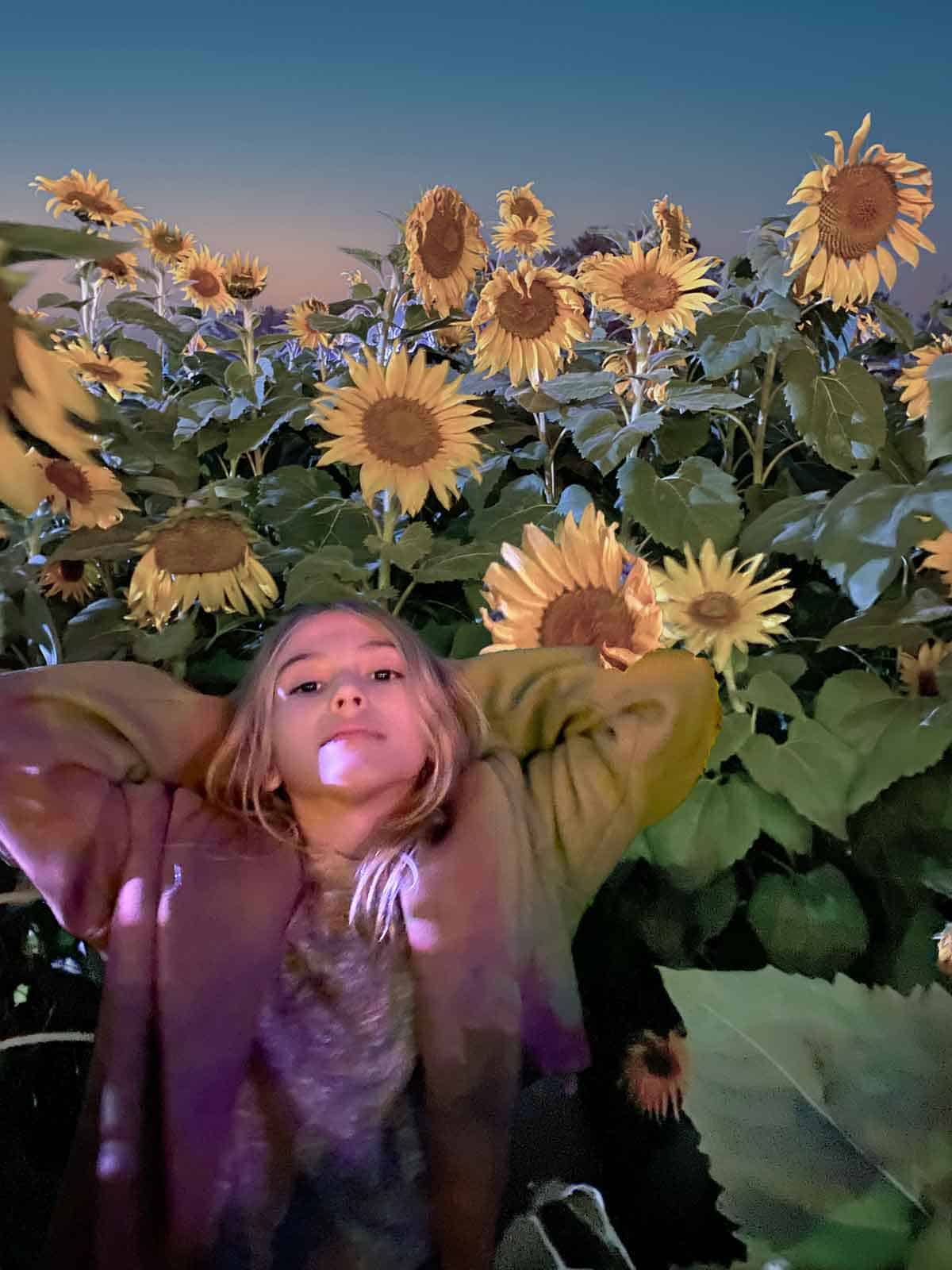 Make your way past the corn stalks to the maze entrance, and suddenly, you're surrounded by music and light displays. Don't be scared; you can't get lost in this maze; arrows guide the way. Check ✅ because this is just what your family needed to kick off Halloween 2022. Don't forget to check out the Callaway Gardens pumpkin patch in this area.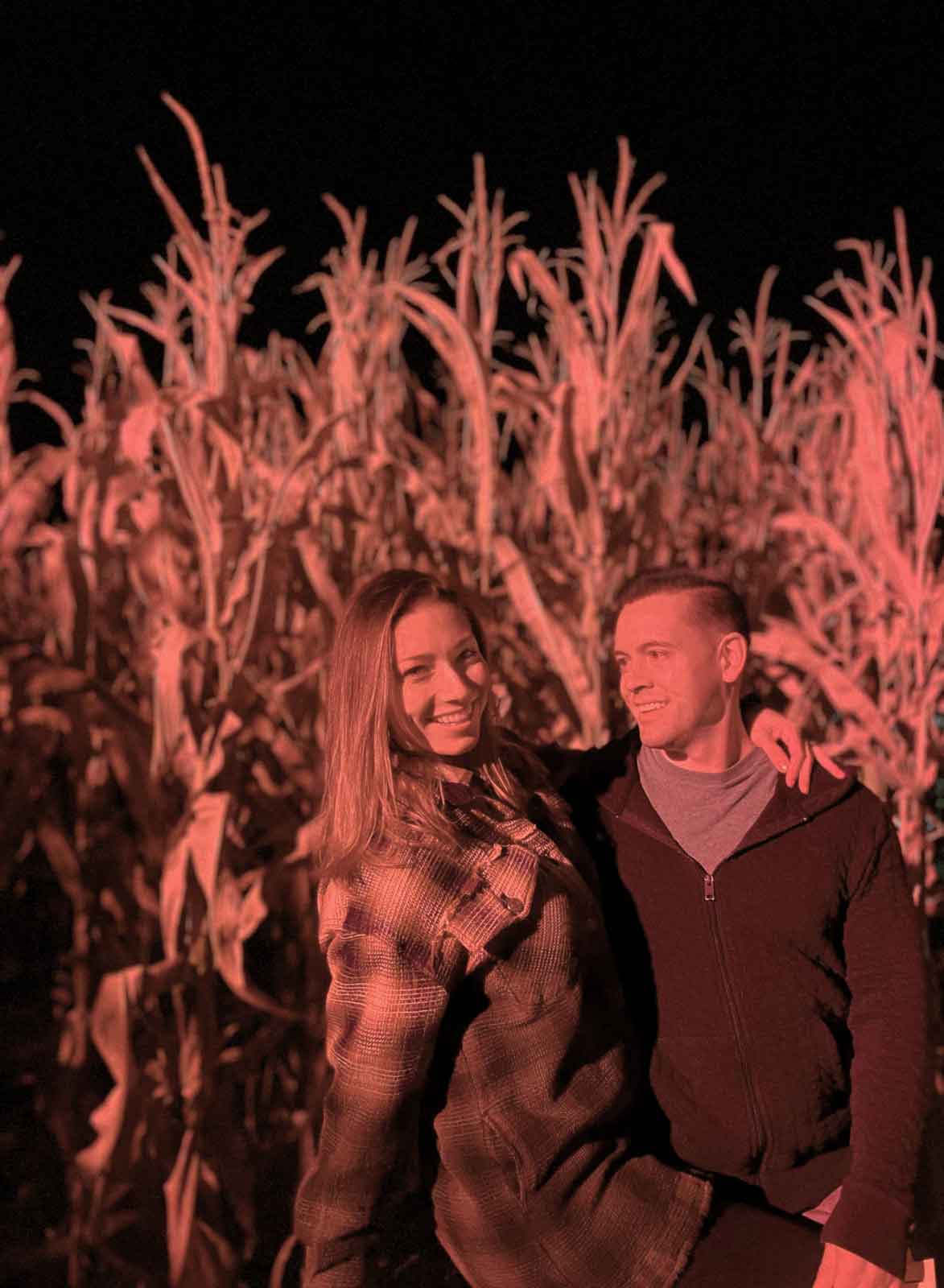 Callaway Gardens Pumpkin Patch Near Atlanta, GA
Admission: Children $19.95-$24.95, Adults $24.95-$29.95 depending on the night
Hours of Operation: Friday – Sunday 4pm – 10pm
Bonus: Your pumpkin ticket includes access to Callaway Gardens open 10am – 5pm
Address: 17800 US-27, Pine Mountain, GA 31822, Located an hour and a half from Atlanta
Warning: This event ends on October 30, but it will be back again next fall
Accommodations: On site with a spa
Recommended: Arrive by at least 2 PM so you can explore the gardens before they close
Pets Allowed: Certified service animals only
Food: Pizza, Pulled Pork Sandwich, Chicken Tenders, Dip-n-Dots, Cookie Dough, Food Trucks, and much more
If you can't make it to pumpkins at Callaway, wait until mid-November. Their Holiday Event, called Fantasy In Lights, will be something for the whole family to do. Or, you can go to Savannah with this downloadable travel plan.