The Ultimate Guide Of Things To Do In Parris Island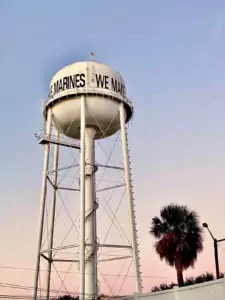 Hey there! If you're planning a trip to Parris Island, whether to visit your new marine for their graduation ceremony or because it's your hometown, you'll want to check out this ultimate guide to things to do in Parris Island. I've got all the best locations for taking in a nice view and a helpful Parris Island map to navigate your way around. Additionally, I can provide recommendations on where to eat, information on housing options, and even some weather updates to help you plan your trip accordingly. So, let's get started and explore everything Parris Island offers! Ever since my family moved here two years ago, it's been an absolute delight to experience the breathtaking beauty of this island and call it our home. Every day, we wake up to the most epic sunrise, the gentle sound of the ocean waves. Parris Island is one of the prettiest military bases I have seen because palm trees and marsh water surround it.
Table of Contents
As I make my way home each day, I can't help but admire the stunning palm trees that line the road to my neighborhood. With everything this amazing island offers, it's a miniature version of Hunting Island State Park. Get ready to soak up the 66-degree (on average) sun on Parris Island with this handy ultimate guide.
---
9 fun things to do in Parris Island | Chapter 1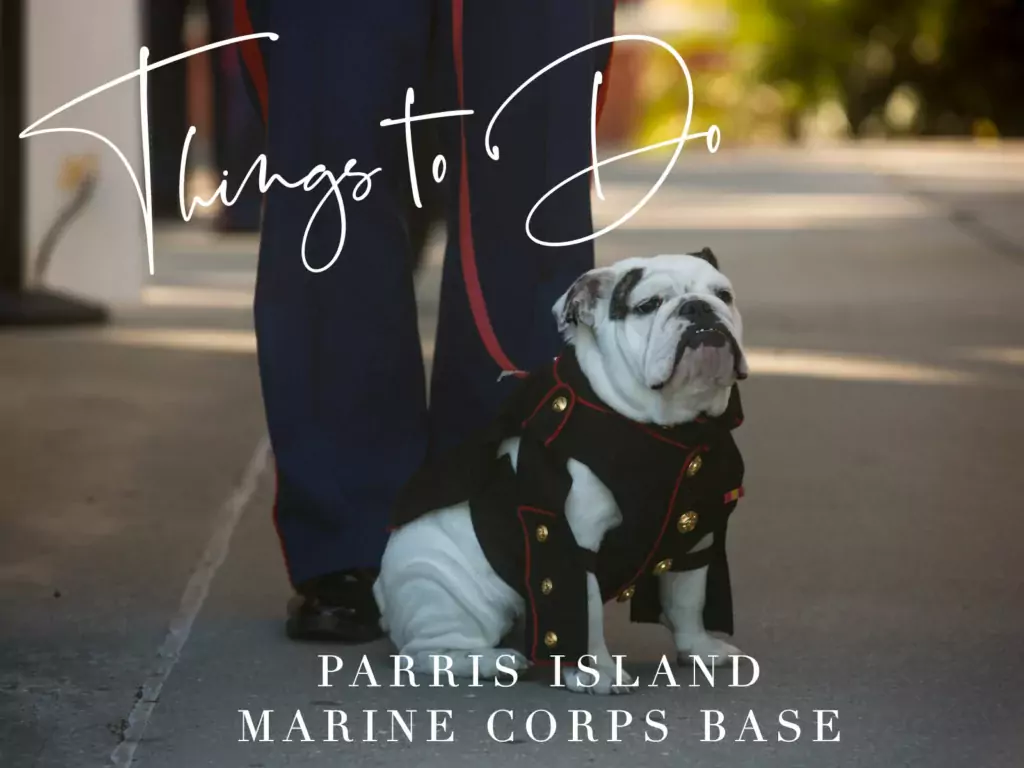 Parris Island is a great place to explore while spending time with your family because there are plenty of fun things to do within walking distance. Below you will find a list of my favorite things to do in Parris Island, ranked in order: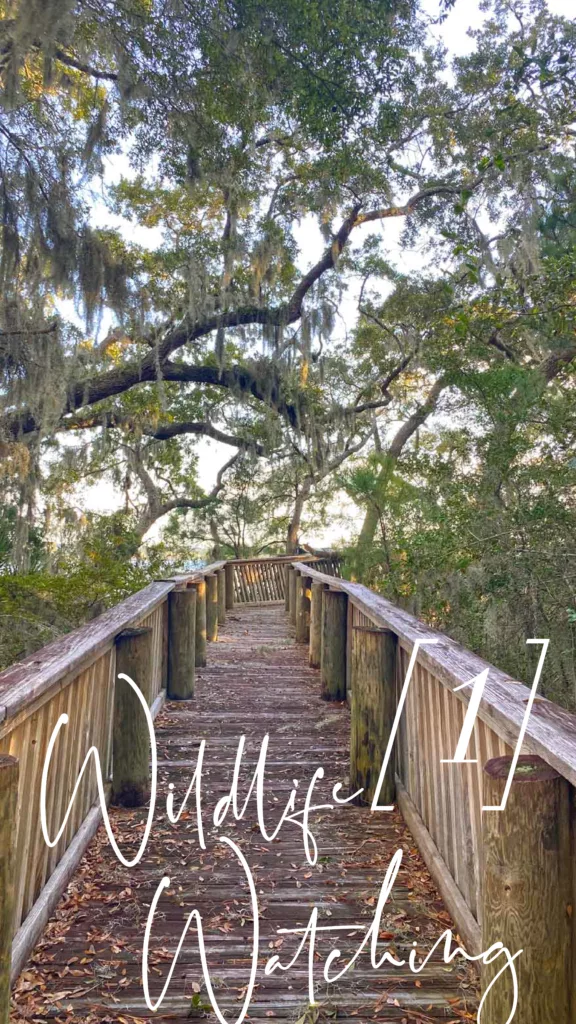 1. Have a Picnic at one of the Parks
As you begin your day at Parris Island, you can enjoy the beautiful coastal weather by having a delightful picnic lunch at one of the three best parks on the base. Whether you prefer the Natural Resources Watchable Wildlife area, Scout Island Park, or Elliots Beach, there are plenty of benches and trash cans for your convenience. With so many stunning options to choose from, you'll be sure to find the perfect spot to relax and take in the scenery. Pack a lunch and some drinks beforehand, or take your food to go and then find a spot to relax and enjoy the scenery. The parks are a great place to enjoy the nice weather and relax while basking in the great outdoors of the Lowcountry.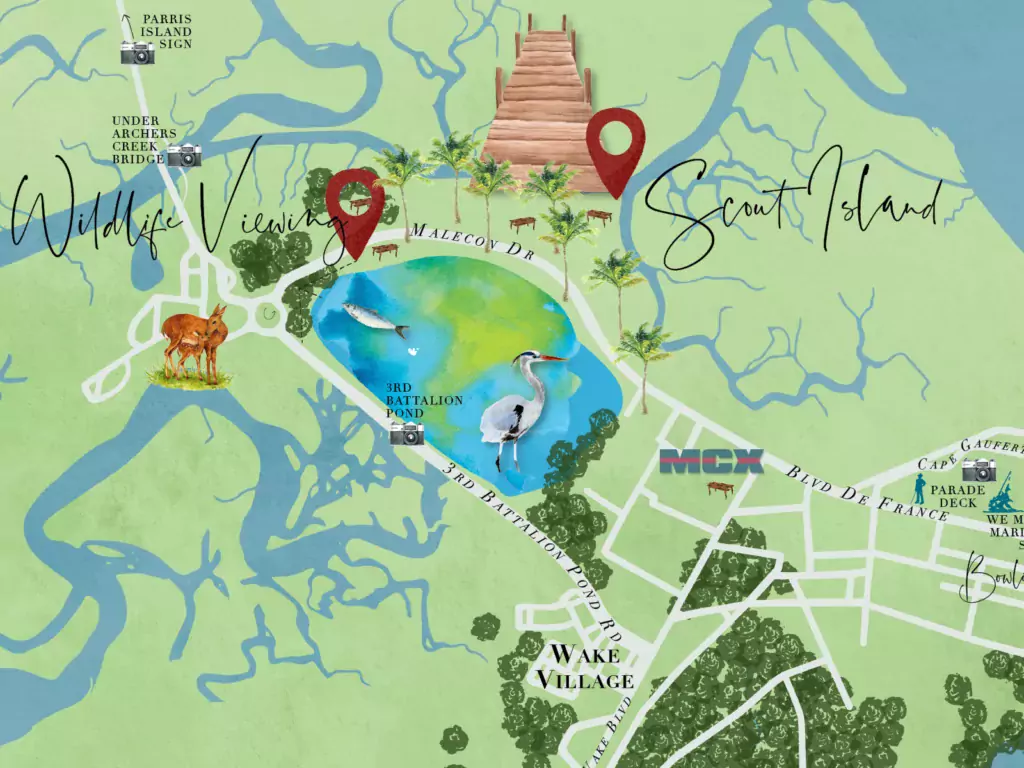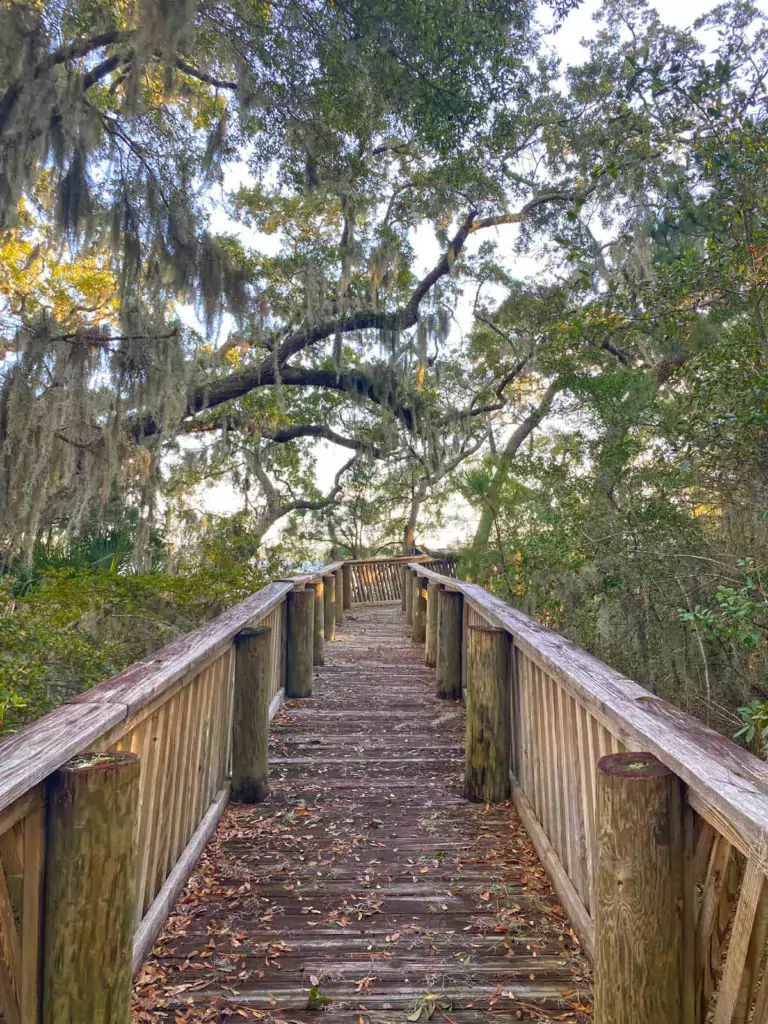 Natural Resources Watchable Wildlife Area
After entering the base, exit at the 3rd roundabout, and the Natural Resources Wildlife Watching Area is located shortly after the exit on the right side. Pull over in the grass when you see the picnic tables. Once you've finished your delightful picnic lunch, it's a great idea to take a stroll through the woods and walk off that delicious dessert. You can explore the nature trail that winds its way through the trees, and make sure to keep an eye out for the Parris Island jumping fish in the pond by the boardwalk. To help you find your way, refer to the Parris Island map above for more details about where this park is located.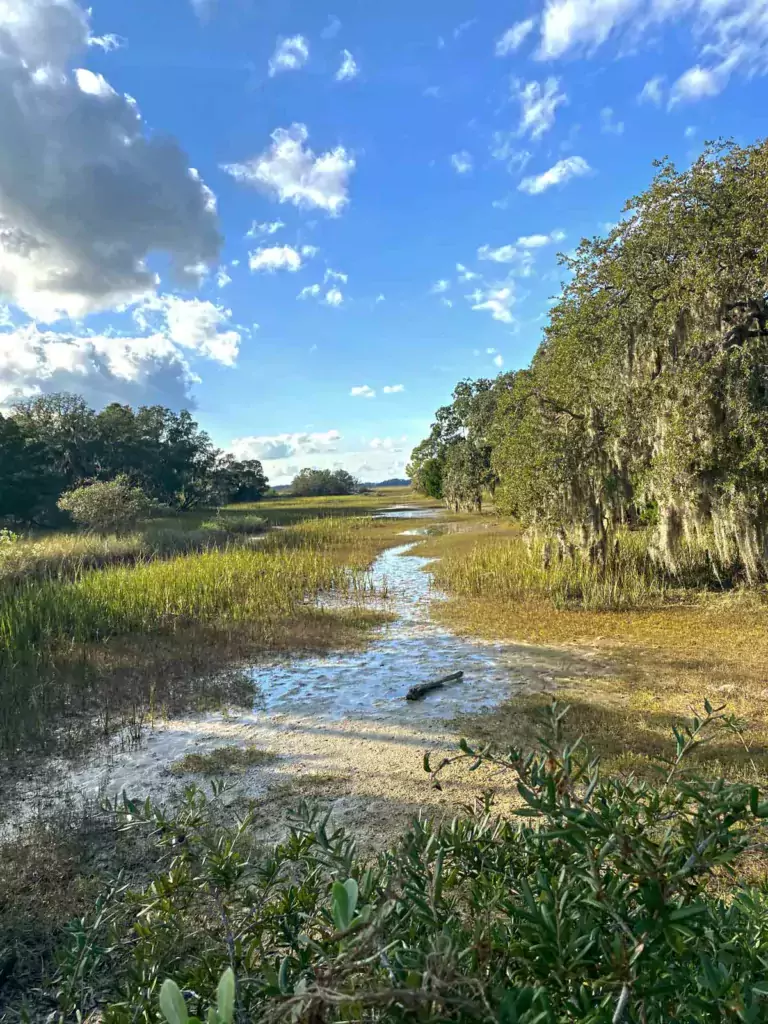 Scout Island Park
The Scout Island picnic area is shortly after entering the base, you will take the exit at the 3rd roundabout (Malecon Dr), and the parking area it's located shortly after the exit on the left side. You'll know you're there when you see the low-hanging tree branch waving you into the park (right photo). This area features a stunning marsh view of the bridge and Port Royal. Bring your fur baby and play fetch because this area is pretty secluded from the road. See the Parris Island Map above for a more detailed view of the location near the entrance.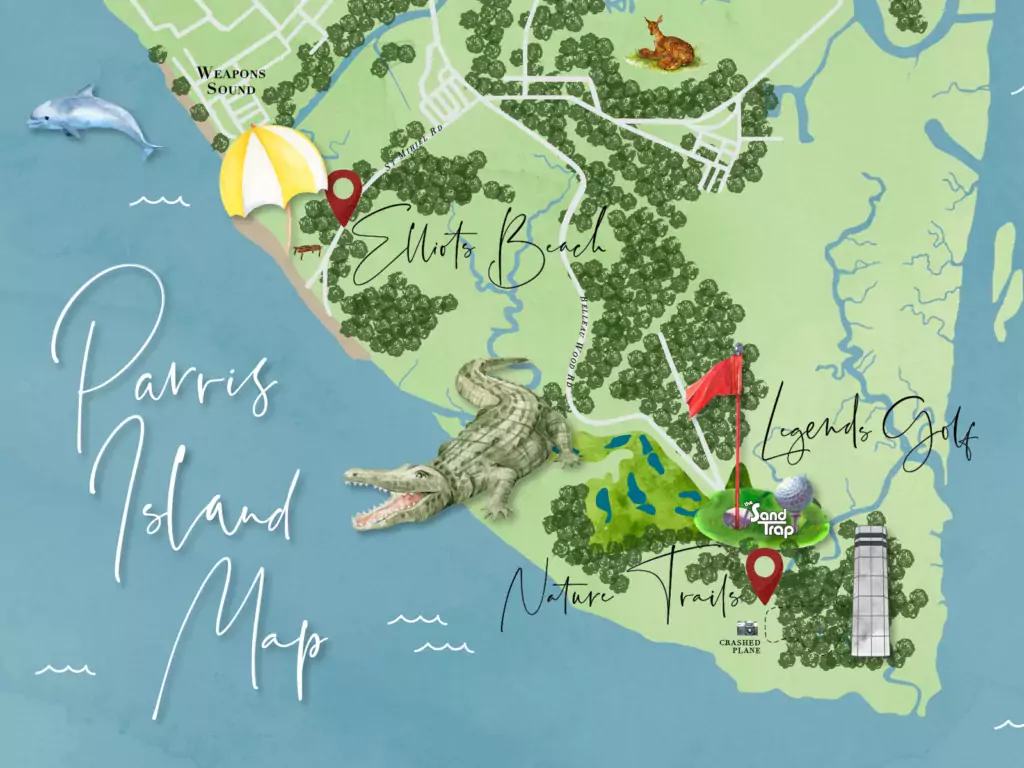 Elliots Beach
This area is much deeper into the island than the first two; it's located on the island's west side, making it ideal for sunset views. The above map of Parris Island shows you right where Elliots Beach is located. This brings me to number two on the list of things to do on Parris Island, go for a walk on Elliots beach.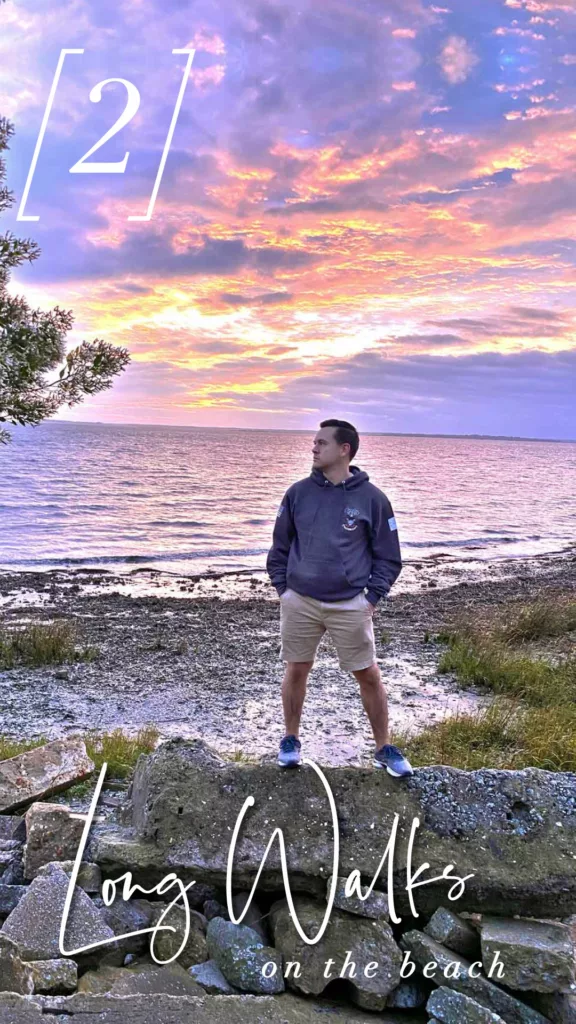 2. Go for a Walk Along the Beach
Take a relaxing walk along Elliots Beach toward the end of the day because exercise is good for you and the sunset views from this side of the island are the best I have ever seen. I'll let the photos do the talking.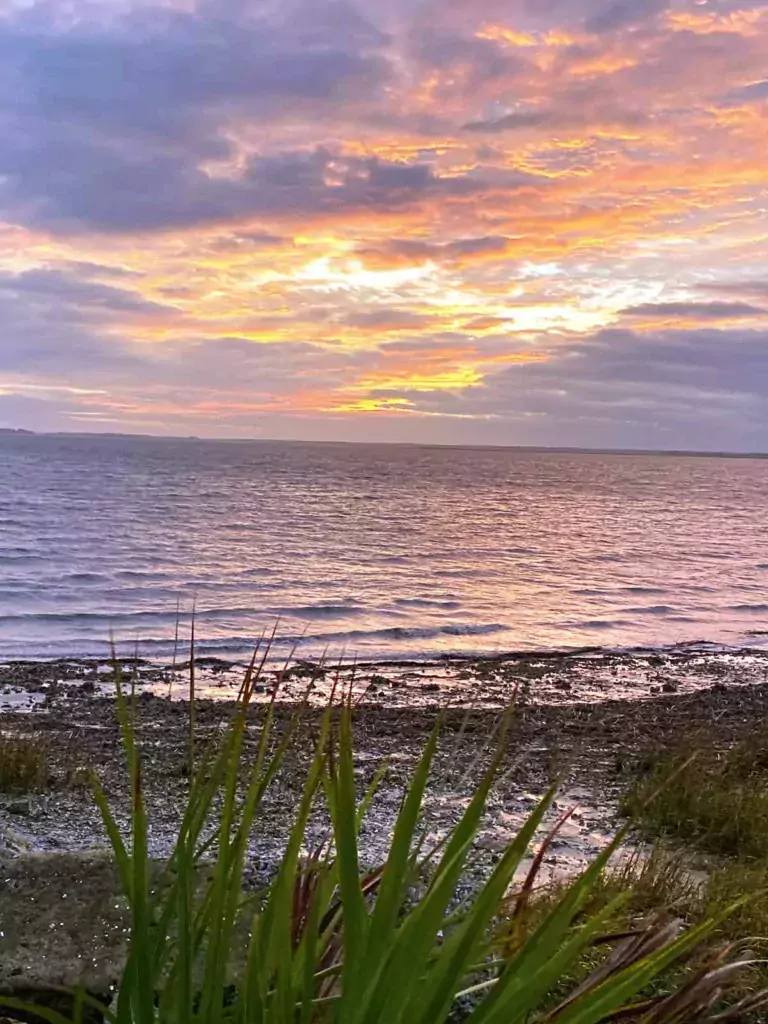 3. Learn History While Walking the Nature Trails
If you're searching for a tranquil but interesting way to spend your afternoon, consider taking a leisurely walk on the nature trails and discovering some of the island's history. You'll find that the trails wind through the Charlesfort – Santa Elena historic site, forest, and marsh, with various paths to choose from. Take in the highlights of this nature trail, including the crashed plane site, marsh boardwalk, and historical landmarks. Most importantly, remember to bring bug spray for this outdoor activity. Additionally, by referring to the Parris Island map above, you'll notice that this is near the Golf Course.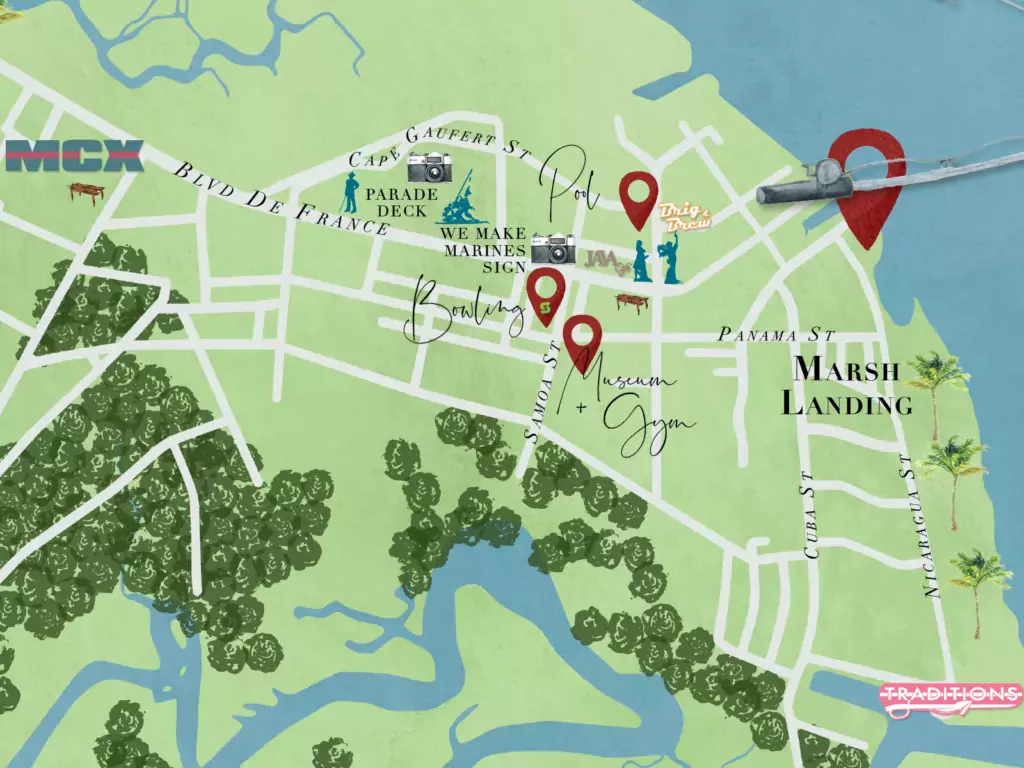 4. Enjoy a night of Bowling at the Parris Island Bowling Center
Whether you're looking to spend a fun night out with your family or get more involved in bowling, there are plenty of options to choose from. Additionally, the bowling alley can be rented for birthday parties during business hours for $10-$12 per guest. Conveniently, there is also a Subway located inside the building for those who need a quick bite to eat.
Address: Building 203, 86 Samoa Street
Phone: (843) 228-1551
Hours: Thursday [ 11am – 3pm ] during graduation weeks only
Admission: Active Duty $5 | Civilian $5.50
Glow Bowl: Friday and Saturday [ 8pm-11pm ] Active Duty $6 | Civilian $6.50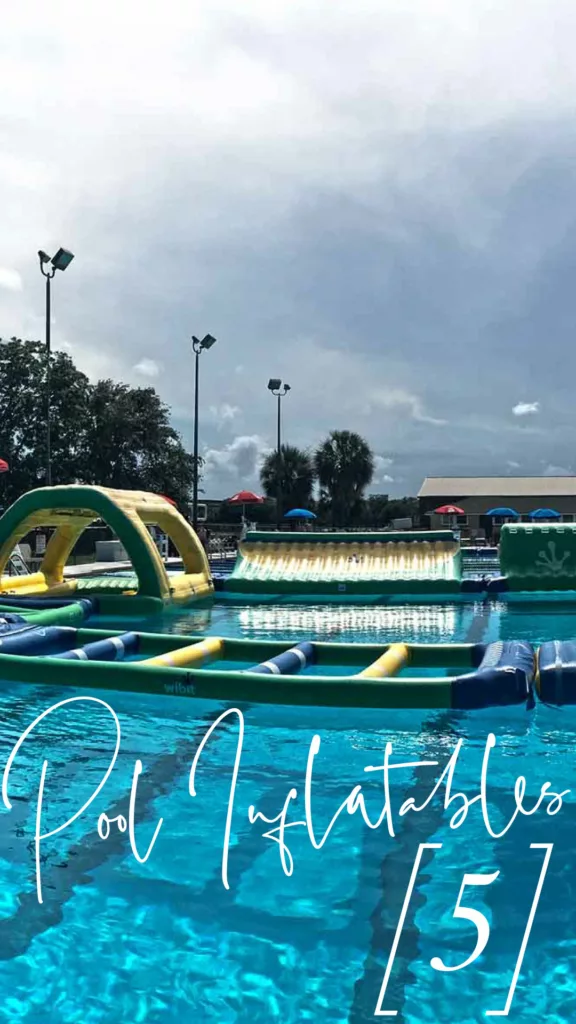 On your mark, get set…have fun! The Parris Island pool is a huge inflatable water course testing your balance and coordination. Start a friendly competition of who can cross it the fastest without falling into the water. It's a great way to spend a relaxing afternoon with the kids. There are two courses, one for new and experienced swimmers.
Address: Building 165, 704 Cape Gaufert Street
Phone: (843) 228-1506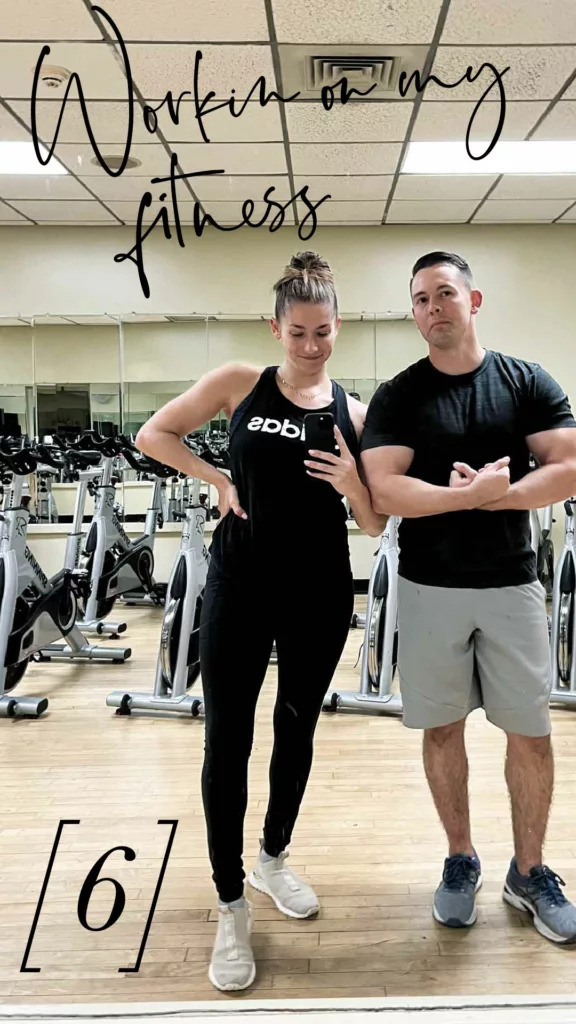 6. Keep it Tight at the Gym
The MCRD Parris Island Fitness Center is the best way to stay in shape because it doesn't require the extra motivation of driving further away AND paying money to do so. It features all the amenities of a modern gym, like free weights, machines, racquetball courts, and classes. Seven group exercise classes are available, such as HITT, Ab Blast, and indoor cycling. Free personal training is available to active-duty personnel if you prefer to exercise solo!
Address: Building 111, 676 Panama Street
Hours: Monday – Friday [ 4am – 9pm ] Saturday – Sunday [ 8am – 5pm ]
Phone: (843) 228-1579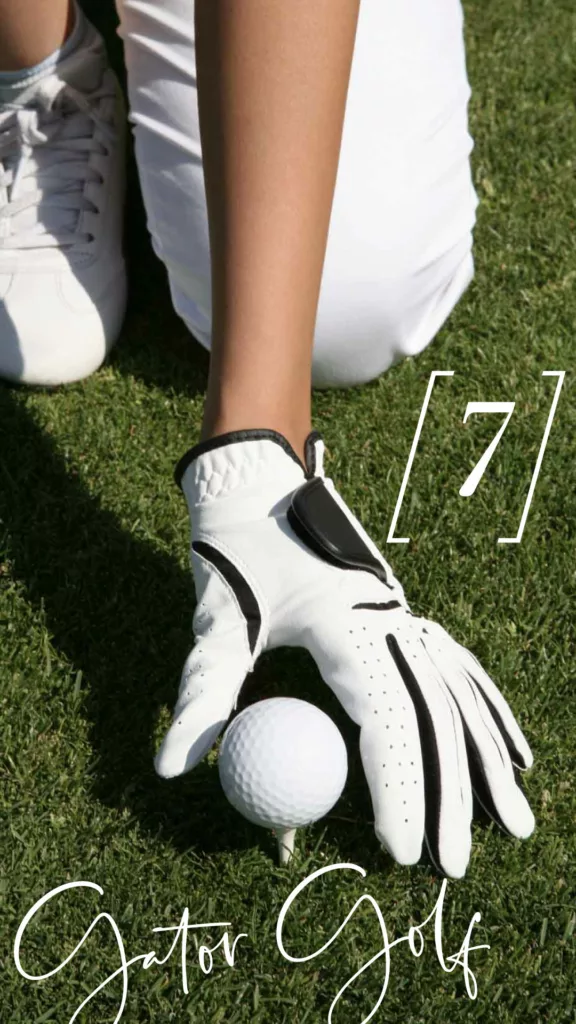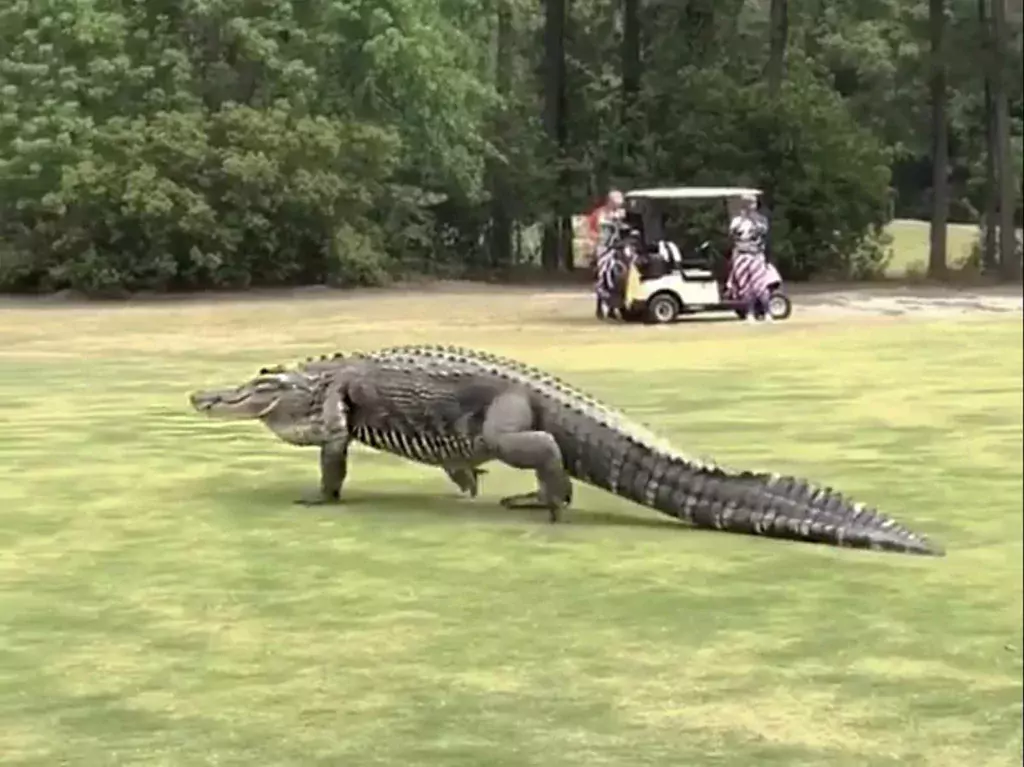 It's a beautiful day, so you play a round at the golf course. You're having a great time, but you start to get tired around the 7th hole because you think you see a 12-foot gator casually walking past you. So, you do a double take before craping your pants because that gator is real. He hangs out around the final holes and seems to mind his business. Check out how massive he is on this Facebook video. Full disclosure, I have never played golf at this par-72 course, but it's rated as a 4.6 out of 5 stars from Golf Pass and provides convenience with its on-base location. I have driven by to spot the big gator and eaten at the Sand Trap Grill in the Pro Shop.
Address: 299 Belleau Wood Road
Hours: Monday – Sunday [ 7am – 6pm ]
Phone: 1 (843) 228-2240
Admission: Active Duty $18 + on Military Monday's all active duty military golfers receive 50% off the Green Fee & Cart Fee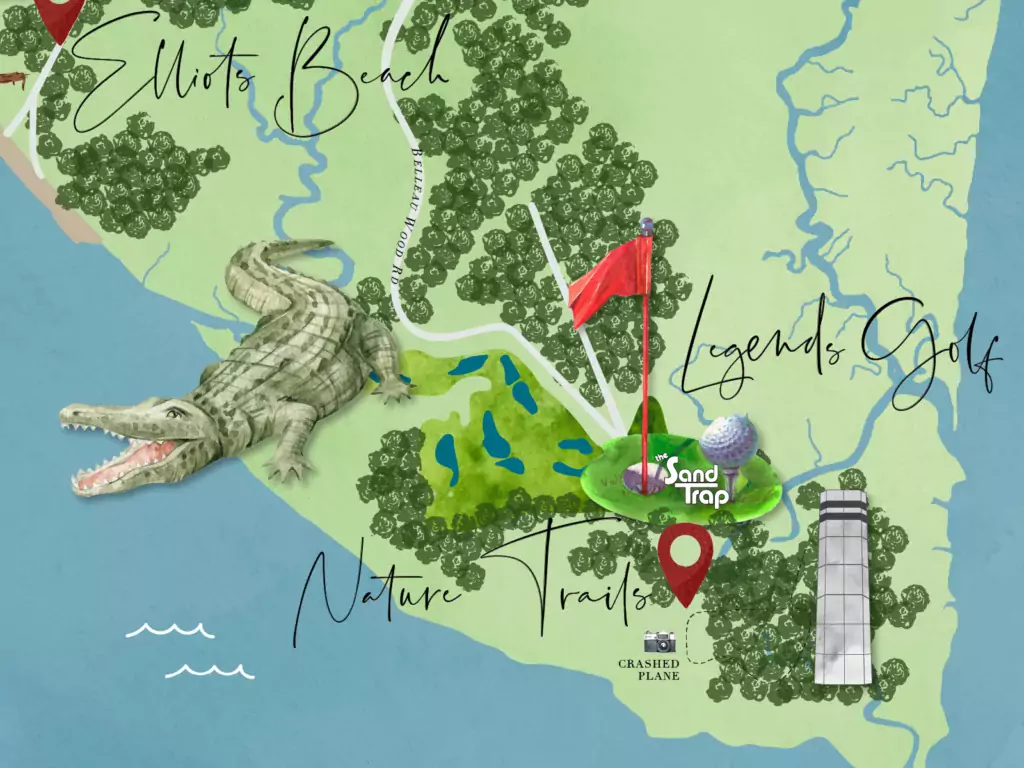 8. Visit the Parris Island Museum
The Parris Island Museum is home to several exhibits which allow visitors to experience what it's like to be a Marine. There, you can see uniforms and other artifacts from the Marine Corps history. There is a gift shop inside that closes early at 4 pm.
Admission: Free
Hours: Mon. – Wed. [ 10 am to 4:30 pm ] Thur. – Fri. [ 8am – 4:30pm ] Saturday [ 10am – 4:30 pm ]
Phone: Museum 843-228-2951 | Gift Shop 843-228-2166
9. Go Fishing at the Pavilion
Enjoy the convenience of driving your car straight up to your fishing spot on the Waterfront Pavilion. I am not much of a fisherman, but I enjoy boat-watching, and there are plenty of watercrafts to gaze upon. Although this area is for residents only. The sunrise views from the MCRD waterfront pavilion are what dreams are made of.
Address: 208 Nicaragua Street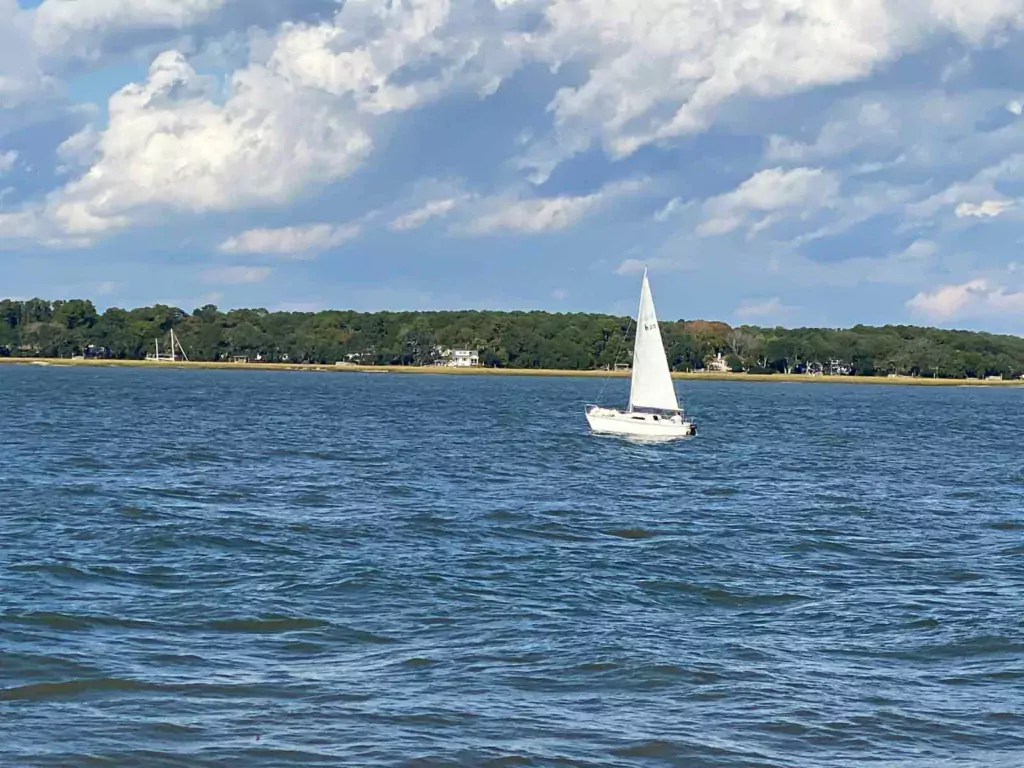 Other Things To Do Near Parris Island:
Comment What Your Favorite Things To Do in Parris Island Are
Jump back up to the Table of Contents when you see this button for easy navigation through this extensive guide.
---
8 Top Sights On Parris Island
1. Parade Deck During Graduation Day
All 50 US state flags are displayed along the main road Blvd De France outlining the Parade Deck where the graduation ceremony commences. It's a sight to behold.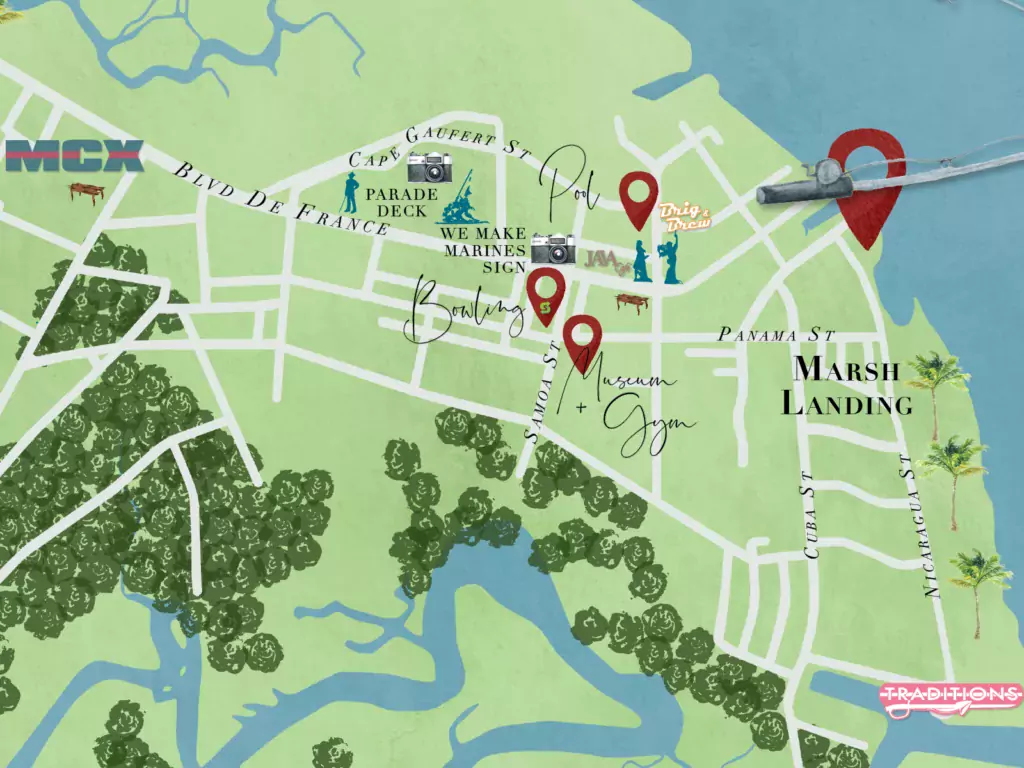 2. Catch the Island's Best Golden Hour Locations
As the sun slowly moves across the horizon, a beautiful and colorful sky emerges on Parris Island. Listen as the waves lightly break in the distance. Stop for a moment to take in the peaceful scene and keep an eye out for deer sightings. Because the sun rises in the east and sets in the west, the following locations are best for viewing golden hour on Parris Island.
Sunrise– Waterfront Pavilion
Sunset– 3rd Battalion Pond + Elliots Beach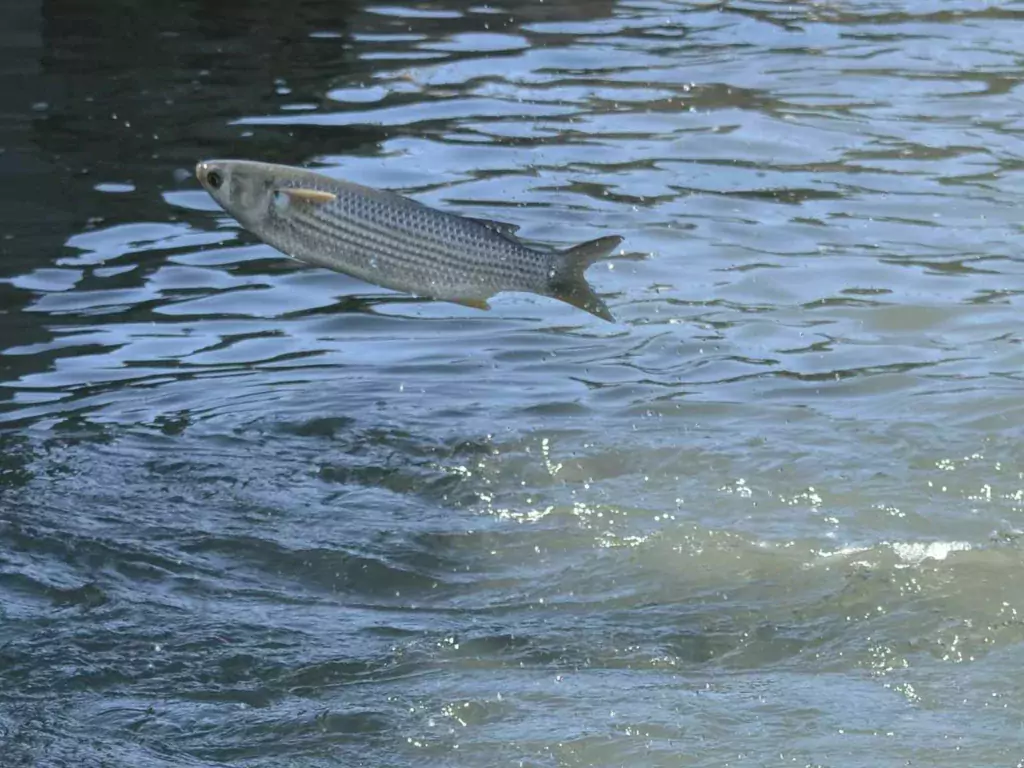 3. The 3rd Battalion Pond
Just after the 2nd roundabout exit, you will drive past the pond on your left; there are two pull-off locations for you to park and nature watching. In this pond, I have seen alligators, a deer swimming to the island, birds, and mullet fish. A noticeable behavior in mullet is the tendency to leap out of the water, and they do not disappoint. Even if you are driving by, you will see multiple mullets jumping out of the water and making a splash. Come here during sunset for a pastel sky with a flaming orange sun. On the opposite side of the pond is the marsh which is especially stunning during sunset. Noted by a camera icon on the map of Parris Island.
4. Monument Checklist
Molly Marine Statue
Replica of the statue donated by the city of New Orleans and artist Enrique Alferez to help recruit women after the birth of women marines in 1943.
Purple Heart Monument
How can man die better than facing fearful odds for the ashes of his fathers and the temples of his Gods.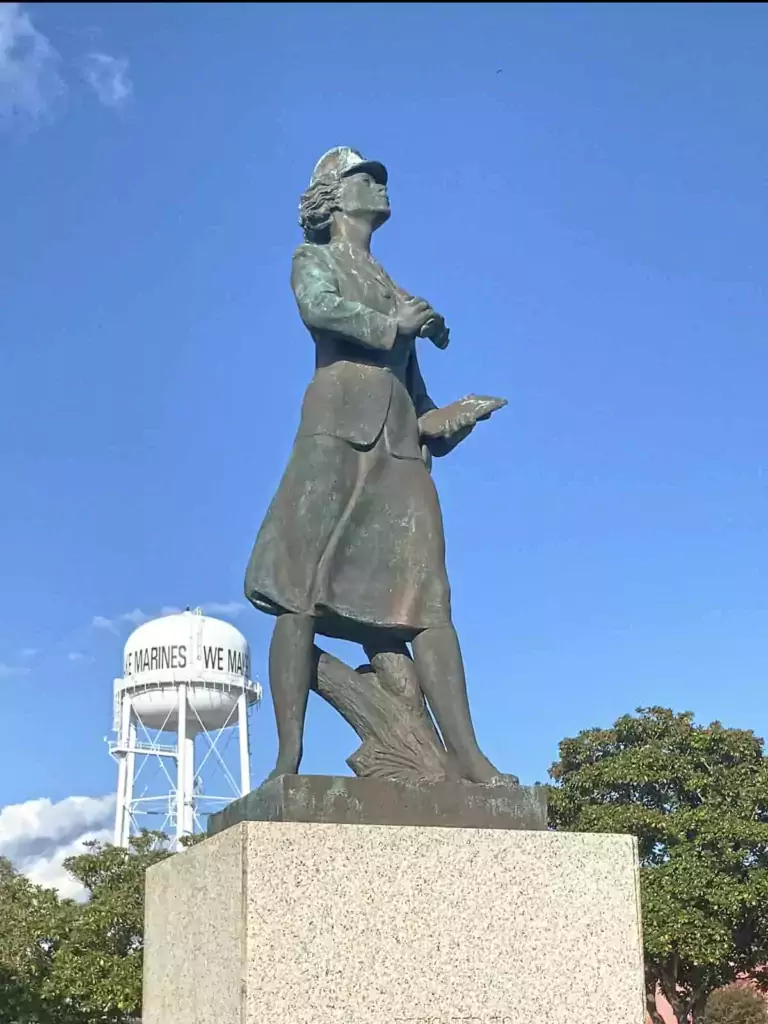 Iron Mike Statue
A monument in memory of the men of Parris Island who gave their lives in the world war erected by their comrades.
Drill Instructors Monument
Dedicated to the Drill Instructors who commit themselves to making Marines. The Drill Instructor Creed is listed on the monument of a male and female DI statue that reads:
"These recruits are entrusted to my care. I will train them to the best of my ability. I will develop them into smartly disciplined, physically fit basically trained marines, thoroughly indoctrinated in love of the Corps and Country. I will demand of them and demonstrate by my own example the highest standards of personal conduct, morality, and professional skill."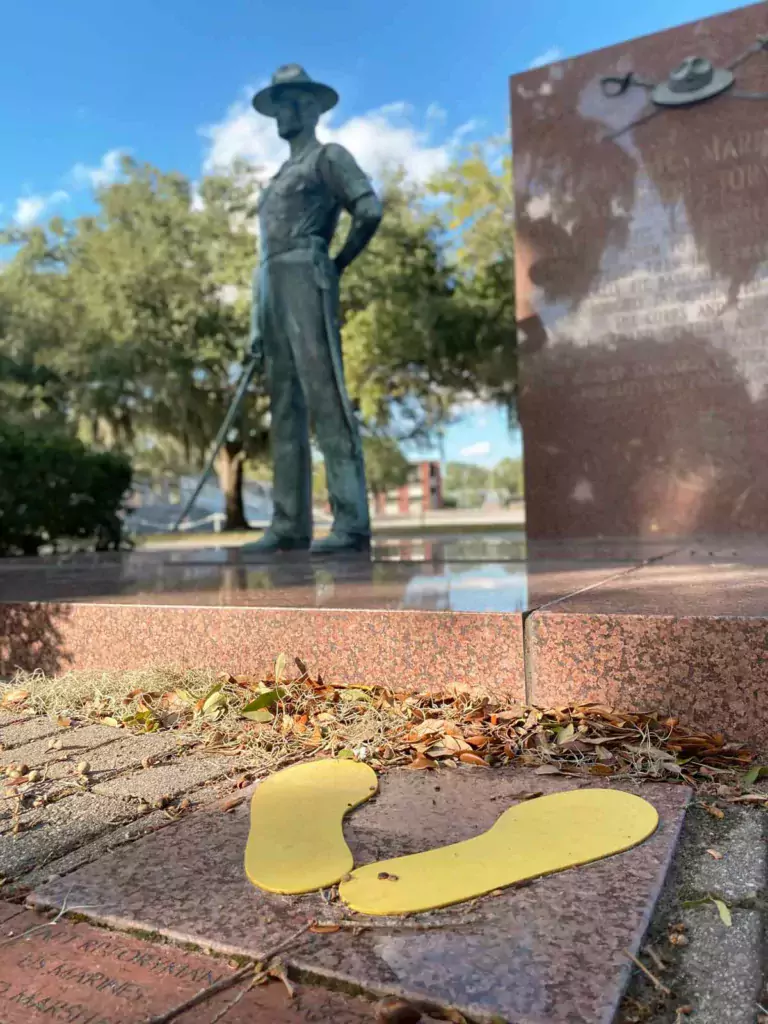 Iwo Jima Monument
The Iwo Jima flag-raising statue on Parris Island is prominently displayed at the Parade Deck. It depicts a famous photo of Marines raising the American flag on Mount Suribachi during the battle for Iwo Jima in 1945. The statue is dedicated to the marines who fought in the battle for Iwo Jima in World War 2.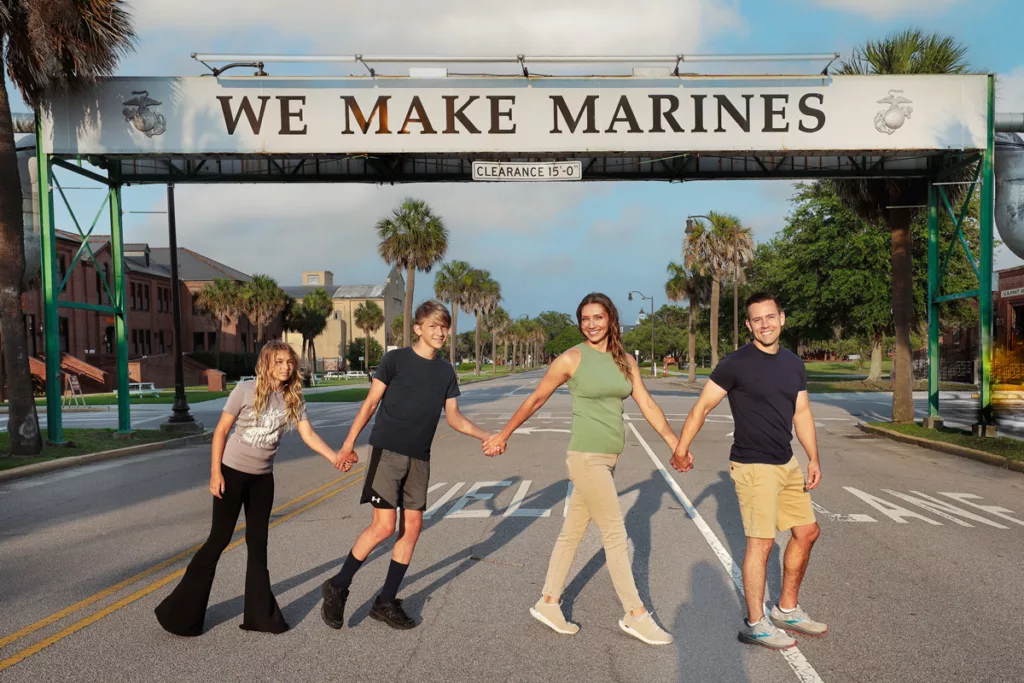 5. We Make Marines Sign
Since 1915, Parris Island's primary mission is to train new Marines. Over a million men and women have trained at the Depot and have served the United States all over the globe. There is an iconic sign going across the main street, Blvd de France that reads "We Make Marines" which is a great place to take a photo. Noted by a camera icon on the map of Parris Island.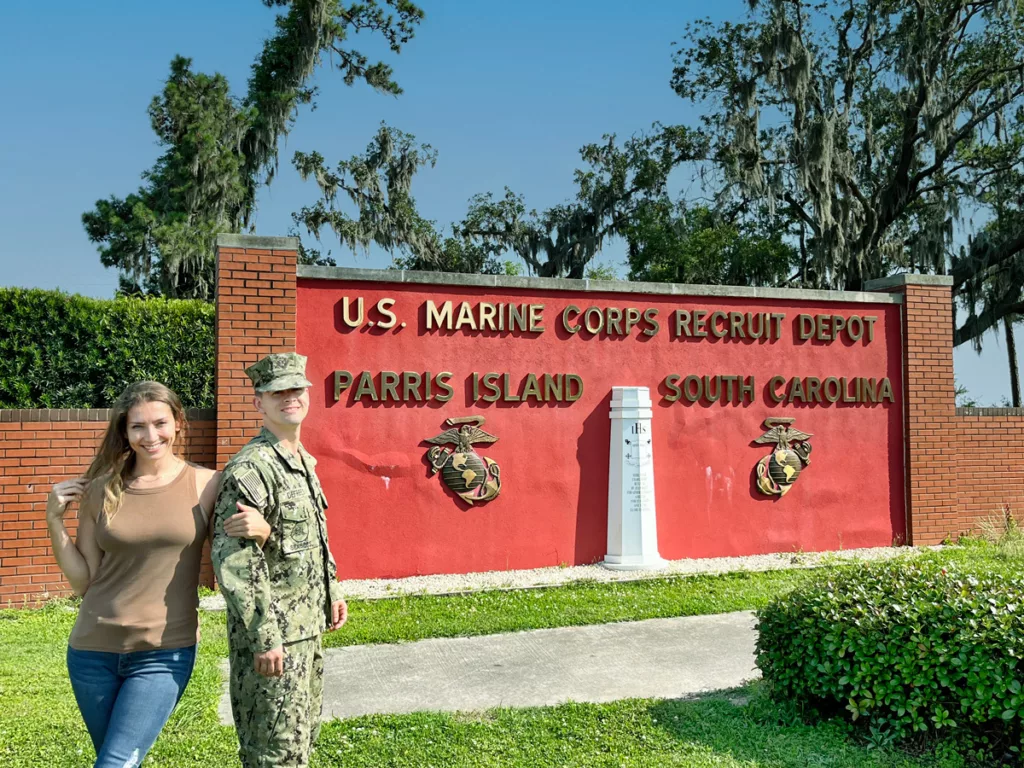 6. Parris Island Entrance Sign
The red Parris Island entrance sign is located before you get onto the base. After taking the exit for Parris Island, you will come up to the sign on your right side. There is a pull-off parking area located near the sign, and it's a great spot for photos. Noted by a camera icon on the map of Parris Island.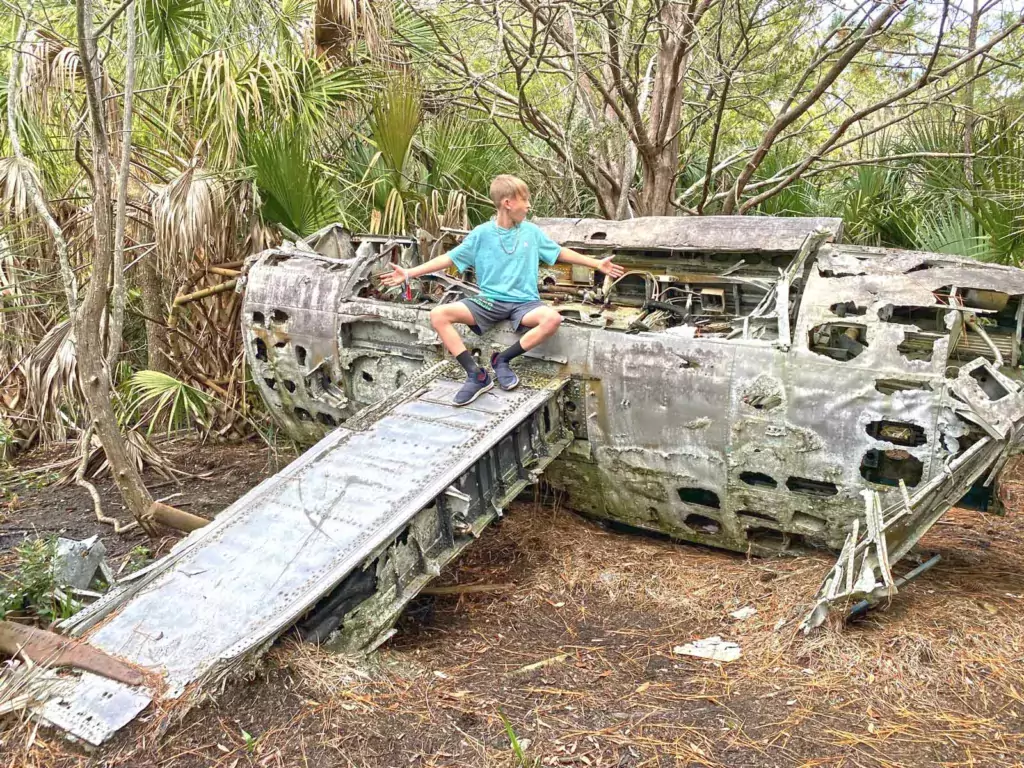 7. Scout Bomber Crash
There is a historical nature trail near the golf course parking lot that has the remains of an old Brewster Buccaneer that crashed in 1943, don't worry; the crewmen survived. The nature trail takes you through the woody footpaths and bridges that lead to a marsh boardwalk with another spectacular view. Noted by a camera icon on the map of Parris Island.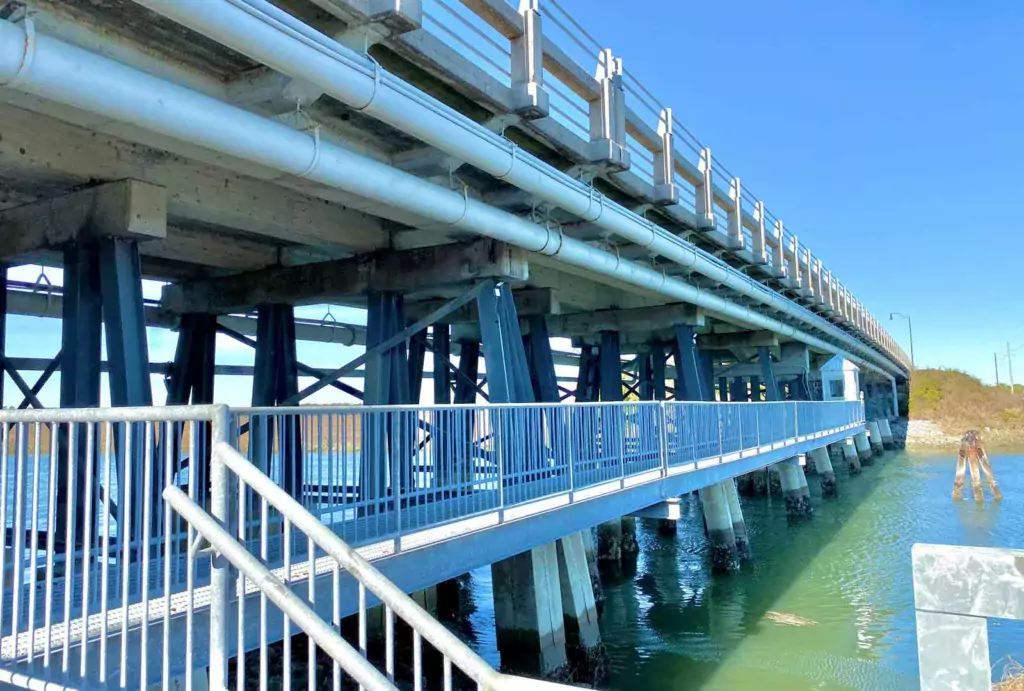 8. Under Archers Creek Bridge
This one is just off base as well. After exiting the guard gate, you come up to Archers Creek bridge you can pull over to the right side. I see people fishing here all the time, but it's also a nice place to take a photo of the marsh and enjoy the amazing views of the island. Noted by a camera icon on the map of Parris Island.
Things To Do in Parris Island Include Seeing the 8 Best Sights Above
---
Where to Eat | Chapter 3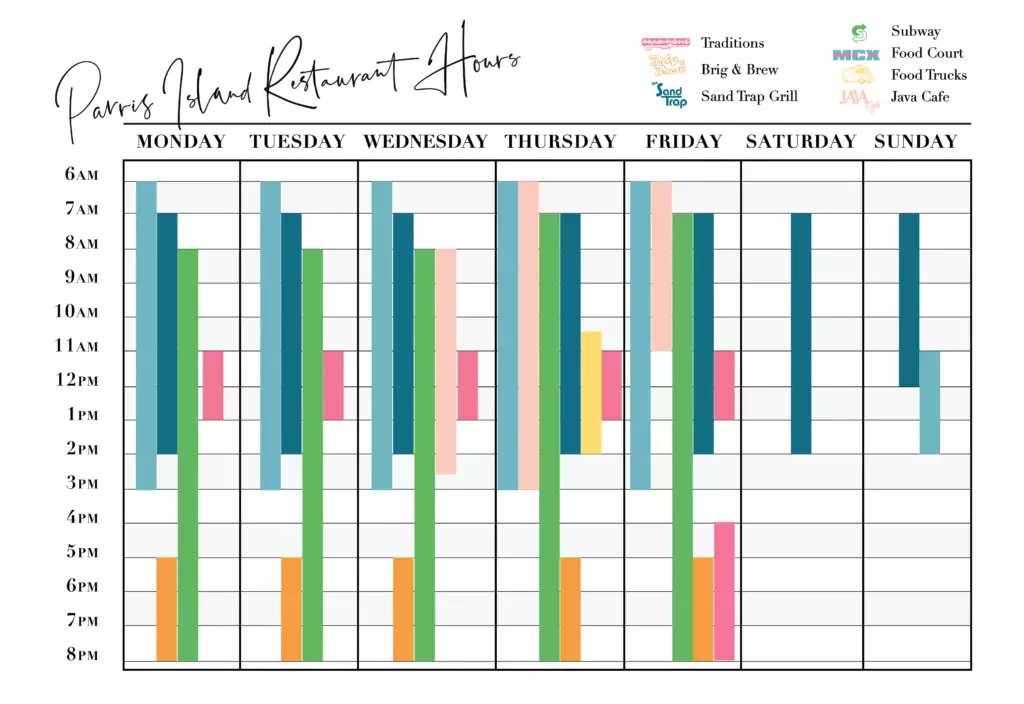 When considering all the things to do in Parris Island, eating is probably on that list. Do yourself a favor and print the schedule above so you always know what's open.
Food Truck Lot
Serving deliciousness like BBQ, ice cream, lumpia, sweet-Açaí berry treats, and more.
Hours: Thursday [ 10:30am – Lunchtime ]
Location: Between the Bowling Center and The Bunker
MCX Food Court
Asian Creations, Victors Flame Broiled Burgers, and smoothies.
Address: Building 409, 2766 Malecon Drive
Phone: (843) 228-1688
Call-In Orders : (843) 228-1687, (843) 228-1686
Hours: Monday – Friday [ 6am – 3pm ] Sunday [ 11am – 2pm ]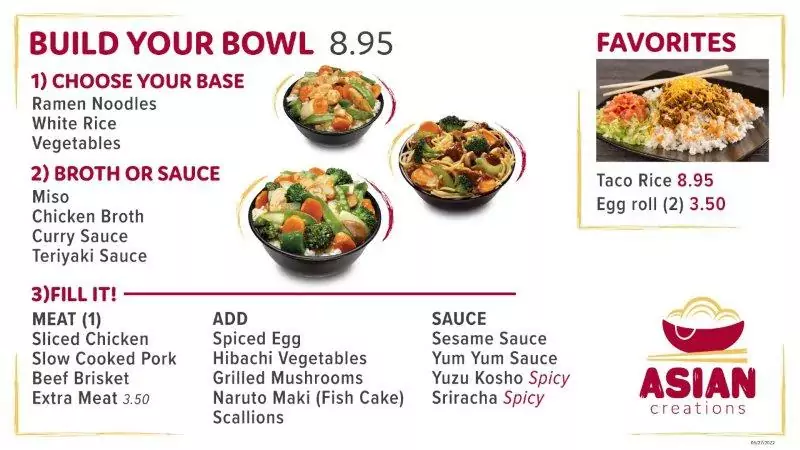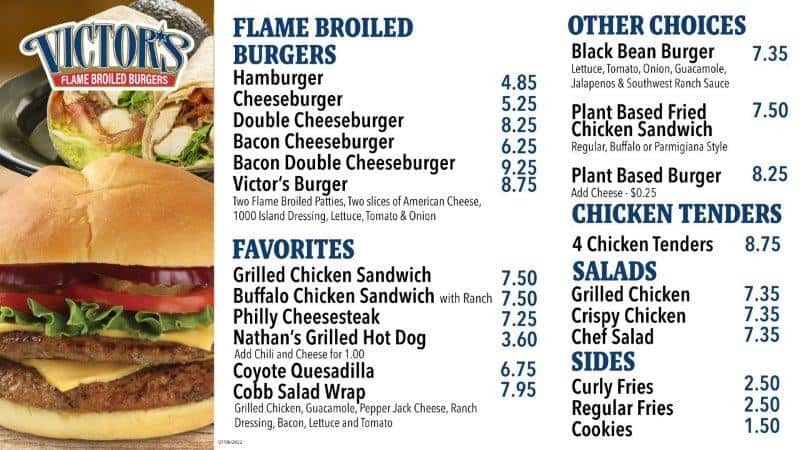 Subway
It's your friendly neighborhood subway station located inside the Bowling Center. They recently renovated the inside in the summer of 2022.
Address: Building 203, 86 Samoa Street
Phone: (843) 228-3672 | Call-in orders not accepted until after 3pm on Family Day Thursdays
Hours: Mon. – Wed. [ 8am – 8pm ] Thur. – Fri. [ 7am – 8pm ] Weekends [ 10am – 6pm ]
Traditions
Traditions is a sit-down restaurant and offers an experience like no other with its weekly-changing menu, quality ingredients, and exceptional employees. Open to military and civilians except for Thursdays which are reserved for active duty and DOD employees. Traditions also offers a venue space for indoor and outdoor events at the gazebo, providing spectacular marsh views. Pub night on Friday is a popular neighborhood hangout for socializing with peers.
Address: Building 79, 830 Nicaragua Street
Phone: (843) 228-1566
Hours: Monday – Friday [ 11am – 1pm ] Friday Pub Night: [ 4pm – 8pm ]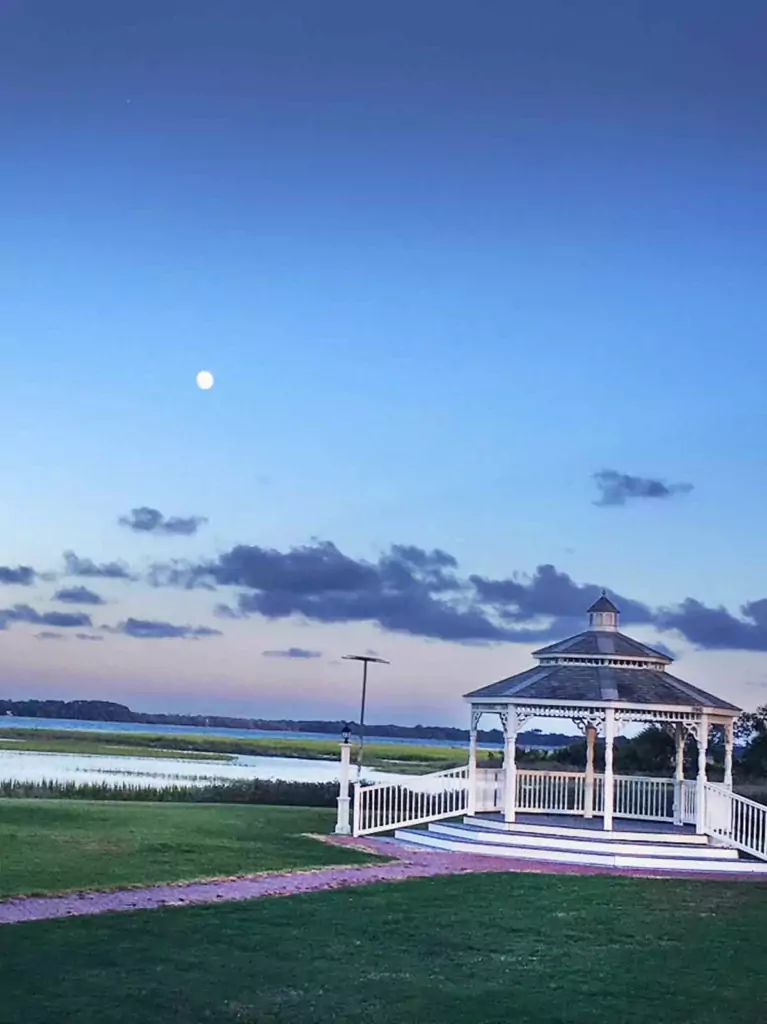 Brig & Brew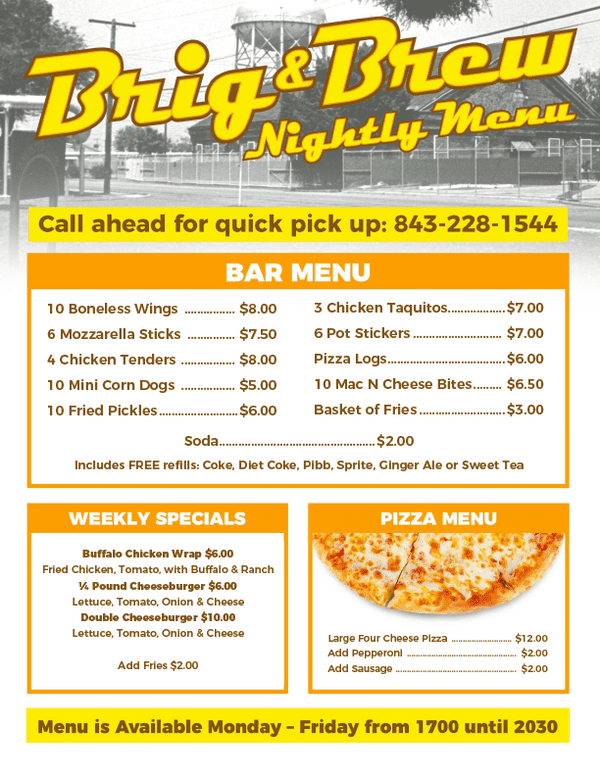 Brig & Brew is a historic recreation facility offering theater seating, TVs, darts, pinball machine, air hockey, free wifi, pool tables and more. There is a sport and snack bar available, and you may reserve a room for private events and parties by calling the number below.
Address: Building 19, 72 Santo Domingo Street
Phone: (843) 228-1544
Hours: Monday – Friday [ 5pm – 8pm ] Hours vary with customer demand
Java Cafe
Located in the Douglas Visitors' Center, Java Café serves hot and cold beverages, Starbucks coffee, and grab-and-go snacks. Light sandwiches and pizza are served on Thursdays.
Address: Building 283, 521 Blvd de France
Phone: (843) 228-4685
Hours: Grad Weeks Wednesday [ 8am – 2:30pm ] Thursday [ 6am – 3pm ] Friday [ 6am – 11am ]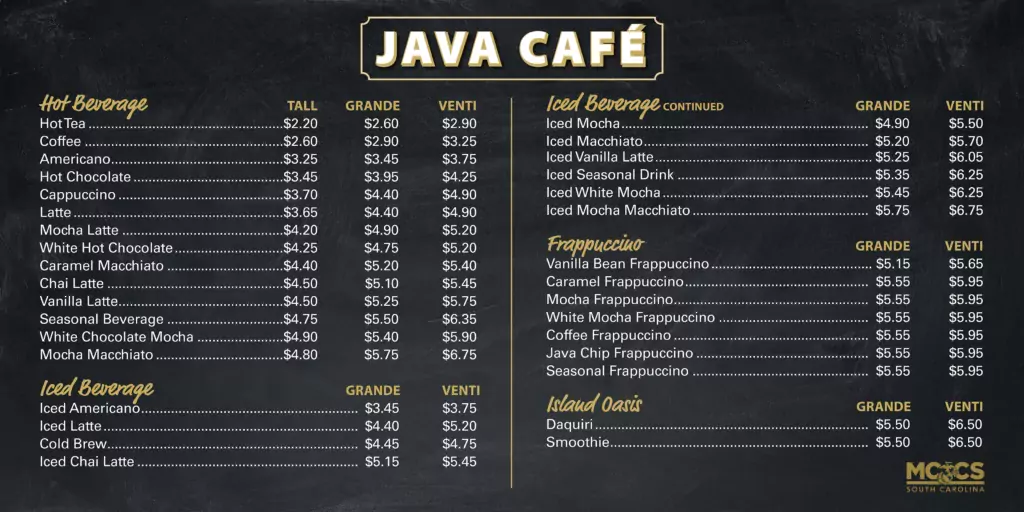 Sand Trap Grill
Located in the Legends Golf Course Pro Shop, the Sand Trap is a fast food grill with a place to sit down and enjoy your meal after a game of golf. They serve up a hot breakfast and lunch daily.
Address: Building 299, 2315 Belleau Wood Road
Phone: (843) 228-4560
Hours: Monday – Saturday [ 7am – 2pm ] Sunday [ 7am – 12pm ]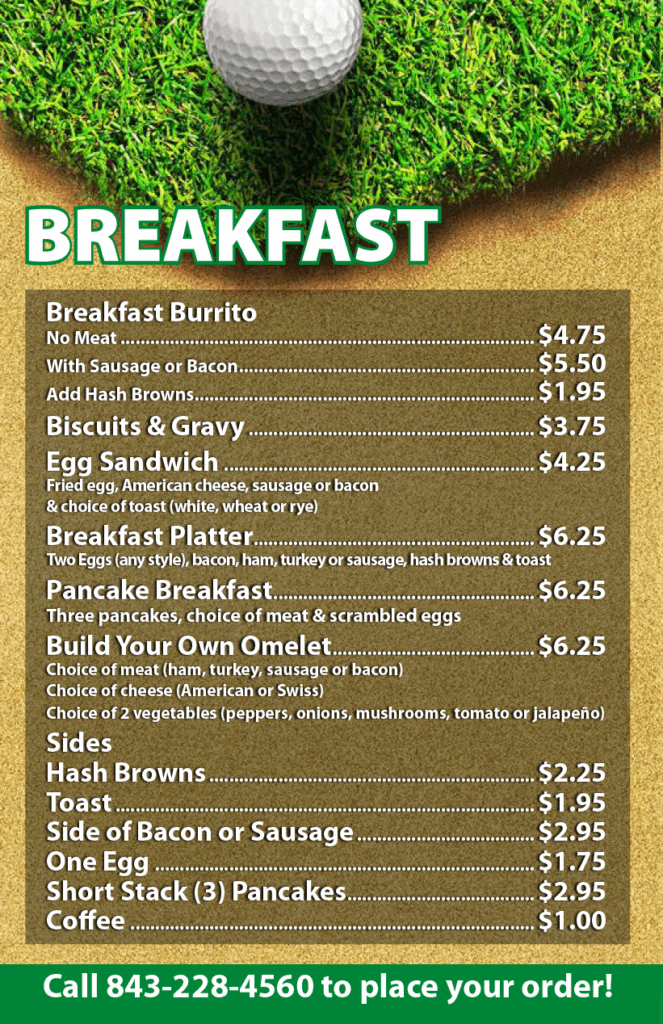 ---
Things To Do In Parris Island | PCS Edition | Chapter 4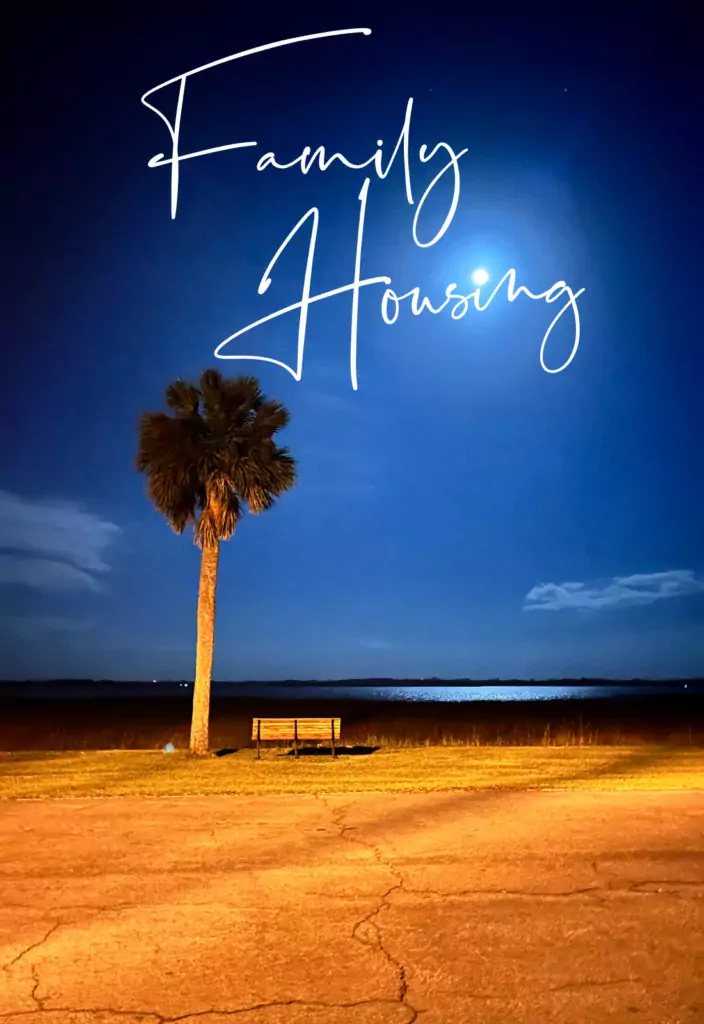 Family Housing on Parris Island
Once you receive your PCS orders, contact the Housing Office managed by Tri-Command Communities when looking for on-base housing. Tri-Command is a pet-friendly (2 max 😉) community with 3 different neighborhoods that share access to playgrounds, an outdoor pool, a tennis court, a fitness facility, and a soccer field. There may be a waitlist for your specific housing needs; we waited a month before moving here before the house was ready.
Housing Office
Address: 402 Blvd de France
Phone: (843) 228-2853
Hours: Monday – Friday [ 7:30am – 4pm ]
Once you are settled in, you will enjoy the monthly happenings between Tri-Command and MCCS, the events are endless. Trick or treating is pretty popular, and the Polar Express adventure. During Christmas, Santa comes out on the firetruck and passes gifts out to all the good little kids in the neighborhood. The lending locker on base will assist you with borrowing the basics needed before your stuff has arrived from the move.
1. Wake Village
Wake Village is the first neighborhood you arrive at and offers homes with one-car garages, screened-in porches, and fenced-in backyards. The neighborhood offers a community center, fitness facility, and a swimming pool.
Beds: 2–4
Baths: 1–2.5
Eligibility: E1–E5
2. Weapons Sound
The homes in Weapons Sounds are located near the shooting range, hence the name. The homes feature a garage, fireplace, granite countertops, and large living rooms for family gatherings. The beach is in your backyard at Weapons Sounds.
Beds: 2–4
Baths: 1.5–2.5
Eligibility: E6–E9
3. Marsh Landing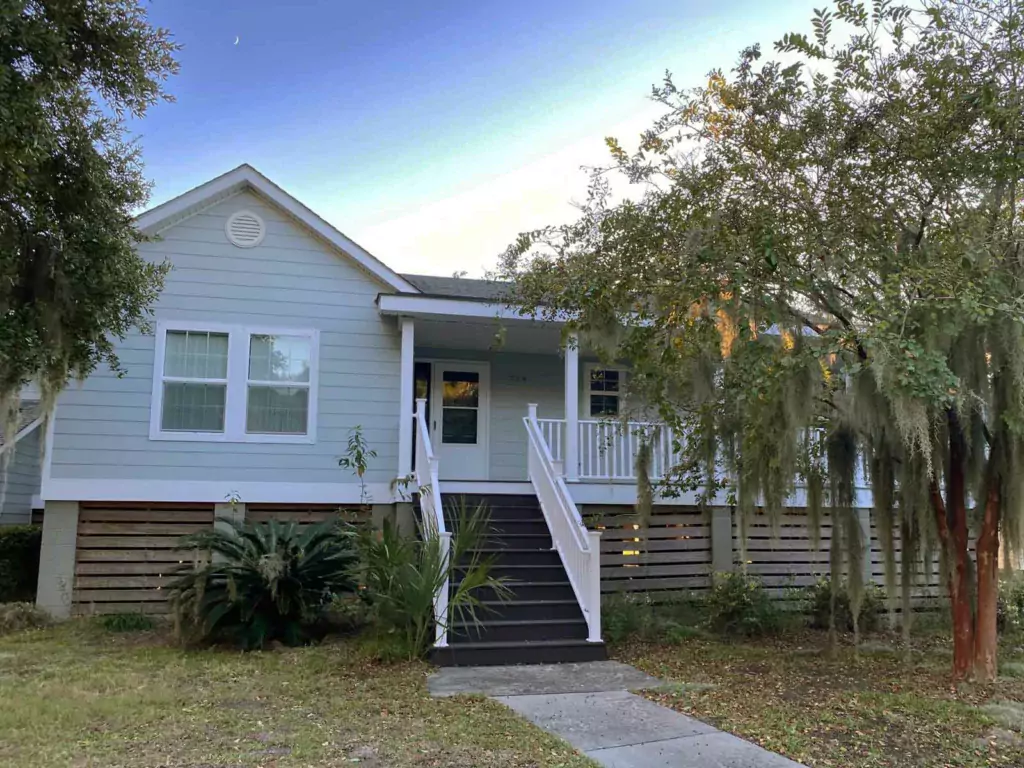 Marsh Landing is a premier neighborhood with beautiful views, featuring two-car garages, screened-in porches, new Pergo flooring. It's close to the restaurant Traditions and the gym.
Beds: 4
Baths: 2.5
Eligibility: O1–O6
Utilities
All utilities are included with rent except cell phone and internet.
Internet – Hargray is the only provider on the base.
T-mobile works well here.
Other Helpful Information
Depot Veterinary Clinic 843-228-3317
Parris Island ITT/All Points Travel
Address: 192 Panama Street, MCRD Parris Island, SC 29905
Phone, Travel: 1 (843) 228-3557, Tickets: 1 (843) 228-1540
Hours: Monday-Friday: 9am – 5pm
Lending Locker Building 923, Room 27, Chosin Reservoir Road (same building as DEERS/RAPIDS).
We borrowed items from Lending Locker when we moved here last November. They have the basics: Cots, pots, pans, cooking utensils, cutting boards, silverware, plates, cups, and small appliances.
Facebook Groups To Join
Parris Island Schools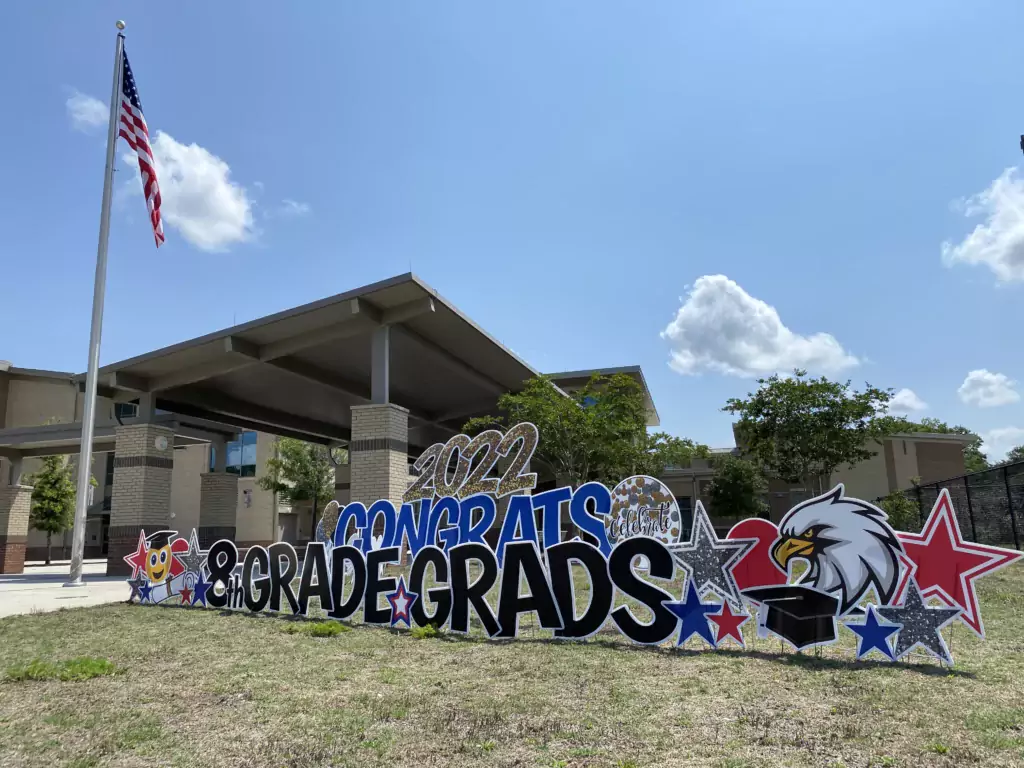 The only public school district in the immediate area of Parris Island is the Beaufort County School District.
Though there are no schools on Parris Island, however, DoDEA has 3 schools in the Laurel Bay district, and they offer school buses. There are 2 elementary and 1 elementary/middle school that serves pre-kindergarten through 8th-grade students.
For more information on DoDEA/DDESS schools, contact the region Superintendent at 912-408-3090. Alternatively, parents and guardians may call the MCRD Parris Island School Liaison Officer at 843-846-6128.
No more school uniforms for 2023!
| School Name | School District | Phone Number |
| --- | --- | --- |
| Bolden Elementary/Middle (3-8) | Laurel Bay/DoDEA SC/Ft. (ON BASE) | (843) 846-6112 |
| Elliott Elementary (PK-2) | Laurel Bay/DoDEA SC/Ft. (ON BASE) | (843) 846-6982 |
| Port Royal | Beaufort County School District (OFF BASE) | (843) 322-0820 |
---
Things To Do In Parris Island | Travel Planning | Chapter 5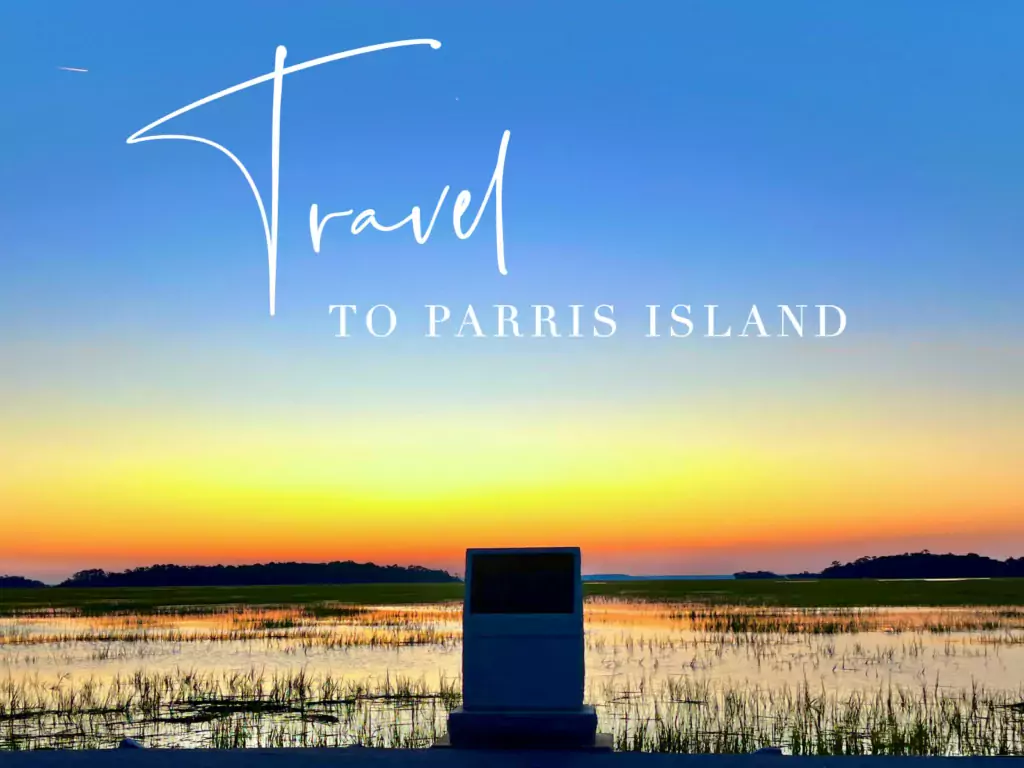 Helpful resources to help you plan for your upcoming trip (or move) to Parris Island. Vacation Script has the scoop on the weather on Parris Island and what to wear to Graduation itineraries.
Weather on Parris Island
Current 7-Day Forecast of weather on Parris Island. In winter, the highs reach 60 degrees, and the lows are 40 degrees Fahrenheit. Spring and fall months have warmer temperatures in the 70s. In the summer, average highs reach the mid-90s.
What to Wear
Cool and comfortable clothing is your best bet for spring through fall. Bring light layers, just in case. At the end of fall and winter, it gets pretty cold, and I break out my puffy jacket and heated socks to stay warm. There are annoying bugs here that bite called noseeums, and I recommend Avon Skin So Soft to help combat them.
In addition, graduation guests are encouraged to wear specific colors to support graduate battalions.
Graduation Itinerary
Wednesday | Orientation Day – Families will check-in and then enjoy a behind-the-scenes look at Marines training via organized tours.
Thursday | Family Day – The opportunity to spend free time with graduates.
Friday | Graduation Day – The hour-long ceremony begins at exactly 9am. Afterward, enjoy lunch and explore Beaufort.
Getting Here
By Plane
Hilton Head Airport- located about 14 miles from the base
Savannah/Hilton Head International Airport- located about 37 miles from the base
By Vehicle
There are no shuttles or public transportation from the nearby airports. Uber or Lyft could be an option for you. If you need transportation from either airport, you can contact the Depot Officer upon arrival at 843-228-3712.
Don't Forget – Valid U.S. government-issued photo identification card, vehicle registration, rental papers, and proof of insurance. Your vehicle could get searched before coming on base.
Driving Directions: First, start from I-95, and take Exit 8 to Beaufort/Hilton Head. Then take a left toward Beaufort on Hwy 170. After crossing Board River Bridge, merge to the right on Savannah Hwy. Finally, merge right onto Hwy 802, Parris Island Gateway and take the exit to Parris Island.
Accommodations: To get a list of hotels near Parris Island, including the Osprey Inn, call 843-228-2744 or the DeTreville House (TLF) at 843-522-1663.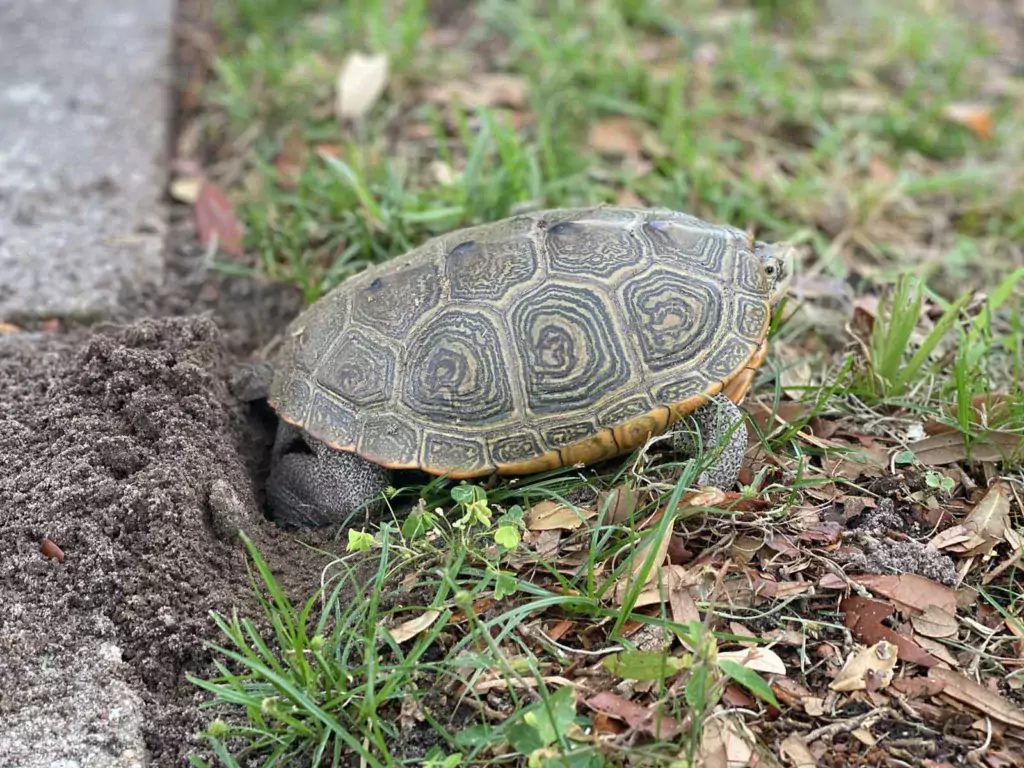 Let me know if I left anything out of this guide to visiting Parris Island below!