A Free Downloadable Savannah Itinerary
One night is not enough to fully indulge in the city's rich history and old-town charm. But if all you have is 24 hours in Savannah, download this free Savannah travel itinerary I created to help make the most of your vacation.
Save this "One Day Vacay" Savannah travel itinerary on your smartphone to help guide you through the routes described in this extensive post of our journey through Savannah's cobblestone streets, scenic squares, and haunted homes.
This post will tell you where the best things to see in 24 hours in Savannah are and how to get there.
Savannah Travel Itinerary:
Brunch at Collins Quarter
621 Drayton Street [ park on the side of the street ]
Nestled in the center of Forsyth Park is a modern and bustling cafe called Collins Quarter, known for delicious coffee and pastries. Collins Quarter features a fantastic view of Forsyth Park and is conveniently located at the beginning of the Savannah travel itinerary I planned.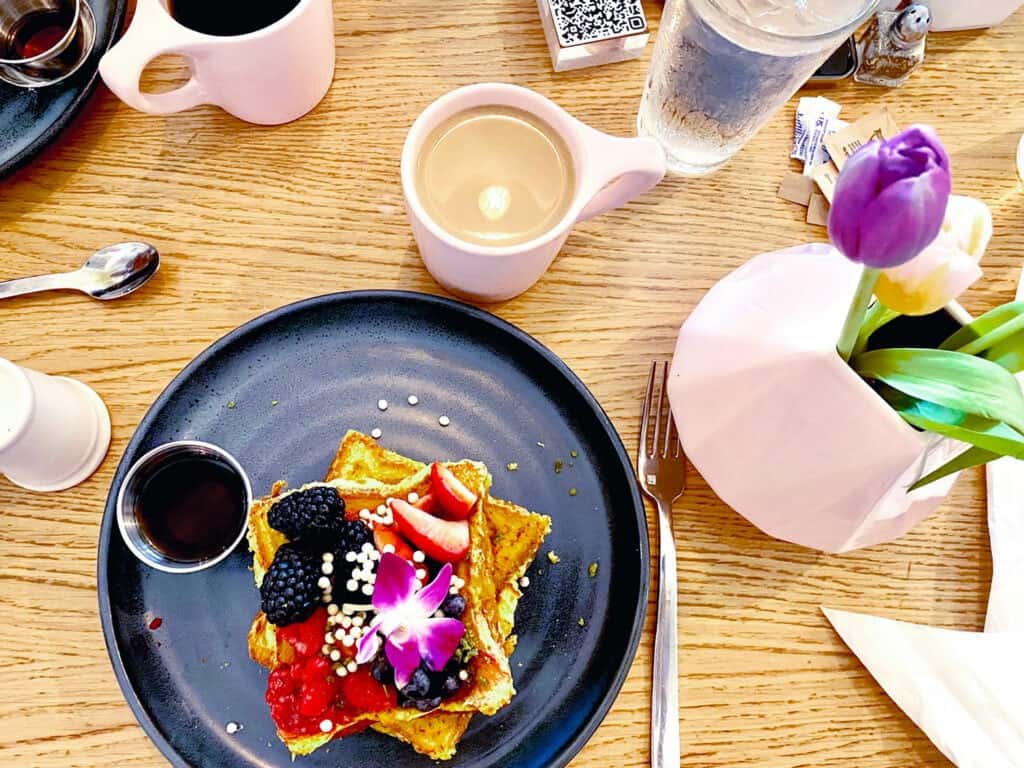 The table was charming, with pink drinkware and tulips awaiting us and their acrylic QR code menu was the most creative digital menu I have seen yet. My grandma, however, was less than thrilled about having to read the menu from a phone.
I ordered a coffee and the wild berry french toast; it arrived with a mountain of fruit garnished with a flower. It was fruity, had crunches of white chocolate pearls, and was a worthy choice. Breakfast food is usually a hit with the kiddos; however, the unique options here aren't ideal for kids who like things plain. It hurt me to order the same dish for my son, only to scoop off all the toppings until it was just basic french toast again.
HONEST REVIEW: Collins Quarter is adorable and makes a fantastic upscale breakfast but has a limited menu for kids who are picky eaters.
Forsyth Park Walking Tour
Estimated time 2-3 hours on foot
Forsyth Park is as far south as we planned to explore during our 24 hours in Savannah. So, we started there on the Savannah travel itinerary and toured our way around the most beautiful addresses that I researched ahead of time. Although we only made it 3/4 of the way with kids, we went back later to finish the tour.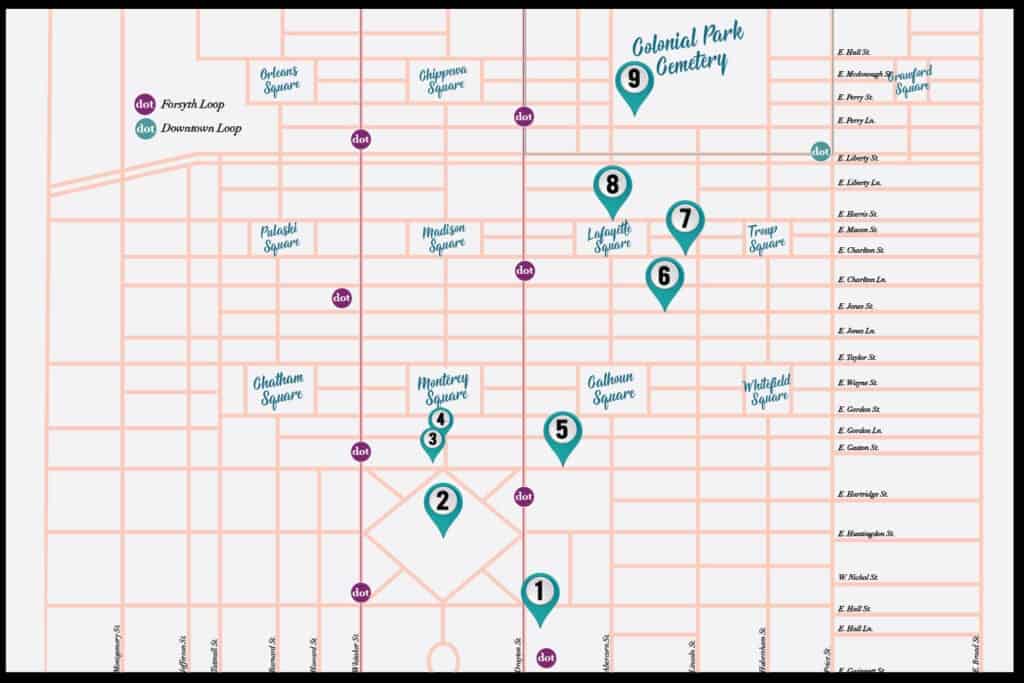 Read the full blog post on the Forsyth Park walking tour by clicking here.
Mansion On Forsyth – 700 Drayton Street
Forsyth Park Fountain – 1 West Gaston Street
The Armstrong Kessler Mansion – 447 Bull Street
Alex Raskin Antiques – 441 Bull Street
Private Home – 120 East Gaston Street
Private Home – 212 East Jones Street
Hamilton-Turner Inn – 330 Abercorn Street
The Cathedral Basilica of St John the Baptist – 222 E Harris Street
Colonial Park Cemetery – 200 Abercorn Street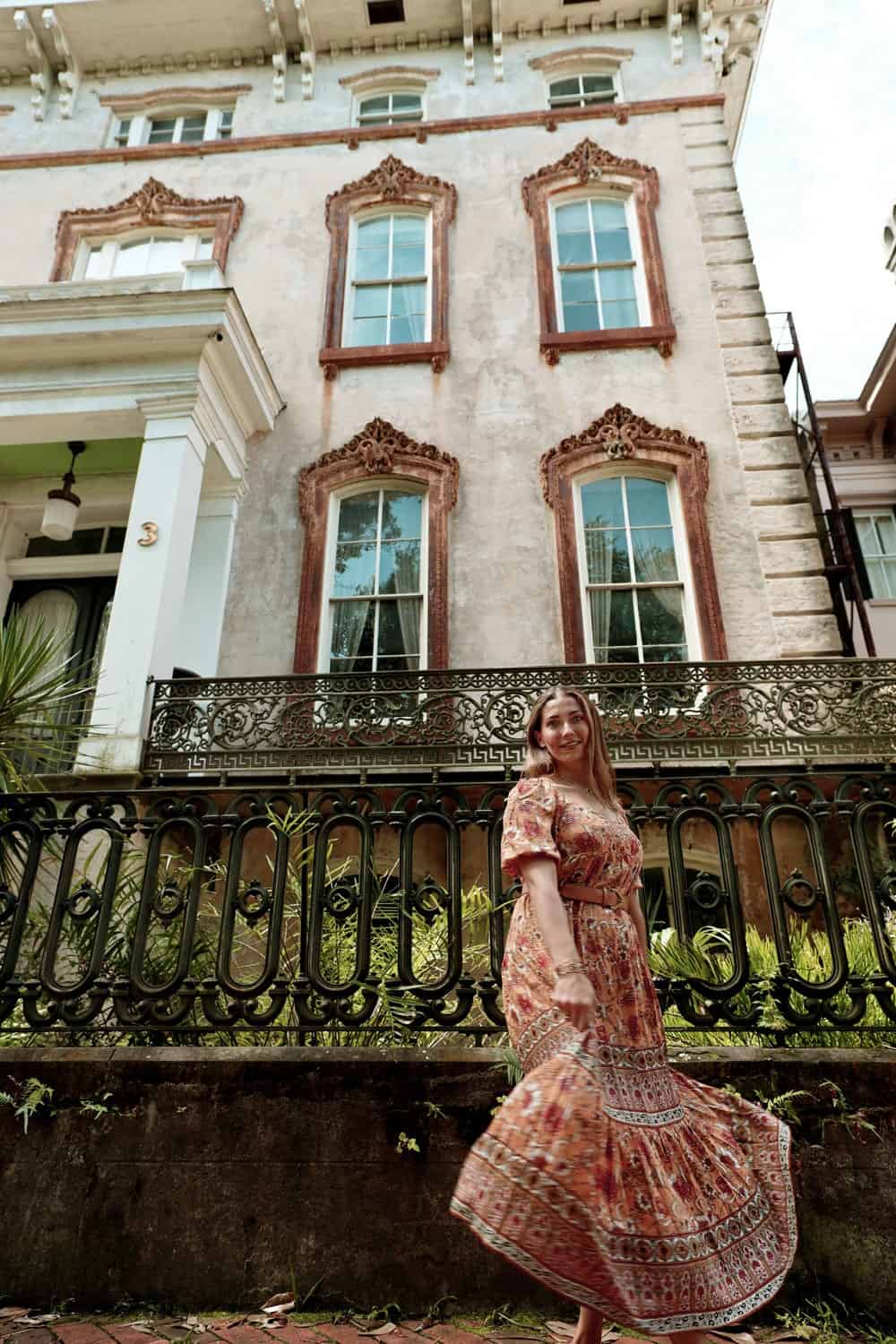 Free DOT Shuttle
No trip to Savannah is complete without a bit of exploration. After all, this historic city has so much to see and do. Fortunately, there are several ways to get around, including walking, driving, biking, horse and carriage, petty cab, and taking the free DOT shuttle, to name a few. The latter was convenient for our family, allowing the kids to take a break from walking while we waited for the shuttle.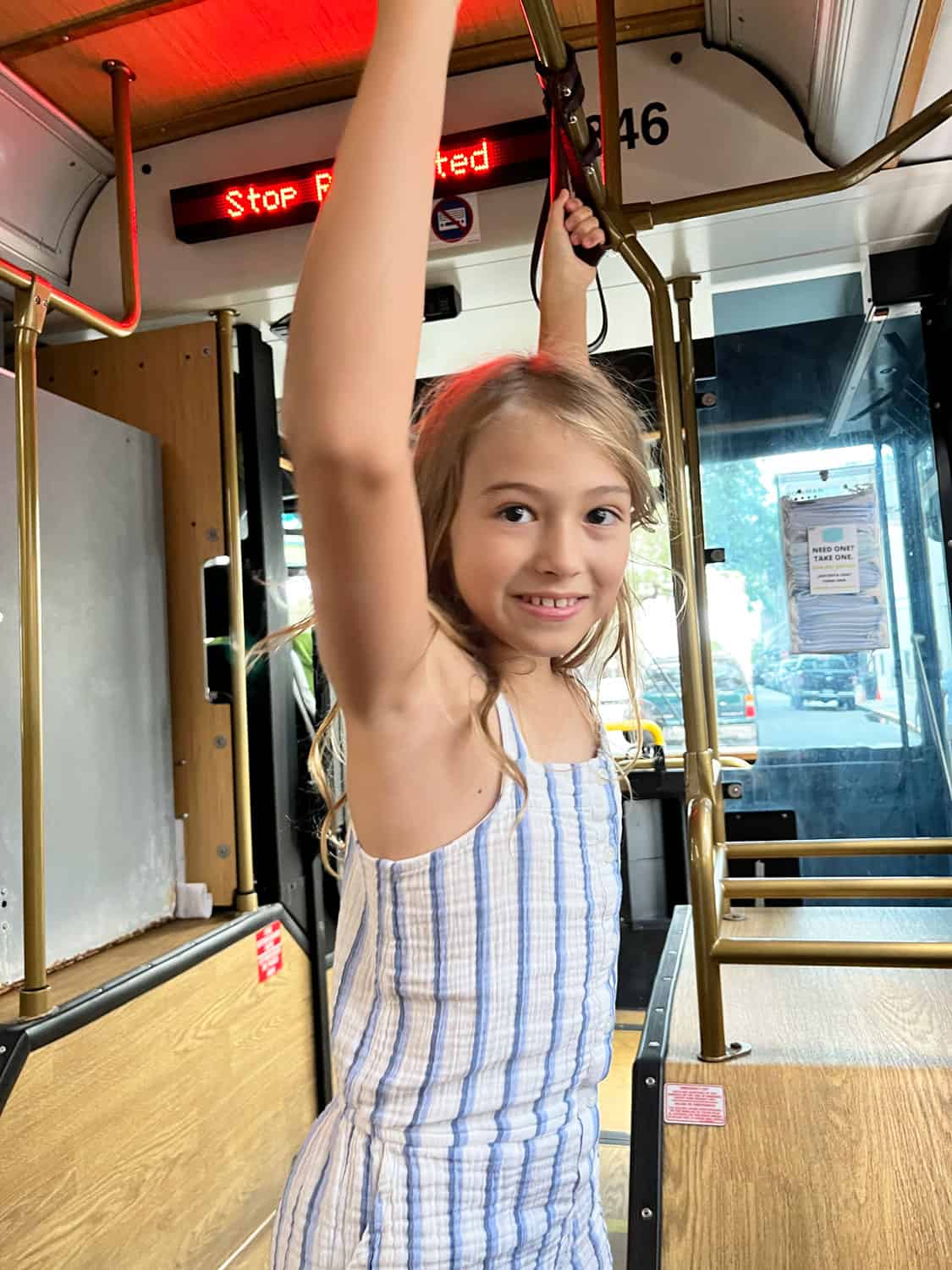 I included a map in the downloadable Savannah itinerary with the bus stop locations for the free shuttle to help you get around town conveniently. So after we figured out what the bus stop looks like (right photo), we hopped on the downtown loop at the stop near our hotel. Devyn had fun keeping her balance while standing on the bus; I love to catch her smiling. Then, we hopped off at Johnson Square to explore the next area of Savannah.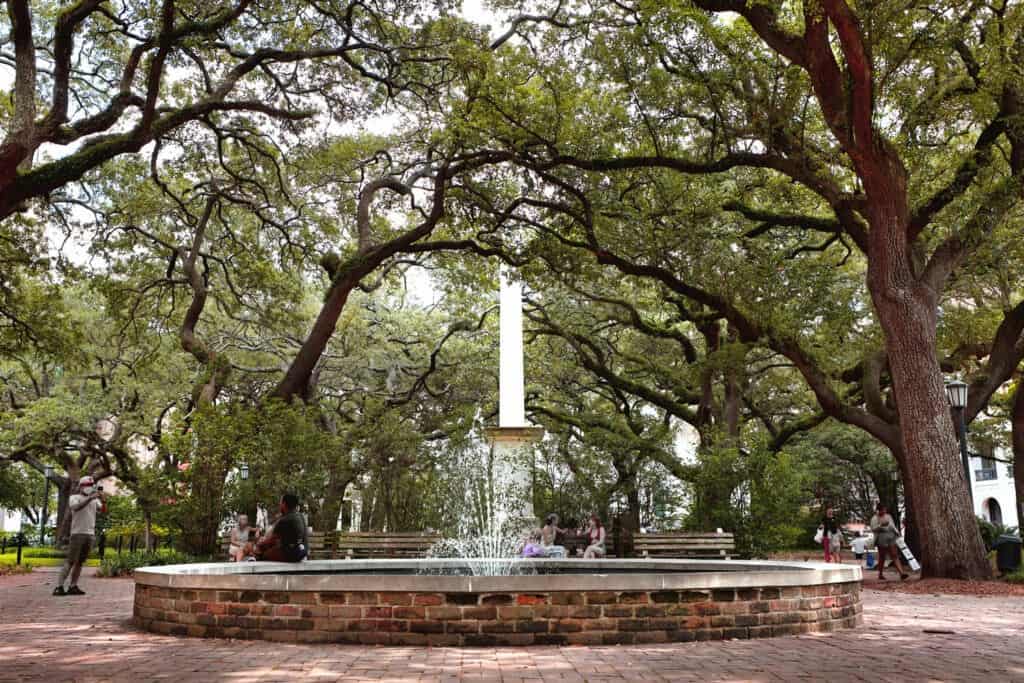 Northern Savannah Walking Tour
The northern historic district has many things to do and see. So naturally, I found all of them, weighed the pros and cons, and asked the family their opinion to create the masterfully planned northern area walking tour route below. Add this to your list of things to do in 24 hours in Savannah, or download the Savannah travel itinerary.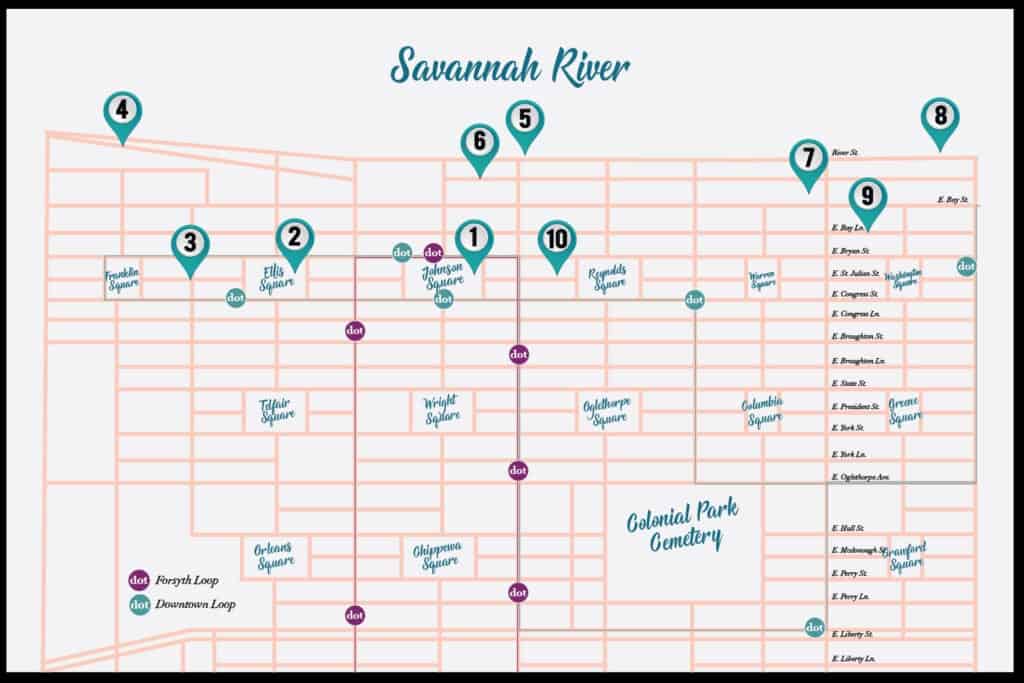 If you are only there for a brief time, you will appreciate this guide because it will save you time and make sure you get to discover the best Savannah has to offer. Feel free to begin and end at any point in the list below because the route is a loop.
Click here to read the full blog post on the northern Savannah walking tour.
Johnson Square
Ellis Square
City Market – 219 W Bryan Street
JW Marriott Hotel – 400 W River Street
Savannah Riverwalk
Rainbow Row -510 E Bryan Street
Olde Pink House -23 Abercorn Street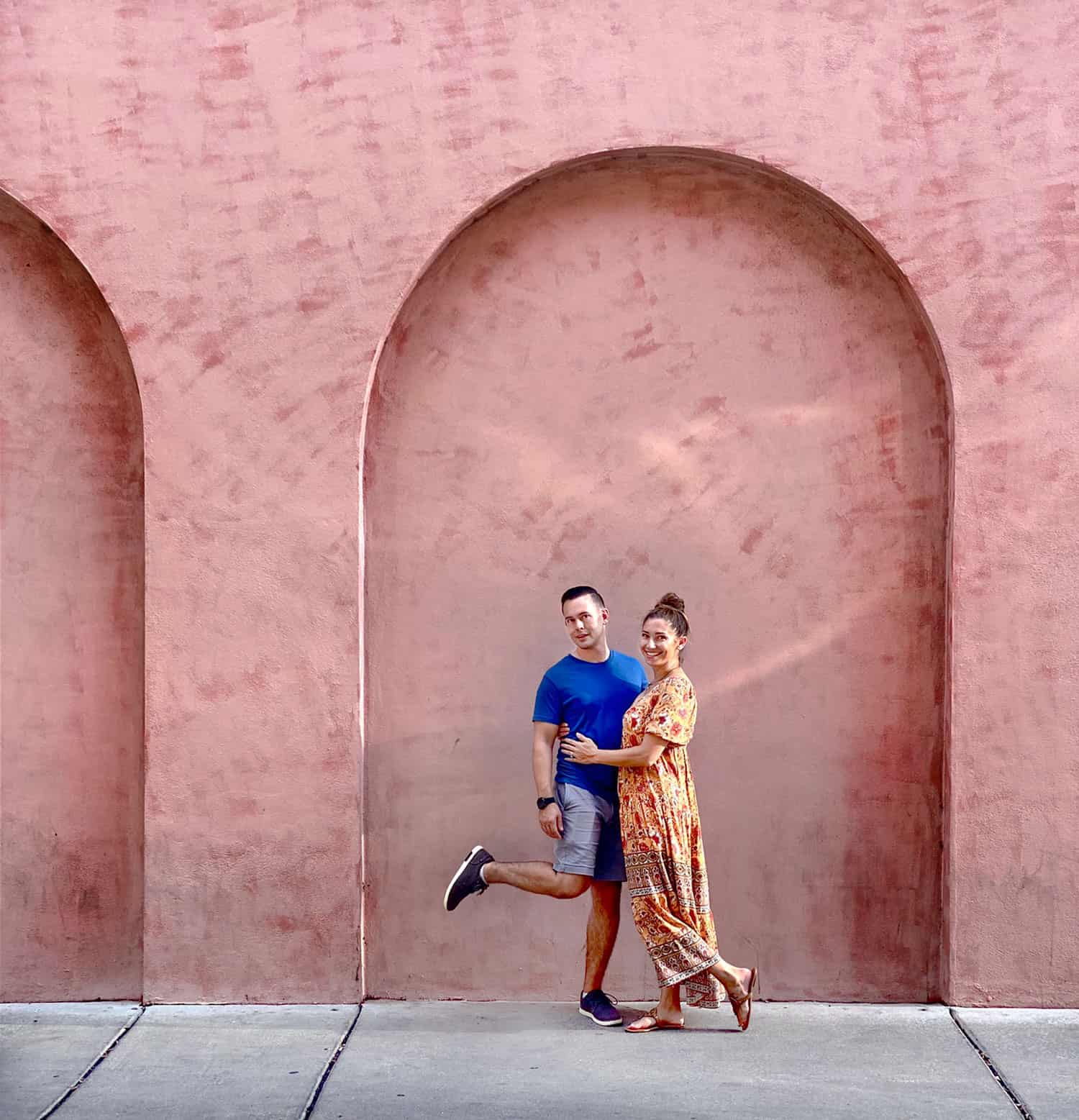 Dessert At Leopold's Ice Cream
This ice cream shop is famous in this area; it's known for people lining up out the door and down the street to get their fix. Even if you go 15 minutes before they open, there will be a line down the road. We waited in line, anticipating greatness. Don't get me wrong; I enjoyed my ice cream till death do we part, but I wouldn't wait more than 30 minutes for this.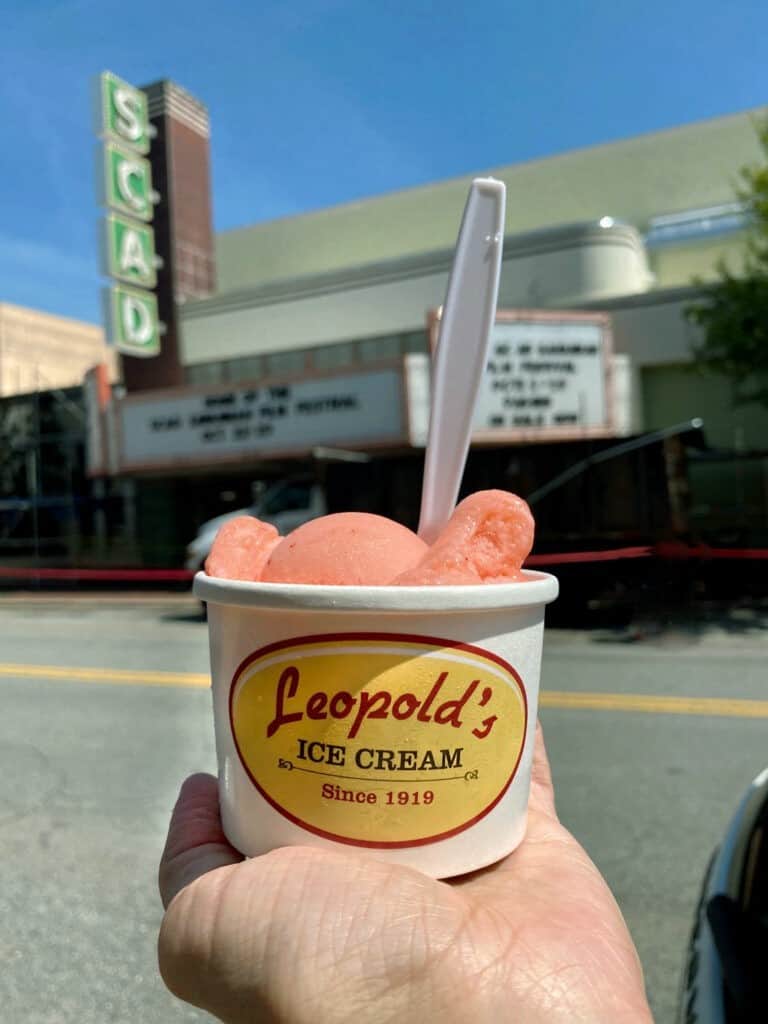 Ghosts and Gravestones
One of the most intriguing things about Savannah is the idea that the city is haunted, and we leaned all the way in to learn why. The Ghosts & Gravestones tour was entertaining and exciting to hear the stories (and jokes) that make up Savannah's darker history. The tour guides are actors dressed in victorian style costumes and play the part well.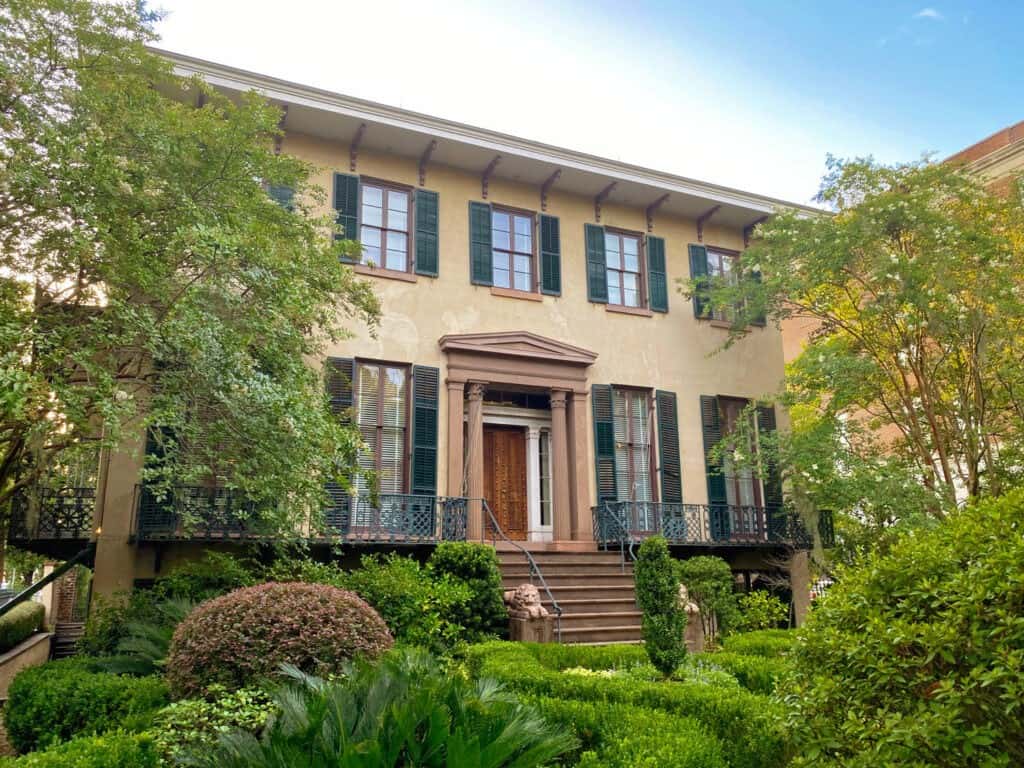 We were shuttled by trolly to two venues: the Andrew Low House and Perkin's and Son's Ship Chandlery. The Andrew Low House is a real-life haunted house experience. Hear the chilling stories of paranormal experiences and those who have passed in the home. The tour was a memorable experience for us. I recommend departing around 7:30 pm, so it's dark outside by the end of the tour. The Perkin's and Son's Ship Chandlery was a bit different, like a haunted show experience. It wasn't THAT scary, but witnessing other adults get spooked was entertaining and worth every penny.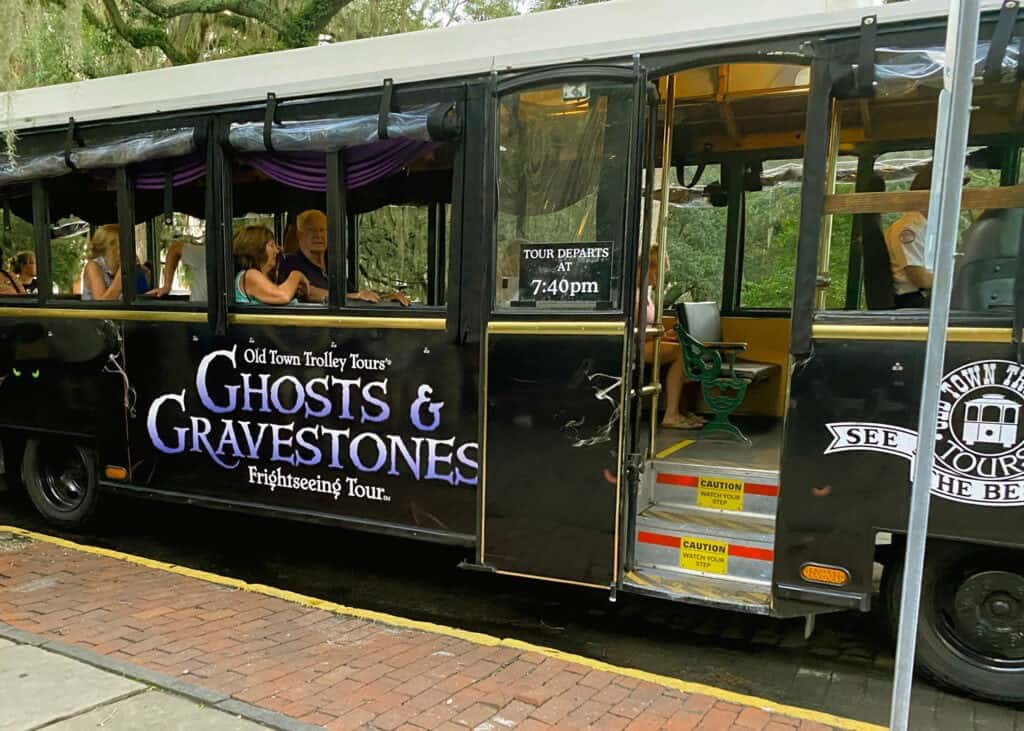 Download the Savannah Travel Itinerary Now
Vacation Script is making your life easier once again with this free download. The One Day Vacay, Savannah travel itinerary outlines the most worthwhile things to do in Savannah. So, if you are in Savannah for 24 hours or less, this itinerary will ensure you make the most of it. Download it to your phone, or bookmark this page to save it for later.