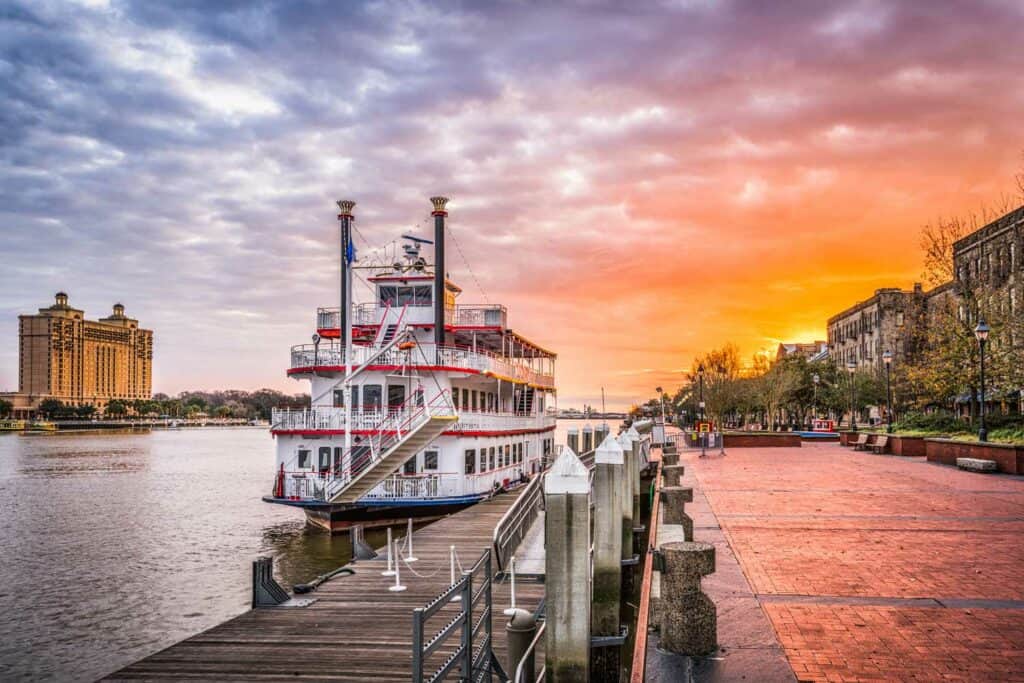 Things To See In Savannah, GA In One Day
I researched all the unmissable things to see in Savannah, GA in one day for our family vacation to and compiled them into a northern and southern self-guided Savannah walking tour. This post details all the best locations in northern Savannah. This route is circular so you can do it at your own pace and begin at any point in the list below and stop for food and snacks along the way. It took us about 4 hours to walk this tour and explore all that this amazing city has to offer.
The Best Savannah Walking Tour Summary:
I made a self-guided tour of Savannah's southern area you might also find helpful. Oh, and be sure to download the free travel itinerary that includes a map with routes for each area.
Johnson Square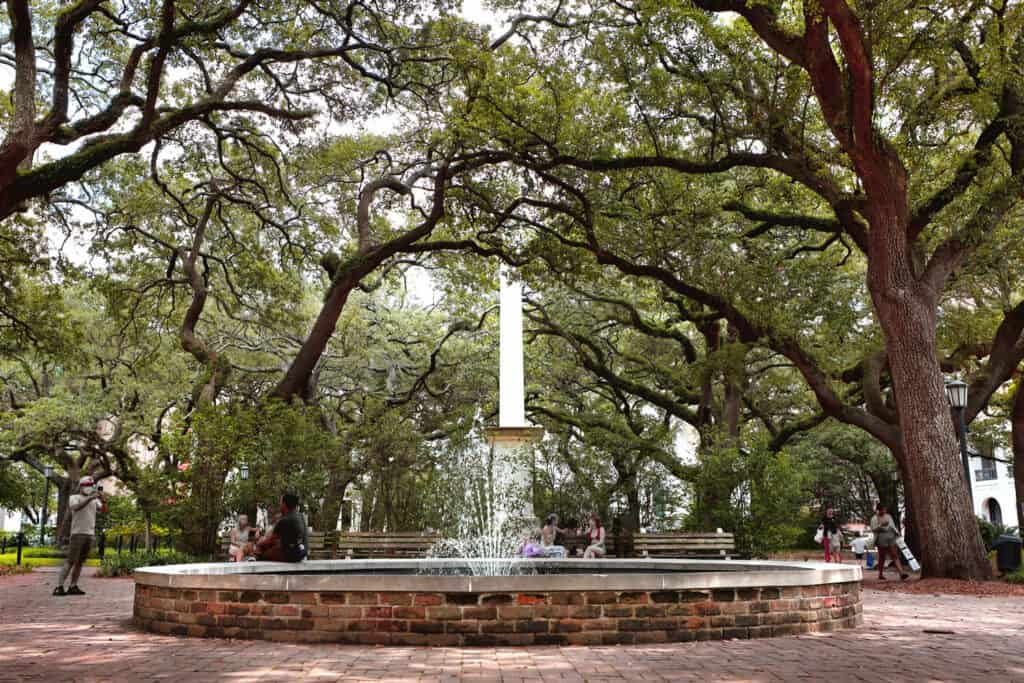 Savannah's free DOT shuttle stops here at Johnson Square. Make your way across the street to the largest and oldest of all the 22 squares in town. Amid the towering, moss-draped live oak trees, Johnson Square has two fountains and features a 50-foot marble monument designed to resemble the ancient Egyptian obelisks known as Cleopatra's Needle. You also have views of City Hall from this square.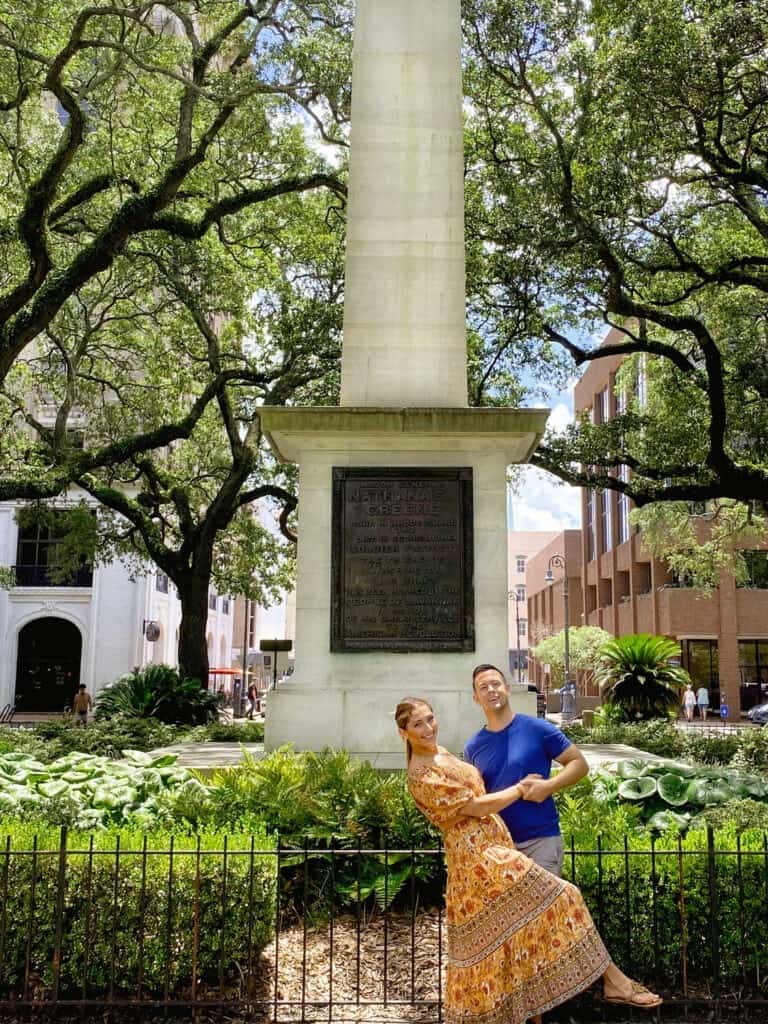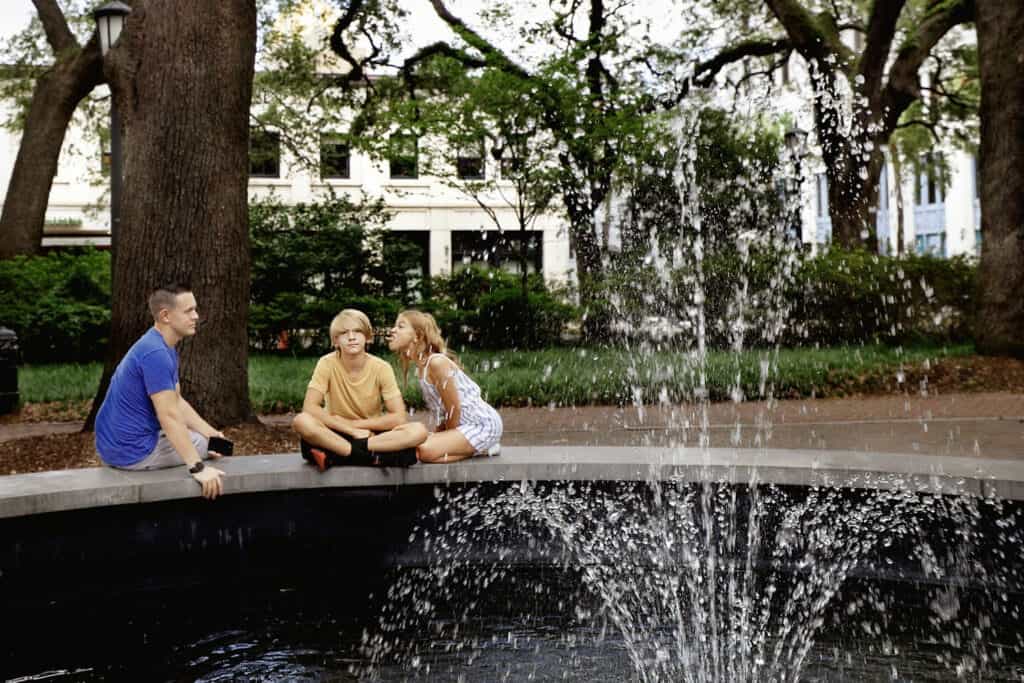 Ellis Square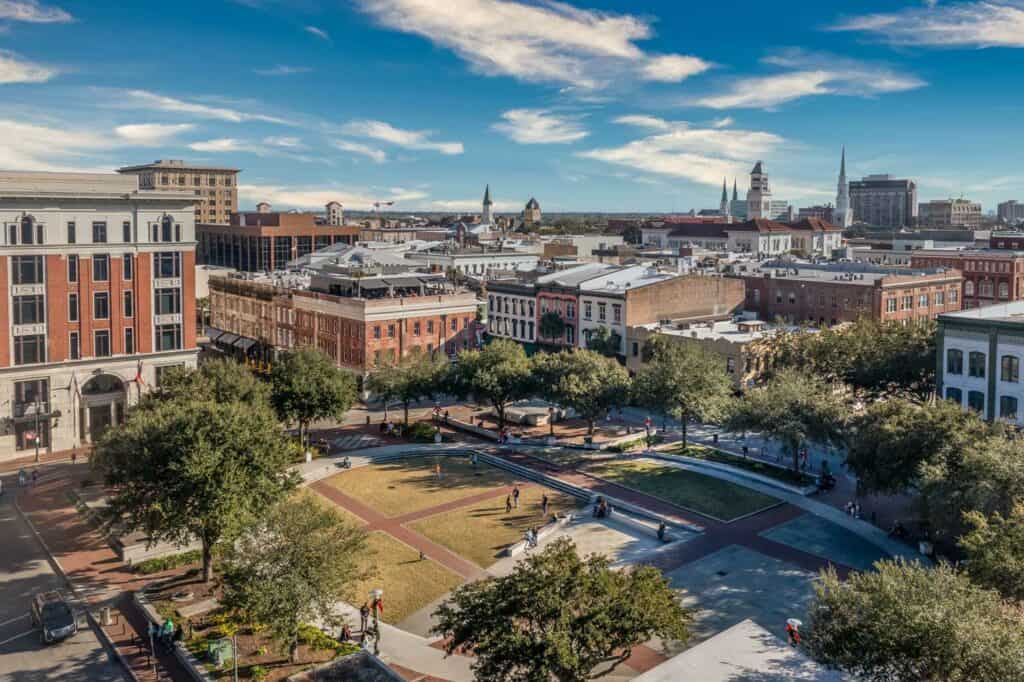 Next on the best self-guided walking tour of Savannah, you'll head west toward Ellis Square. It features a large grassy area for kids to run around. You can also cool off using the interactive water fountain or compete in a giant chess game here. Ellis square is also home to a bronze statue of Oscar-winning lyricist John Herndon Mercer who was born and buried in Savannah. Continue westward, and you will wander into City Market.
City Market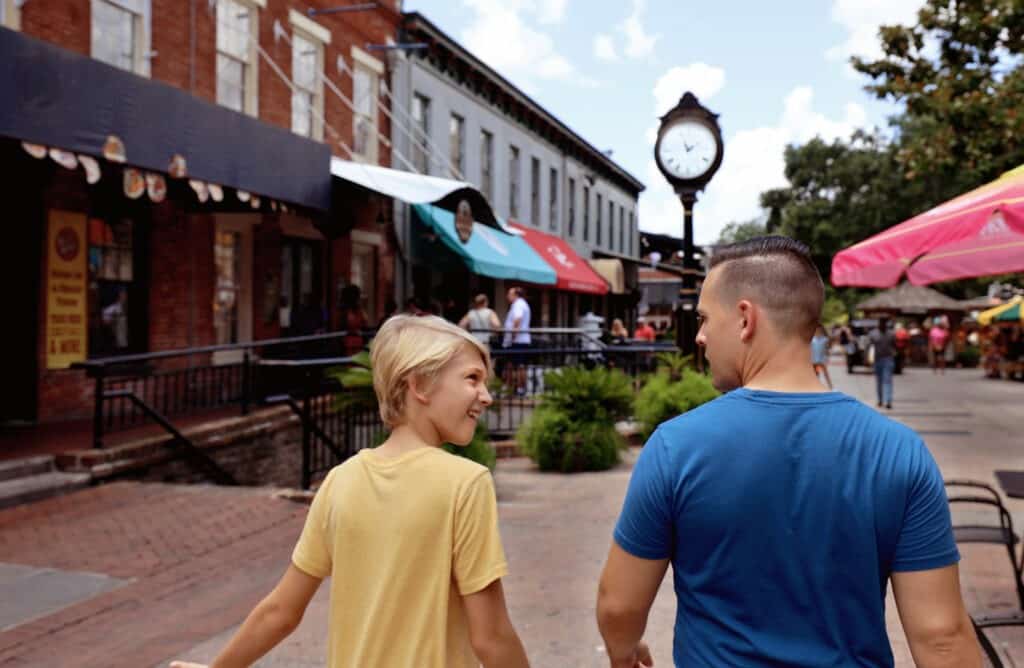 You'll know you have reached City Market when you see the charming street clock (pictured above). You could spend some time going into the shops, grabbing lunch and frozen daiquiris, and indulging at the candy store. This is where I saw my first bicycle pub driving down the street. Yes, you can pay money to petal a bar top full of people around in downtown traffic as a group activity here!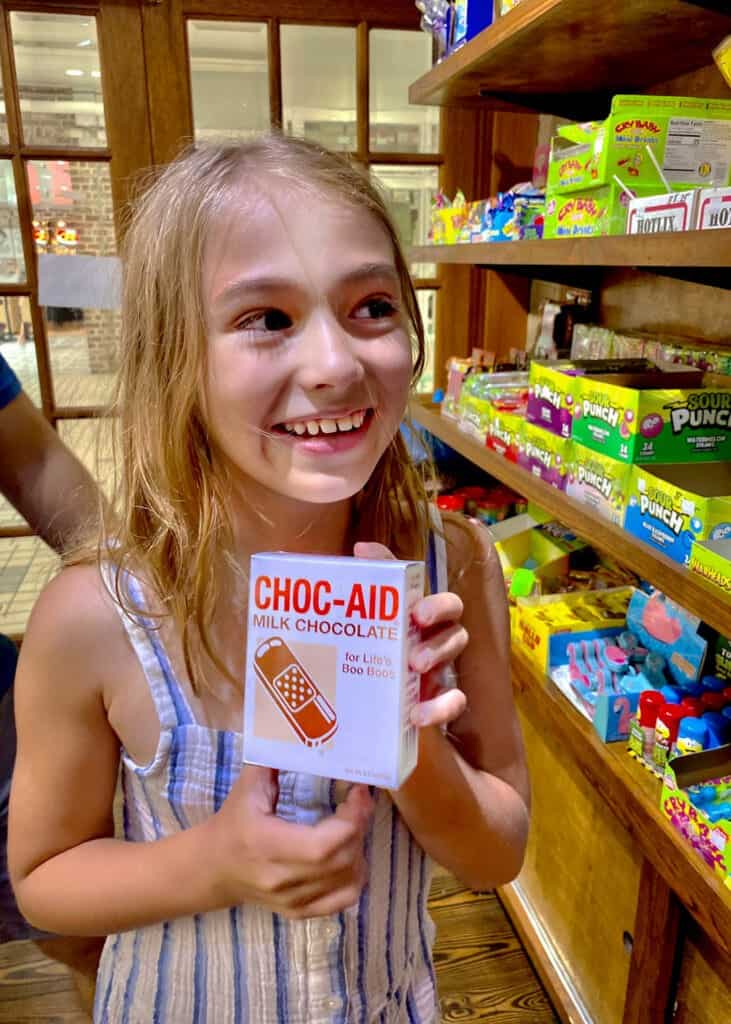 I immediately spotted the Wet Willie's umbrellas and was happy to cool down with a frozen strawberry mango daiquiri, and Devyn ordered chicken fingers with perfectly crispy french fries. We further indulged at Savannah Candy Kitchen, where the kids each found something suited to their tastes: a gummy hamburger for Kane and chocolate bandaids for Devyn.
Enjoy the downtown architecture as you wander north on this Savannah walking tour.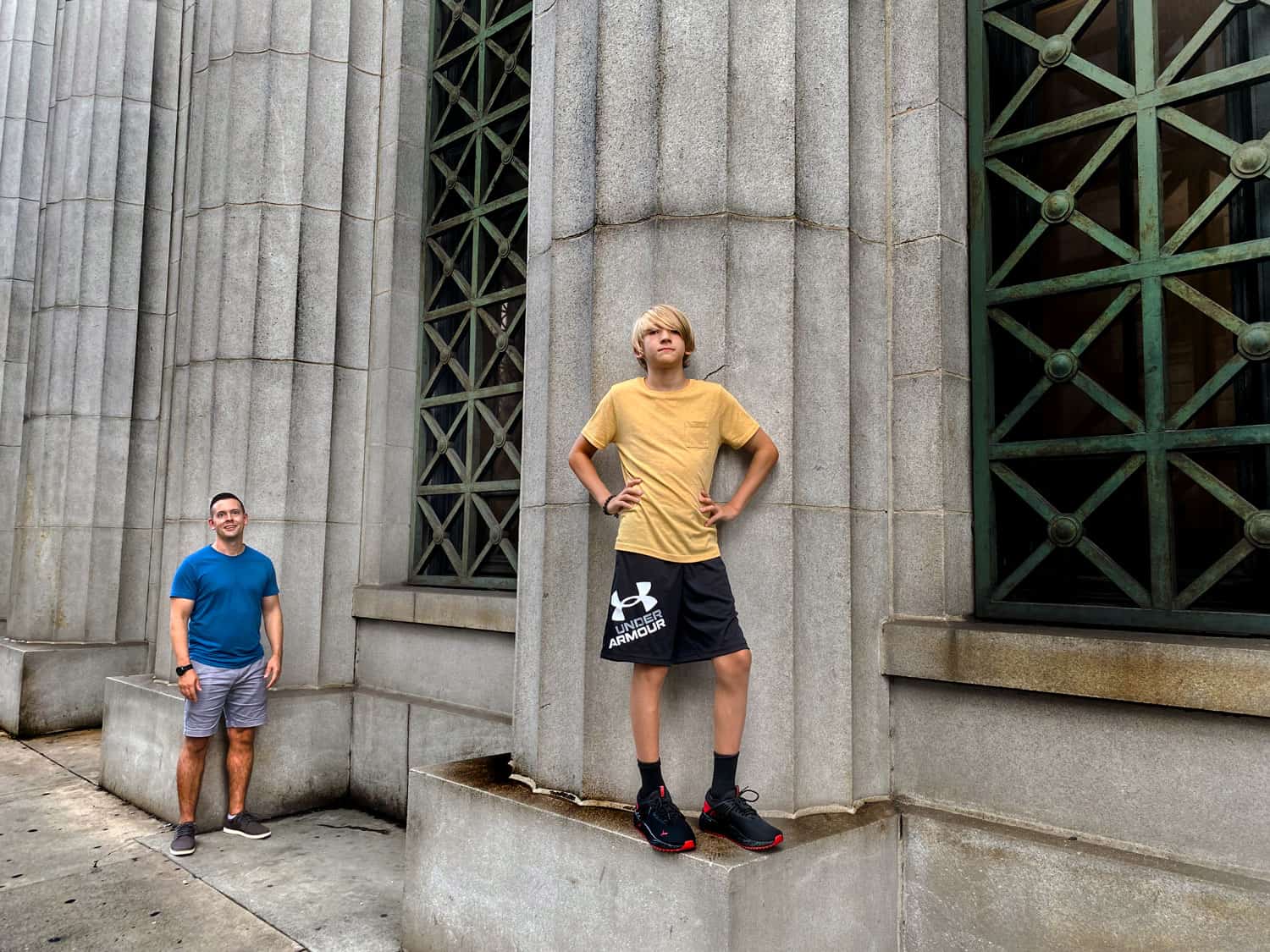 JW Marriott Hotel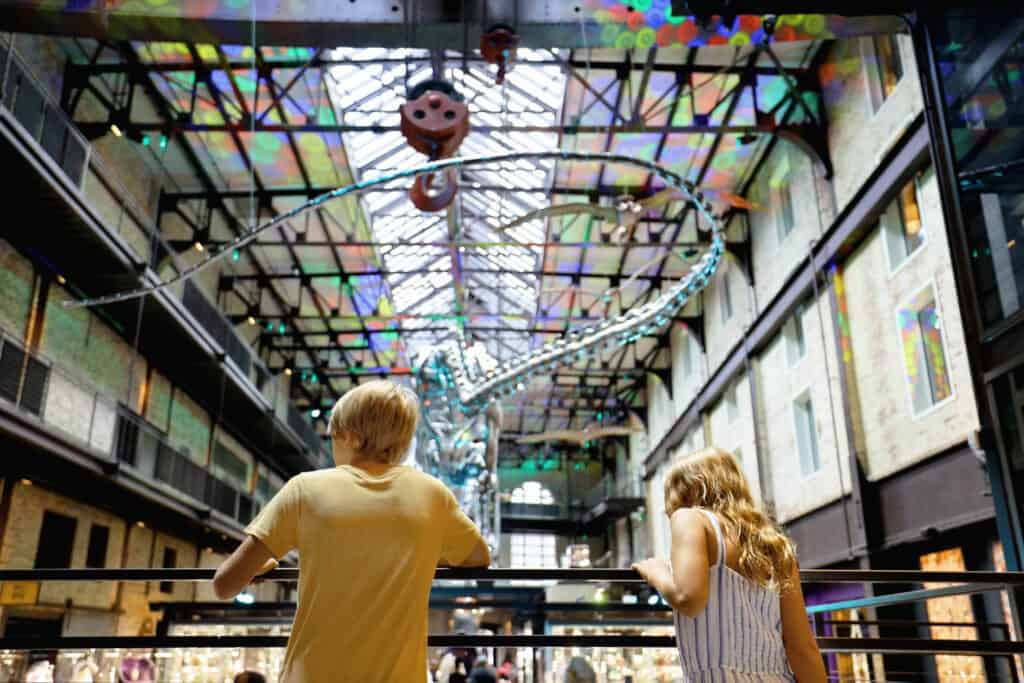 Savannah is known as the "museum without walls" due to its vast history, and the JW Marriott hotel is no exception. That's why it has made the list of things to see in Savannah, GA, in one day. It was once the old power plant building, and the hotel has restored a large switchboard wall in the lobby that guests are encouraged to try out. The smoke stacks run vertically up the building, and you can see them after exiting the elevator on the second floor. They also feature artwork throughout the hotel of textures of the building before it was restored into the JW Marriott. It was tempting to spend a small fortune on the sparkly crystals for sale. We spend about an hour soaking up the air conditioning and taking in all the sights.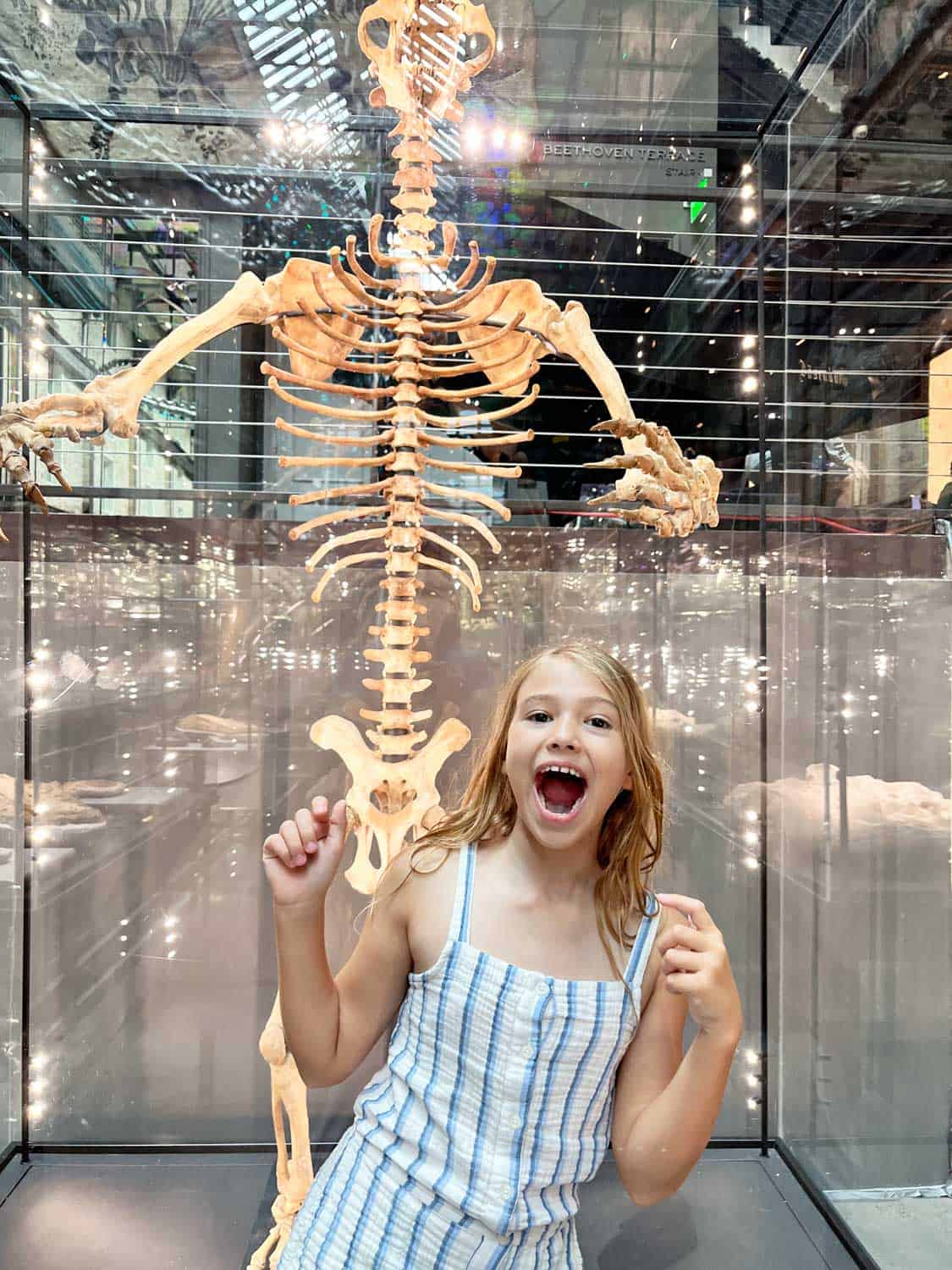 Savannah Riverwalk
Riverwalk is a one-and-a-half-mile stretch along the river and cobblestone streets of Savannah and includes a few must-see places, including the Georgia Queen, Factors Walk, and a few statues and memorials along the way.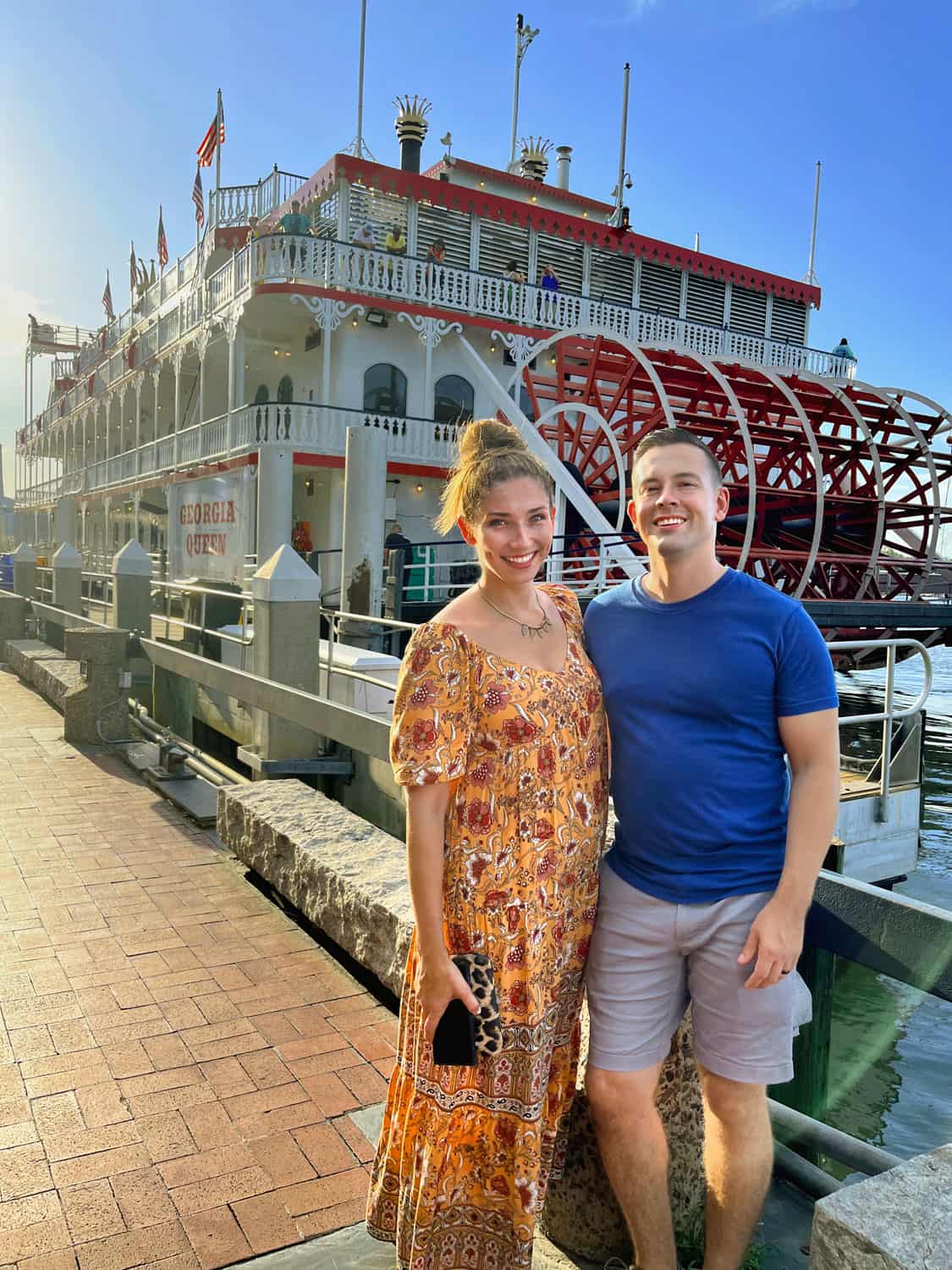 Walk down River Street, see the Georgia Queen docked along the river, and watch the container ships pass through. If we had more time, I would have entertained the idea of taking a riverboat cruise. This was the busiest street in Savannah, with live music, entertainment, and all the best views.
Factors Walk
Beyond the restaurants, bars, art galleries, hotels, and shops facing the river, the cobblestone streets lead you up and into Factors walk. A series of old brick cotton factors where brokers would go to trade and sell their merchandise. This is a fun area to explore on your own so it made the self-guided Savannah walking tour list.
Statues, Sculptures, and Monuments
Walk through history at the World War II memorial, "A World Apart," which is a sculpture of a bronze globe split in two. Read the names of Chatam Creek veterans who gave their lives to preserve our freedom in the conflict.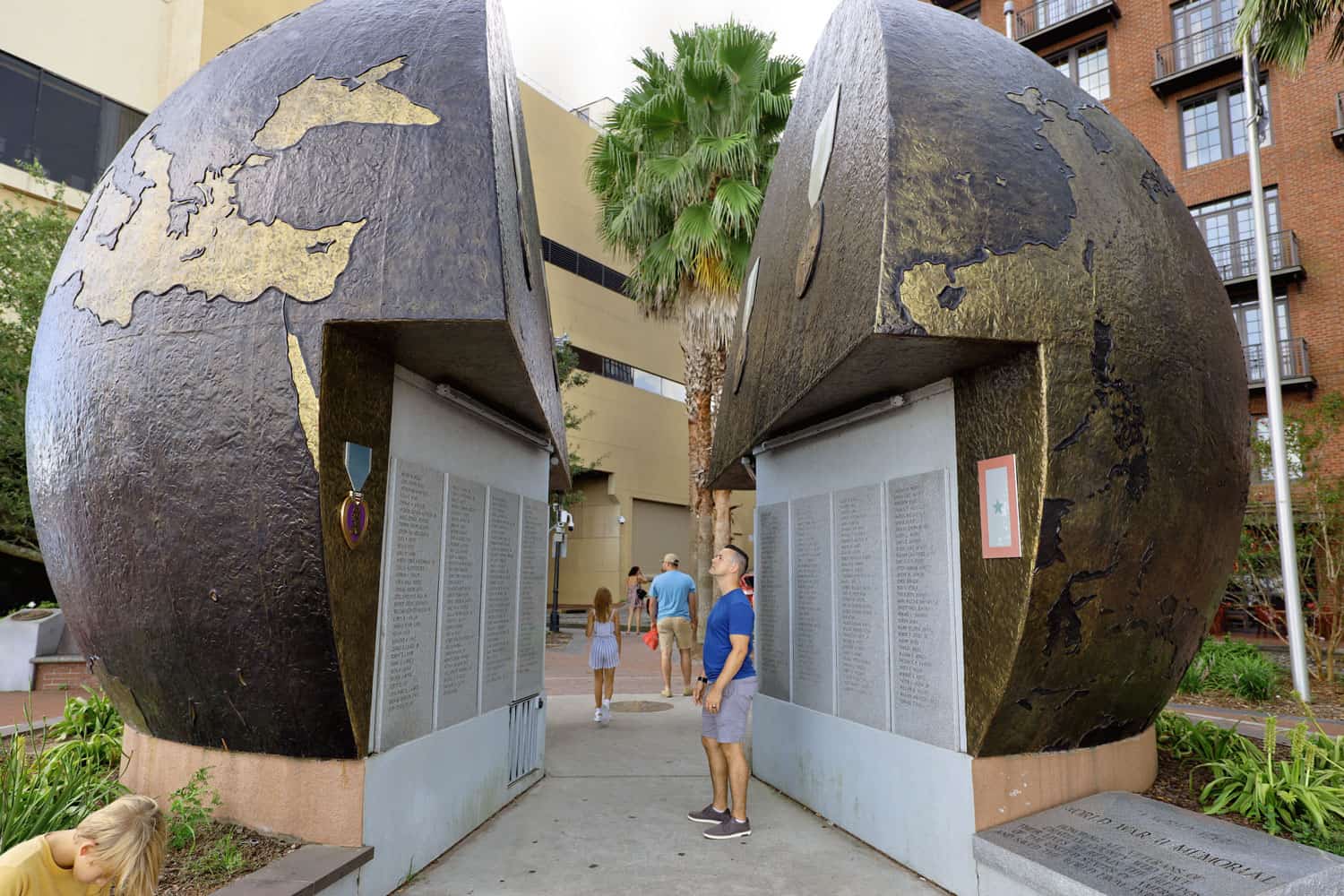 On a lighter note, follow that up immediately with the "Waving Girl" statue.
The legend goes that Florence Martus fell in love with a sailor who promised to marry her when he returned to Savannah. He gave her his handkerchief, bade her farewell, and sailed off to sea, never to return. For six long years, Martus, the lighthouse keeper, didn't let a ship go by without waving a handkerchief by day or a lantern by night in hopes of being the first to welcome her love back to Savannah. Then, as returning ships caught on, she became famous as the waving girl who greeted all the sailors as they passed through.
The urge to remake this statue was strong, so my husband pulled his shirt off to use as the handkerchief in this hilarious remake of the waving girl statue.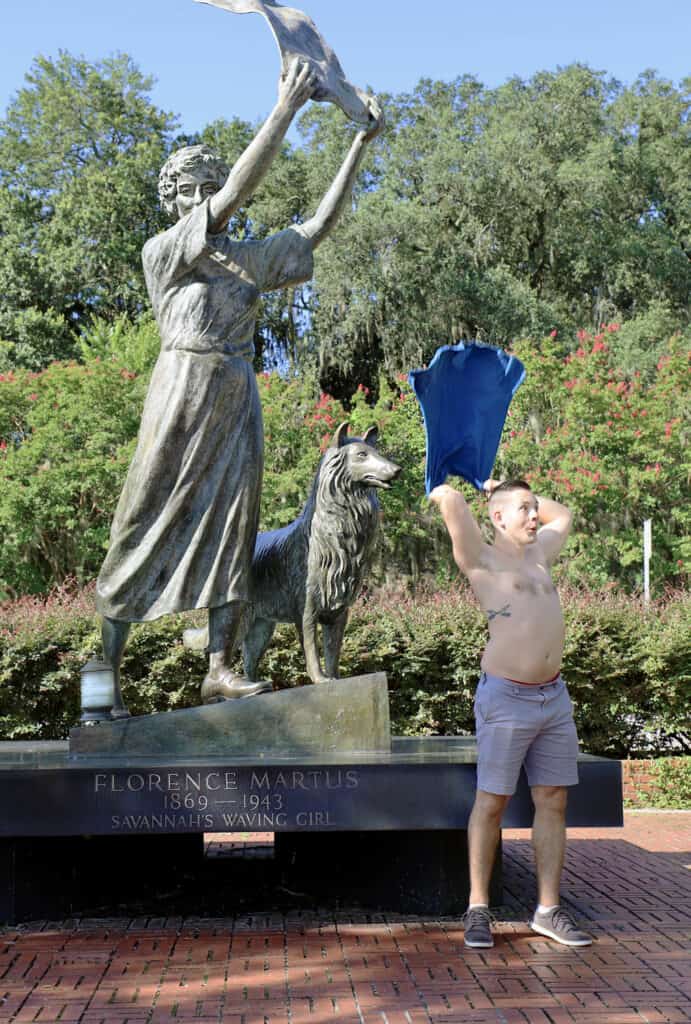 Rainbow Row Savannah
I must admit that Savannah's version of colorfully painted buildings is not as nice as Charleston's. We took a tortured selfie vacation photo here nonetheless. It's a series of 3 homes, each with pastel-painted shutters and magical vines covering the homes.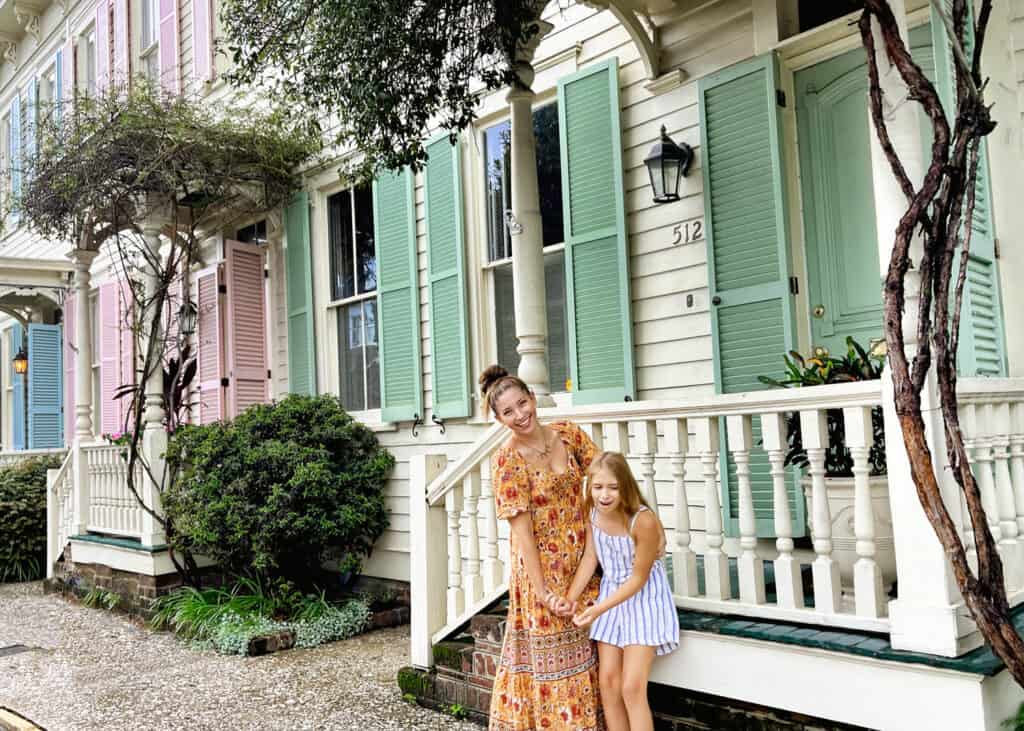 The Olde Pink House
Last but not least is the Olde Pink House, it's a restaurant so busy you'll want reservations. We wanted to see all the hype, and this building's architecture did not disappoint. Feel free to begin this route at any point; it's a lap around all the best locations in the northern area of Savannah.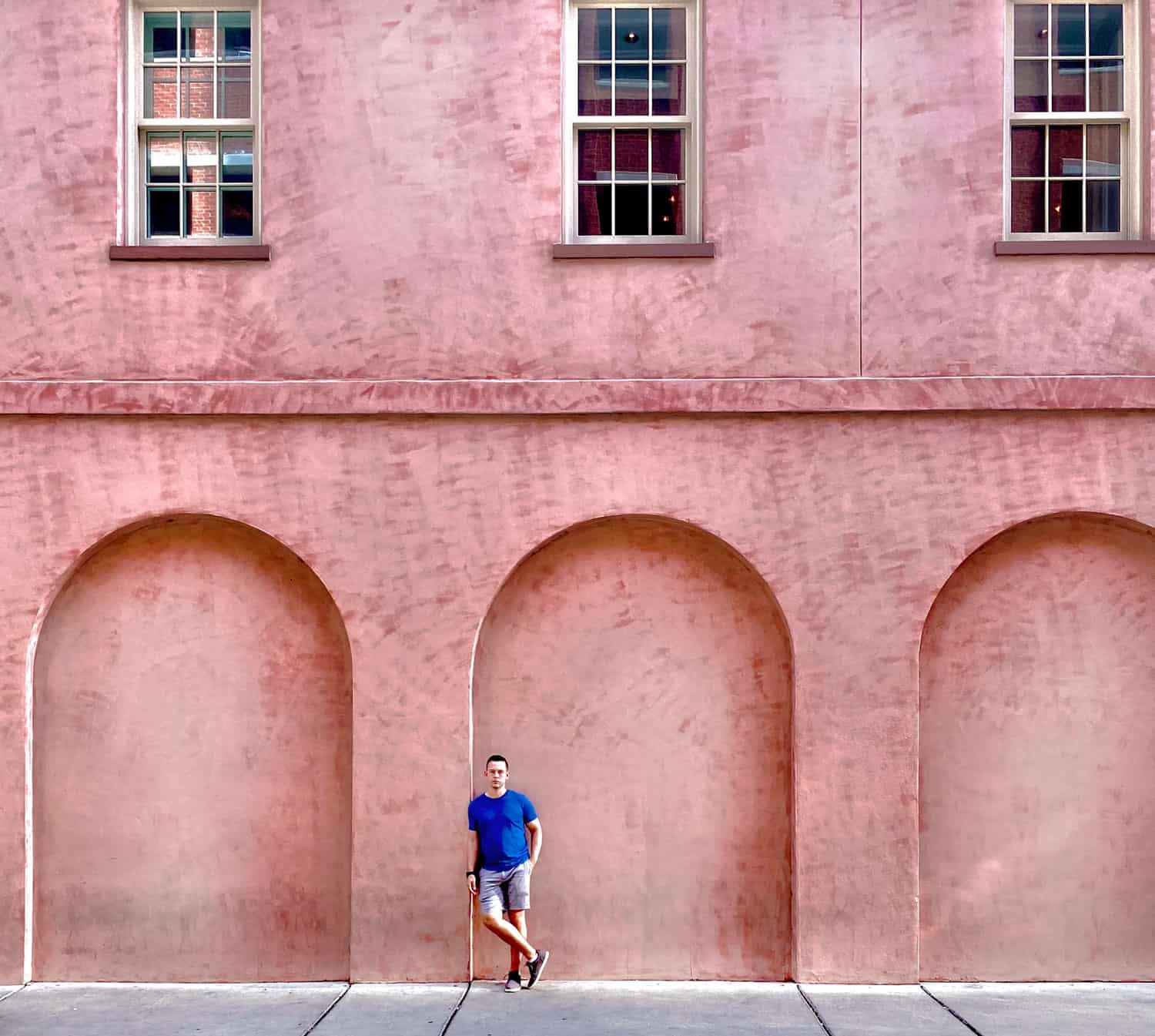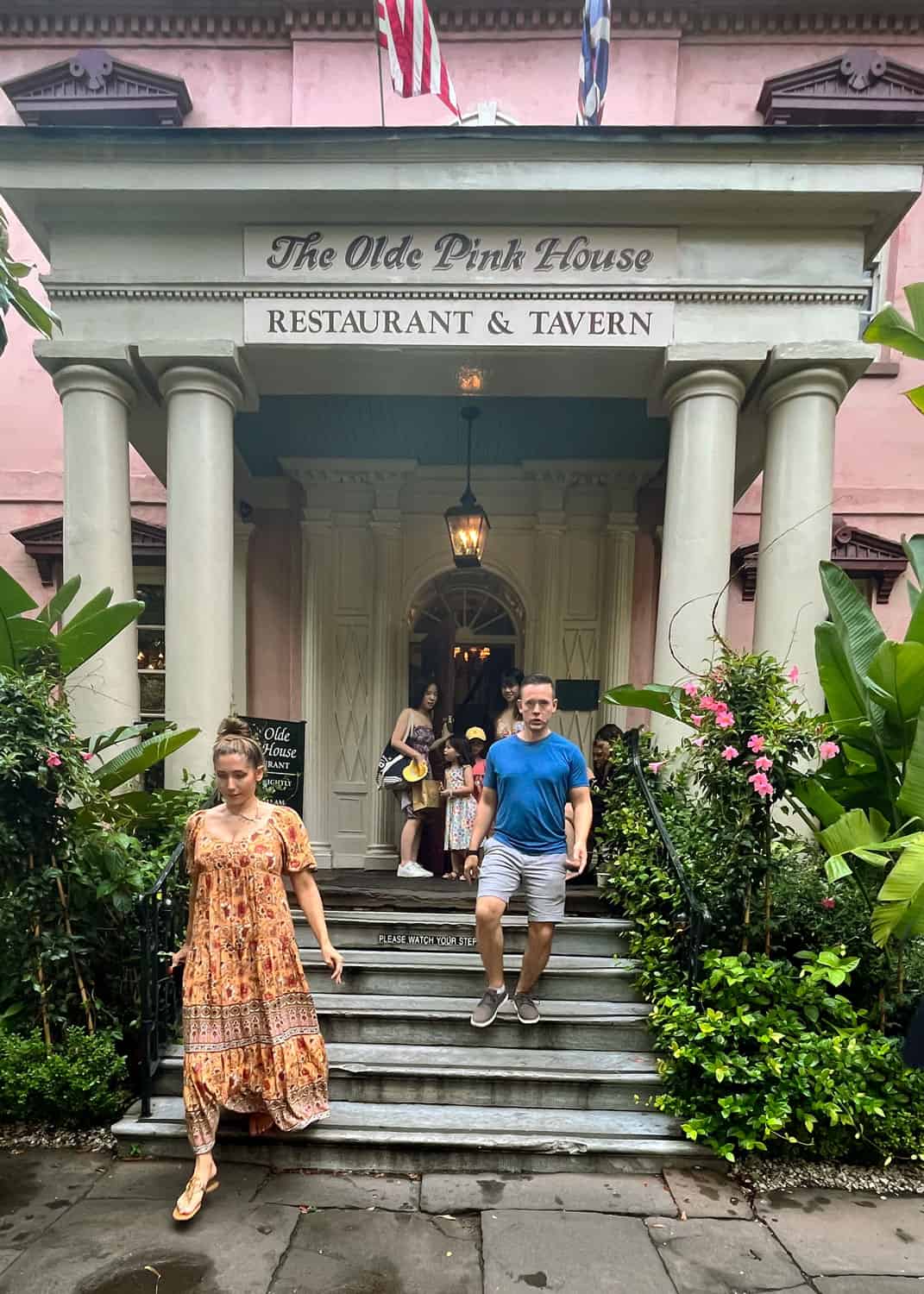 A Self-Guided Savannah Walking Tour
Let me know what you think of this tour on the best things to see in Savannah, GA, in one day in the comments below. I would love to know if you would remove any locations and add any others! Download this tour route plus the Forsyth Park tour in a convenient travel itinerary and take it with you on your next vacation to Savannah.