Hunting Island State Park Beaufort, SC
Are you looking for outdoor activities to do in Beaufort over the weekend? There are many places to discover at Hunting Island State Park Beaufort, SC. The park features 5 miles of beach, including a hidden gem called boneyard beach, a historic lighthouse, a saltwater lagoon, scenic walking trails, a fishing pier, thousands of acres of marsh, and a maritime forest. The view driving in never gets old; it's straight out of the Jurrasic Park movies. I highly recommend visiting this Beaufort, SC State Park because you won't regret it.
Fun fact: Despite the appearance, Jurrasic Park wasn't filmed here; however, a scene from Forrest Gump was filmed at the saltwater lagoon! More on that below.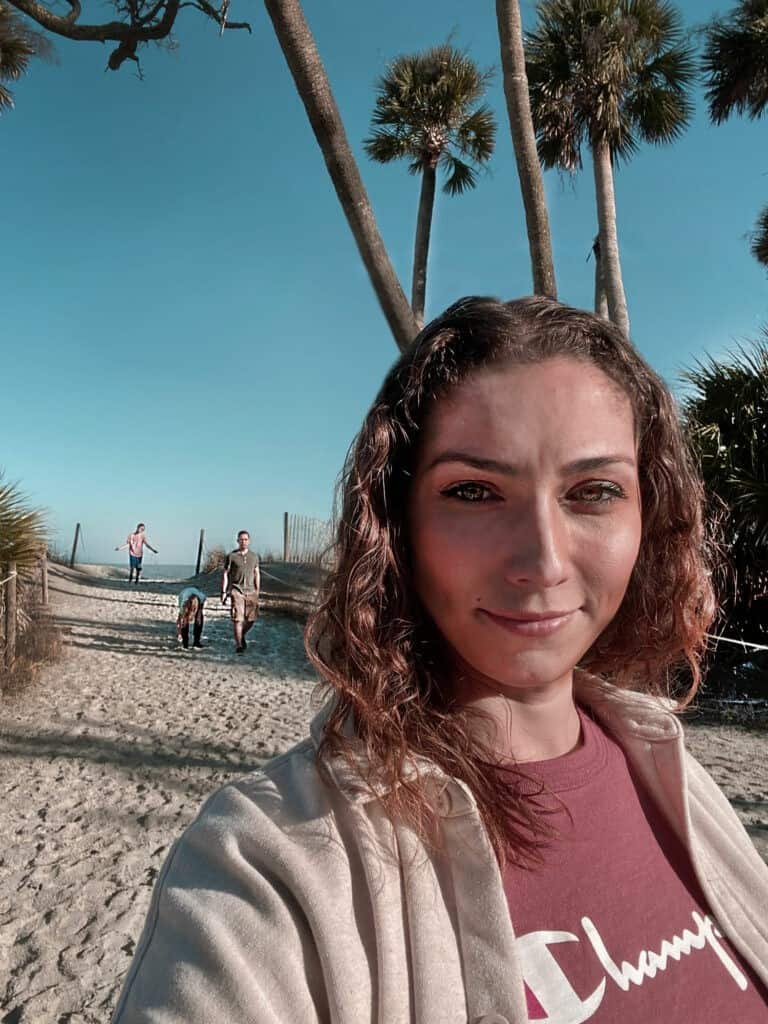 Hunting Island's North Beach
North Beach is where we go with the kids when we want to swim and lay in the sun. You can also do this at South Beach too. However, North Beach has more amenities, including outside showers, bathrooms, a gift shop, and picnic benches. I found a spot with fewer crowds at the tip of north beach in parking lot D.
Try to get a spot close to the sand, so you don't have to walk as far. My favorite part of this location was a decent-sized tide pool in the middle of the beach during low tide. The water temperature in the tide pool was warmer than the ocean water in late May. It also felt safer for kids than the actual ocean. When July arrives, the ocean water feels heated.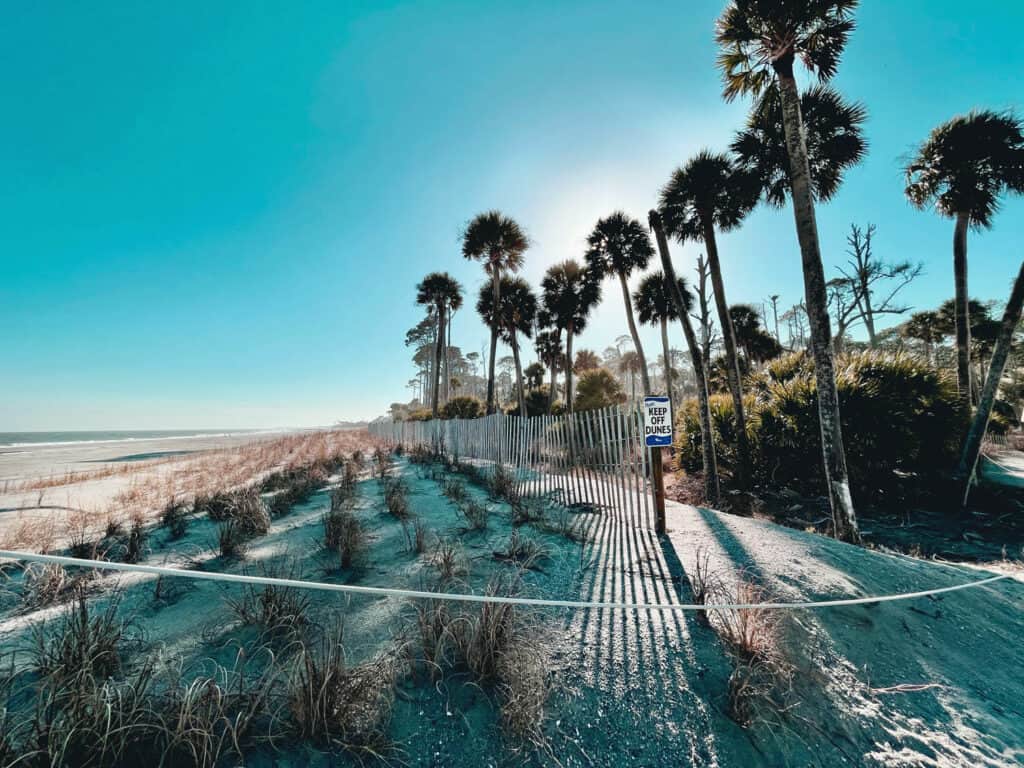 We enjoy bringing Honey (our sweet Chiweenie) and a small cooler of food and drinks. The kids have a blast making sandcastles and bungee skimboarding along the water's edge. The gift shop near the lighthouse sells popsicles to cool you off during the hot summer days. Millions of seashells have washed up on the shore of North Beach. This is why Hunting Island State Park is the best place in Beaufort for shelling. I've found two shark teeth since I have been there.
Shark's teeth are easy to find when your not looking for them!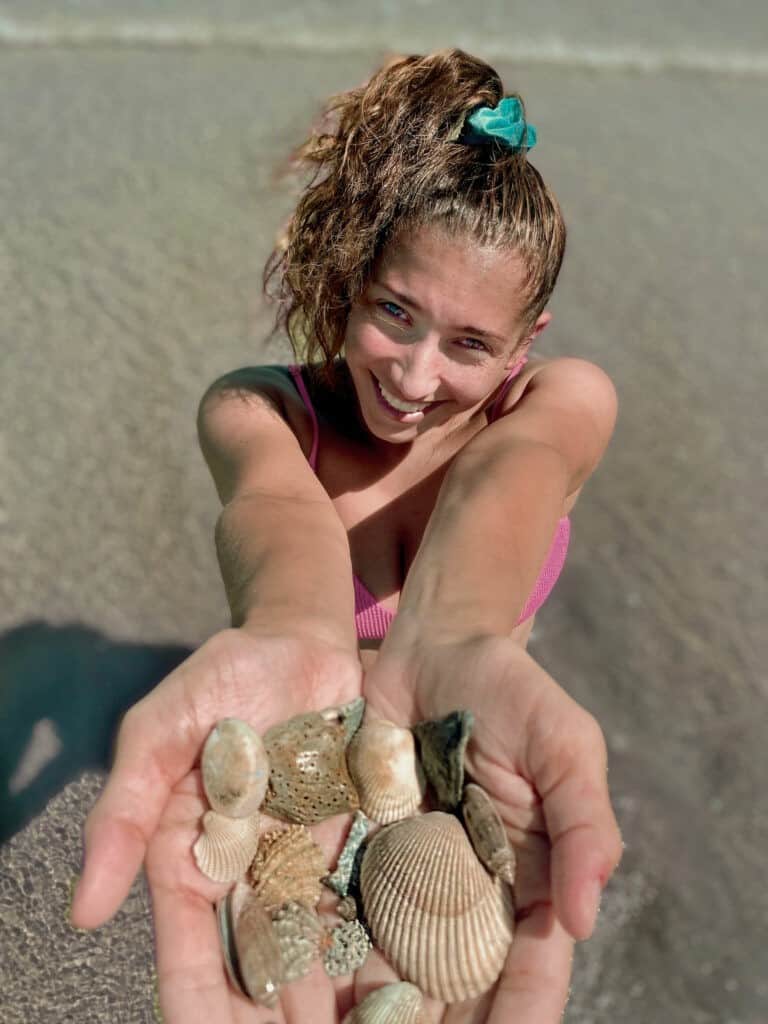 Little Hunting Island Boneyard Beach
Located on South Beach is a driftwood graveyard called Little Hunting Island Boneyard Beach. There, the fallen coastal trees dust the shore for over a mile. Read more about this hidden must-see gem in my blog post about Boneyard Beach. I could walk along this shore for hours, exploring each tree as if it were a sculpture in the museum of nature. I highly recommend this location without small kids unless they enjoy walking long distances.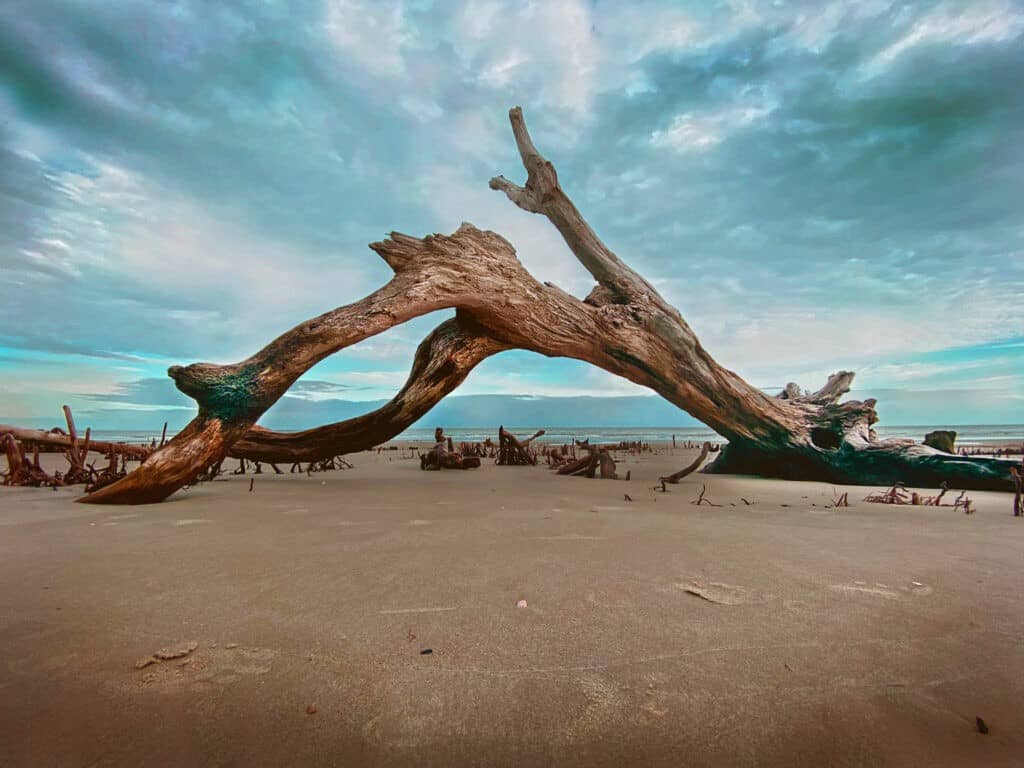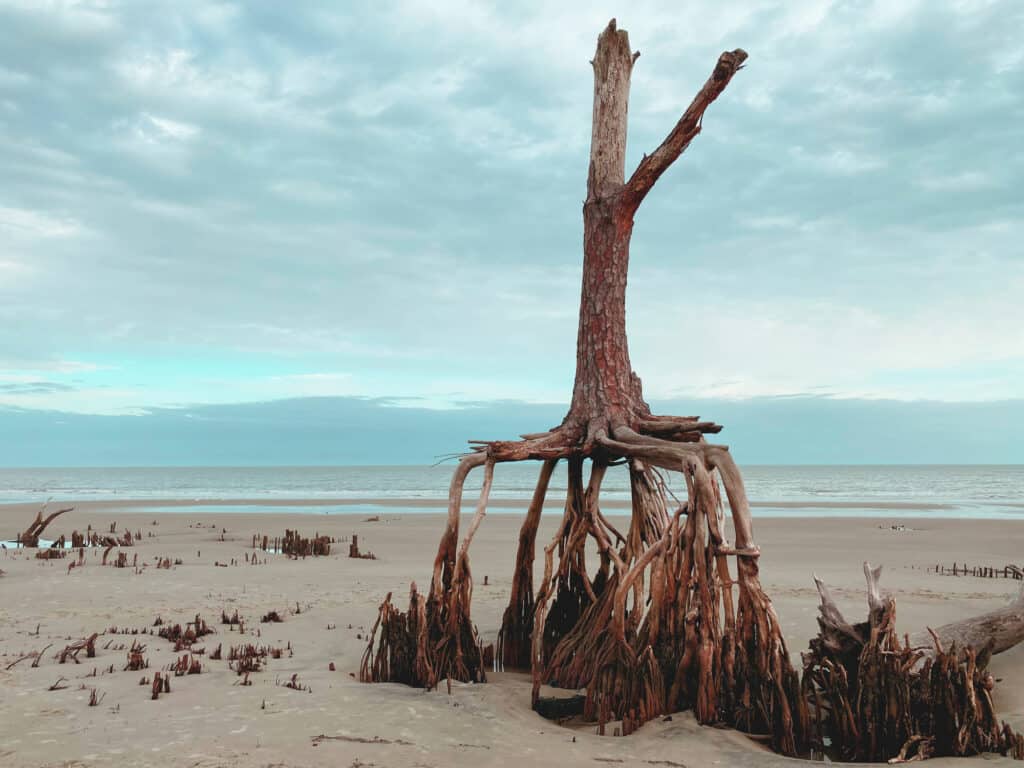 The Lighthouse
The lighthouse cannot be toured again until they make some necessary repairs. However, it can still be viewed from the grounds, and the Visitor's Center hosts a miniature virtual lighthouse that you can walk into in the meantime. They also have an Occulus there, which the kiddos loved; it gives you a life-like representation of walking up all 167 steps and a sunset view once you virtually make it to the top of the lighthouse.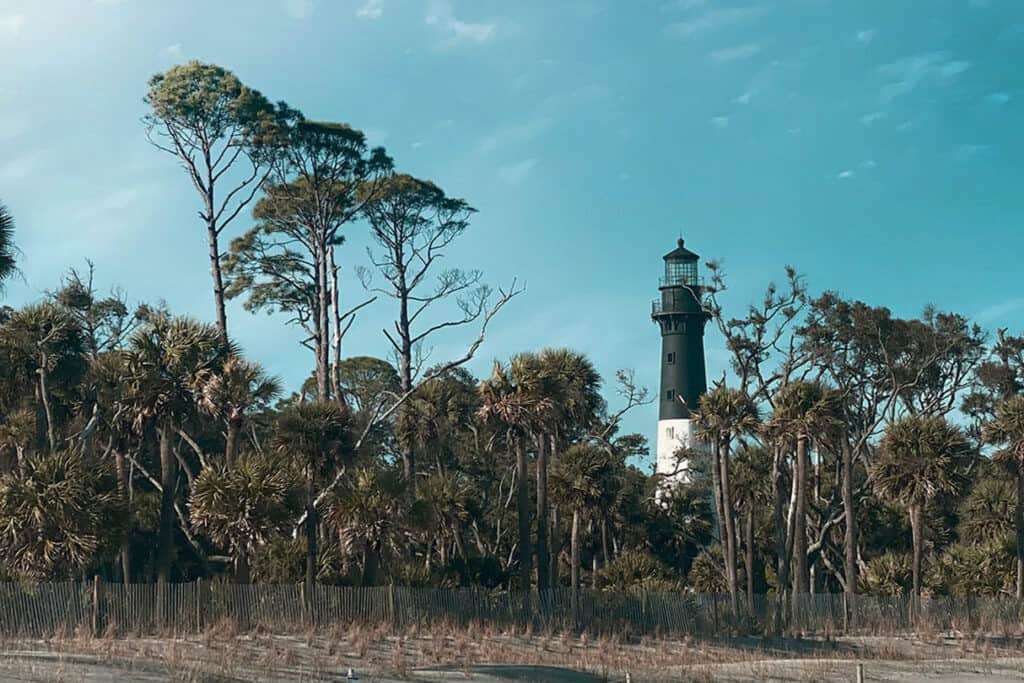 Saltwater Lagoon
AKA "that river in Vietnam," where Bubba died in the movie Forrest Gump. The location of the scene where Forrest saved all of his wounded comrades was along this famous Lagoon at Hunting Island State Park. You will find Andrew and me there reenacting the scene below.
But, if that's not your type of thing, you can always bring your family, turn up the music and enjoy a picnic, good fishing, and walking along the trails here. Park in lot J to enjoy quick access to the Lagoon. The saltwater lagoon is affected by the tides because it comes from the ocean.
There is a hidden geocache located along the Lagoon Trail. Before you go looking, though, make sure to cover up and bring bug spray. To find this geocache, we had to go off the trail a little and into the forest full of ticks and mosquitos. Yikes!
The Pier at Hunting Island State Park
You can go fishing on the pier, but it's also fun to take a stroll to the end to see the view, especially at sunset! The dock is next to the Nature Center. This is a great place to start exploring Hunting Island State Park in Beaufort, SC. Inside the Nature Center, you will find live animals like turtles and snakes. The information goes into the diverse habitats in Hunting Island State Park.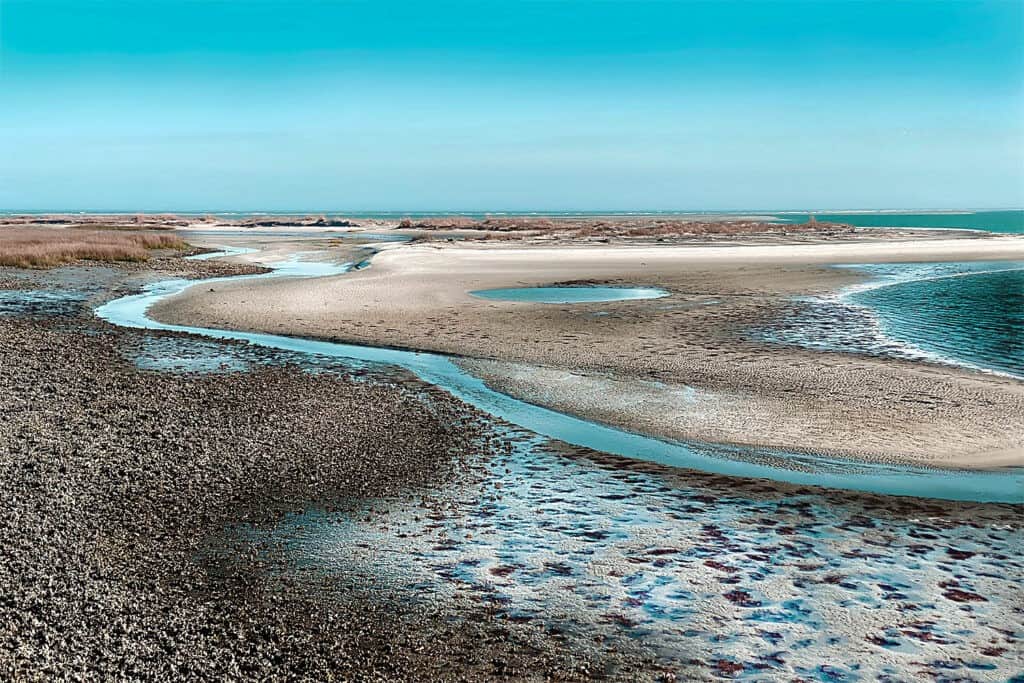 This black-and-white historic lighthouse was originally built in 1859. It was destroyed in the Civil War and then rebuilt with interchangeable sections so it could be dismantled and moved. The lighthouse was moved inland in 1889 due to severe beach erosion, which still affects the Beaufort, SC, state park today.
Hunting Island State Park Visitor's Center
There is a young gator that moved into the lake at the Visitor's Center you might spot on your way in, so be on the lookout! Once inside, you will see a life-like mural covering the walls depicting Hunting Island's various ecosystems and wildlife.
Every year the endangered Loggerhead Turtle mammas walk onto the beach and lay about 110 eggs. Hatchlings dig themselves out of the nest after about 55 days and then scurry to the sea. You can adopt a sea turtle nest for $50 and receive a certificate for your good deed to help preserve and protect our cute baby sea turtles.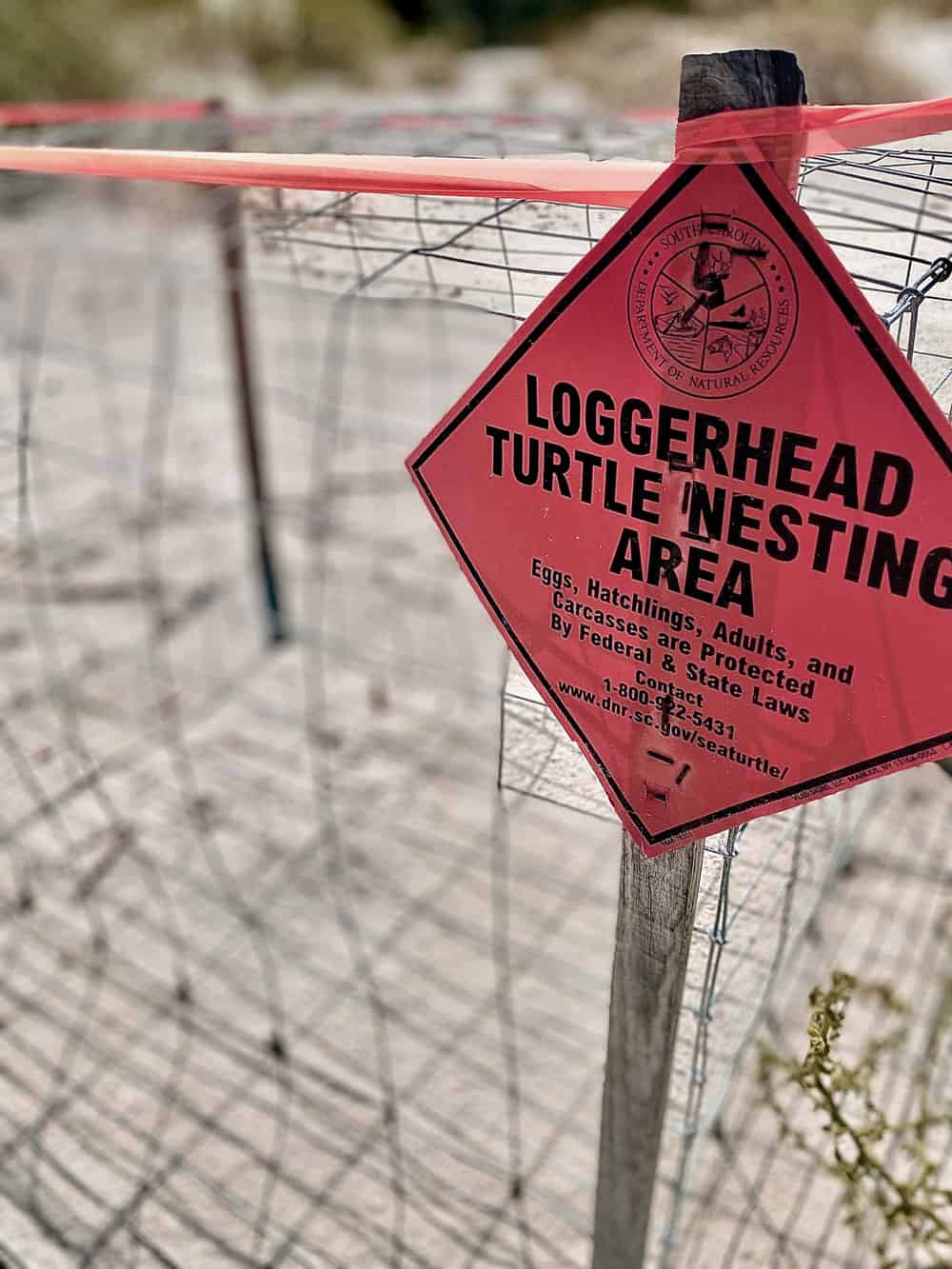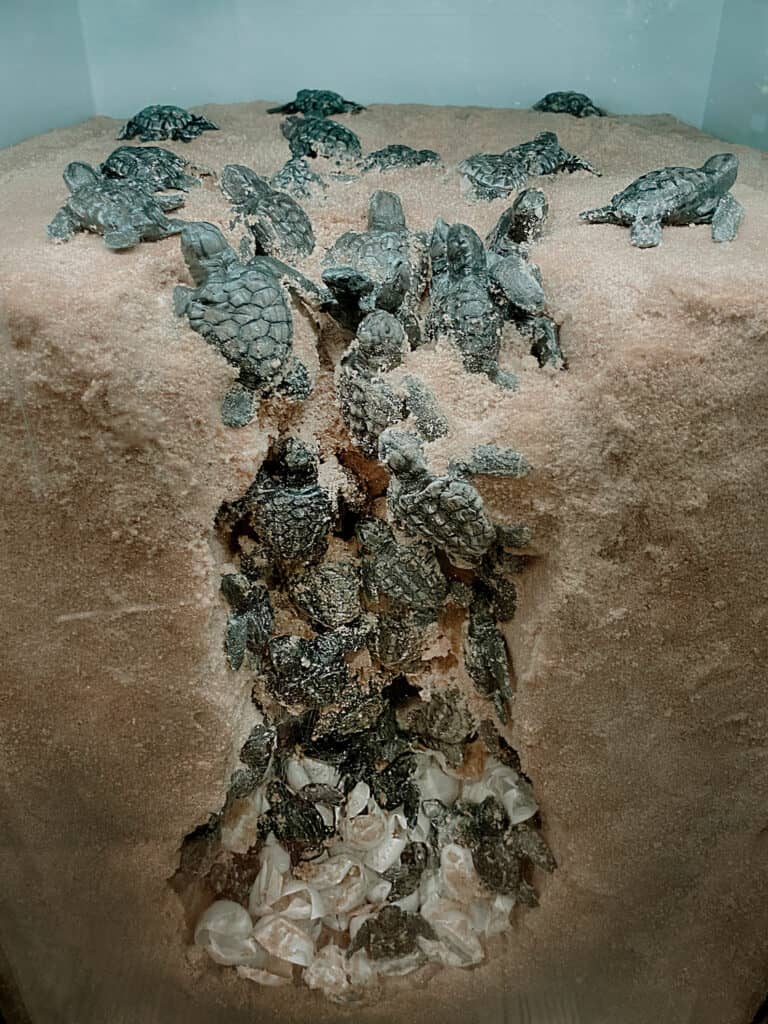 Wildlife Viewing Area
The wildlife viewing area is on the right side of highway 21, just past the Hunting Island State Park entrance. This is where hobbyists go for excellent bird watching. It's marked by a single palm tree in the middle of a sand pit.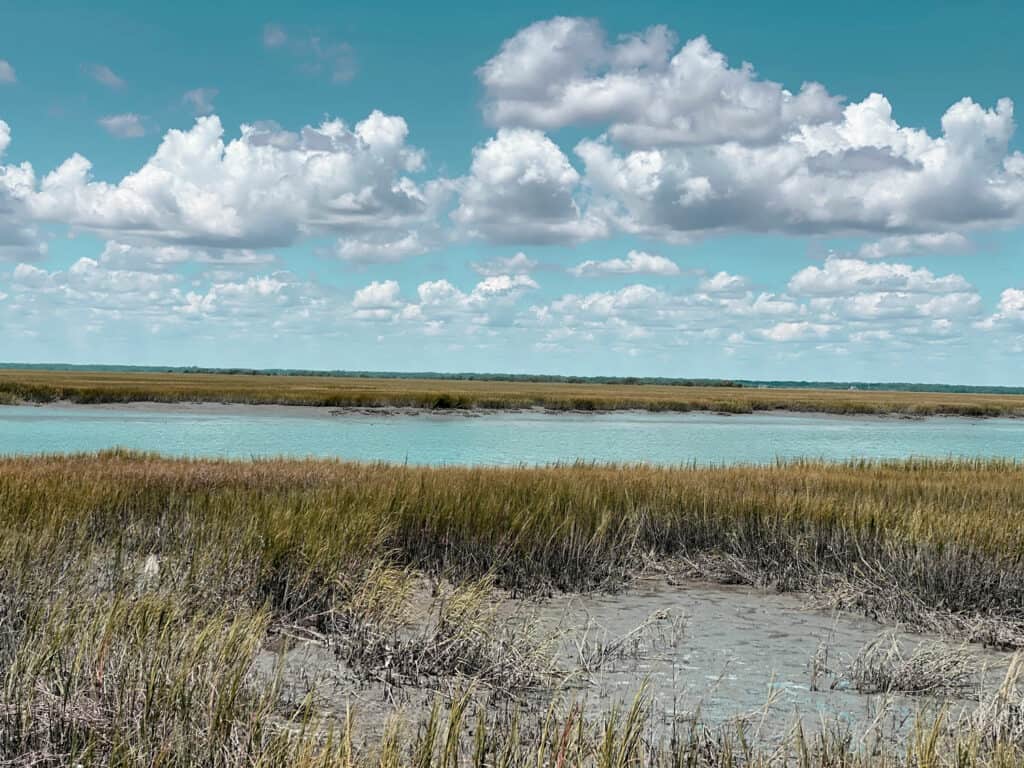 Marsh Boardwalk Trail
There are many trails at Hunting Island State Park in Beaufort, SC
After you leave the viewing area, turn right and continue the same way on highway 21. You will see the Marsh Boardwalk Trail on your right. So far, this is my favorite trail because you can safely watch thousands of tiny crabs from the boardwalk when the tide is low.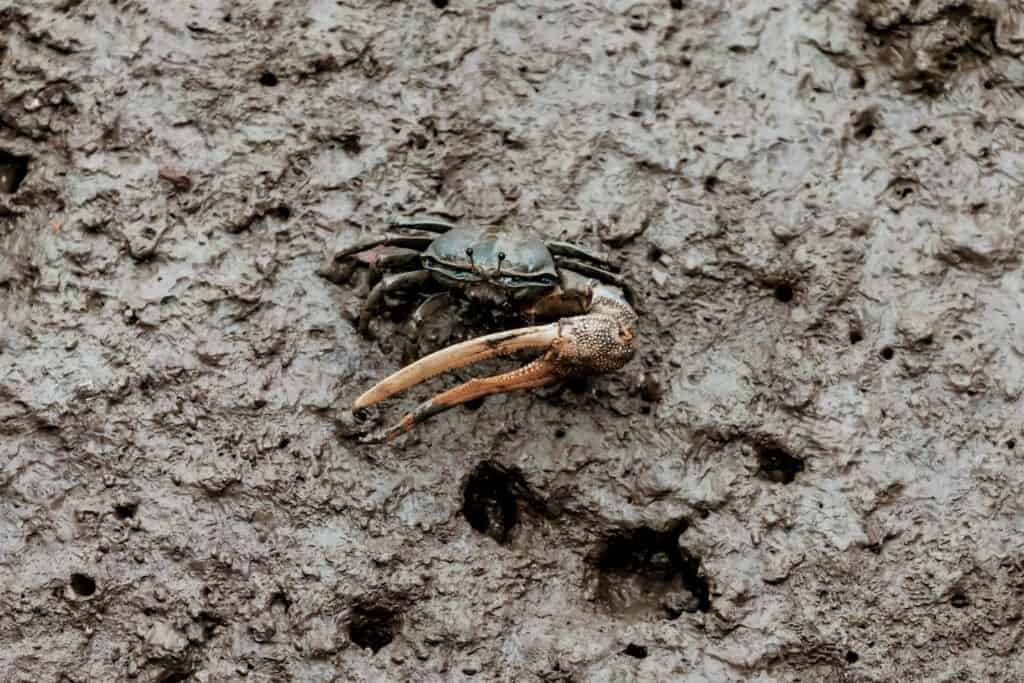 Hunting Island State Park Beaufort, SC
Address:
2555 Sea Island Parkway, Hunting Island, SC 29920
Park Admission:
$8 Adults
$5 Ages 60+
$4 Ages 6-15
Free Ages 0-5
$99 Season Pass << $79 Military Discount
Driving Directions From I-95: Take Hwy 21 E toward Beaufort. Drive 42 miles. Hwy 21 ends at Hunting Island State Park, Beaufort, SC.