What is Geocaching?
Someone has hidden a treasure box somewhere in Hunting Island State Park to intrigue visitors to go geocaching. But what is geocaching? (Example of a geocache in photo)
So that's when my ADD kicked in, and Google learned that I am 35 and have never heard of geocaching.
Yep, I was today years old when I discovered geocaching. How about you (let me know in the comments below)? I love this newfound motivation to go exploring more with the family! So, read below for the essential lowdown and our first geocaching experience.
What is Geocaching?
Geocaching is a worldwide scavenger hunt that anyone with a phone can play. You will start by downloading the Geocaching app that will provide you with the coordinates of registered locations. Then you will look through the available options and decide which one(s) you hunt. Use the app to navigate within a few feet of the geocache, and it's up to you to find the exact location.
The size and shape will vary, so the app will tell you what size you're looking for – thank goodness! The micro sizes are trickier to find, but that is all part of the fun. If you can't find the geocache, you can check the app's hints or read other comments for spoilers. Typically, other geocachers hide them around town in scenic locations that you need to discover.
Once you find the geocache, you log your name in the book and decide if you want to trade any swag for the next person. You will need treasures on hand to swap out something of equal or more excellent value than the item you found. I bring spare change because I usually have that in the car when we do spontaneous hunting.
Geocaching gives you an excellent excuse to go out and explore the world more.
Some new places and some you may have already visited, to see things you never realized were there. Finding something new in a previously discovered location makes me feel like a kid who just learned their surprise trip arrived at Disney World. Because I explore the crap out of most places I go, there's a shock value to realizing I missed something, which gets me pumped.
Geocaching Facts
On May 3, 2000, the first geocache was hidden, starting the game.
There are 3 million geocaches active worldwide today.
You can become a geocacher for free and start right now.
Our First Geocaching Experience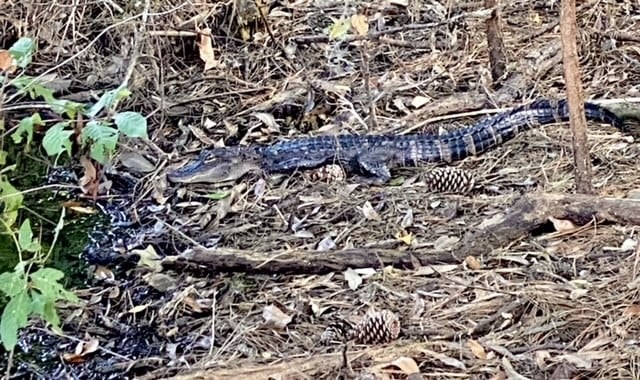 There is a disclaimer on the app about being safe and watching your surroundings while geocaching. The first one we visited was at an alligator park, and Kane was navigating on the app more than keeping an eye on his surroundings, so communicate this to your kids.
Also, trust your instinct on how far to go to find a geocache. I wasn't willing to go into the woods even though the app said we had 20 more feet. It ended up just being well hidden and closer to 5 feet away. I consume too many crime shows and am not about to be in one of them.
Kane and I went somewhere close to home to test out geocaching for the first time. The Cypress Wetlands in Port Royal, South Carolina, has two geocaches accessible and another one accessible only if you're a member. More features and locations are available to paying customers we may consider in the future.
The first geocache we located sported a rubber snake wrapped around the tube. I appreciated this decoration because it safely reminds you to be aware of the dangerous possibilities at this location. We have seen snakes there many times, and one even slithered across the walking trail right in front of Andrew's step while he was distracted!
Kane was brilliant and secured the tube with a long stick to be sure it was fake before picking it up. We signed our last name, "DeFrees," and left the trinket inside.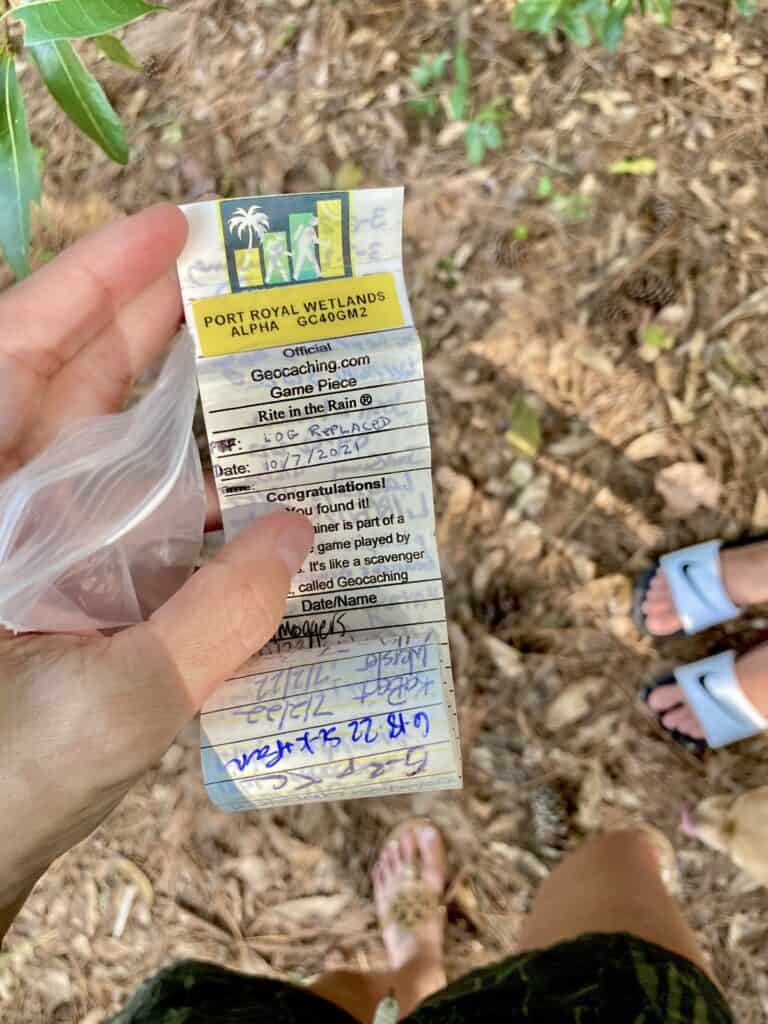 What is a Geocache?
After putting everything back the way we found it, we headed for the next geocache. Kane spotted it quickly because the hiding spot stuck out. Spoiler: It was cleverly hiding inside a hollowed-out tree and attached to a metal line that kept it from dropping. Whoever made this one was thinking creatively. We signed our last name in the log again, traded a nickel for a dime, and logged our find in the app. I like to write a message about the area to give others a good idea if it's worth the time, which by the way, this location is worth it!